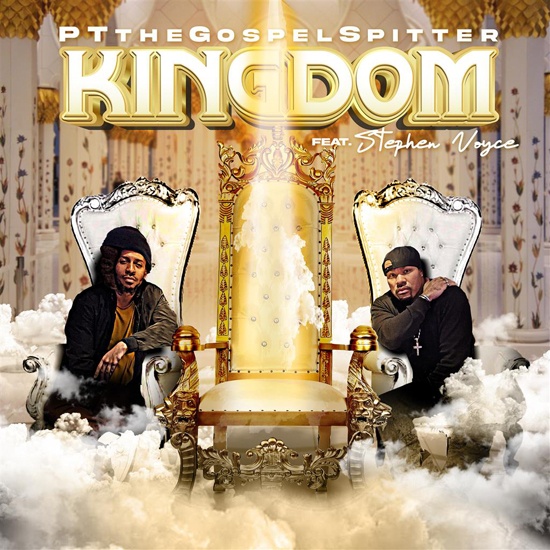 Ashante P.T. Stokes, otherwise known as PTtheGospelSpitter, first forged his musical path as a hip-hop and R&B vocalist. The Atlanta, Georgia born singer/songwriter first experienced singing as a youth chanter in church and touring with his mother, a singer as well, as she toured the US and abroad with a gospel choir. PT, however, lived his teen years in Connecticut and continued singing gospel during those years while also learning to embrace R&B.
URL: https://ptthegospelspitter.faith/
He accepted baptismal and Jesus as his Lord during those years. The young man returned to his birthplace, Atlanta, and began further honing his craft under the tutelage of various engineers, producers, and even classical soprano Maria Clark as his vocal coach. Those moves positioned him for early releases such as "God is Love" and "Understanding God" which successfully synthesized the lessons of his hip-hop and R&B mentors into his zeal for gospel.
His new single, however, "Kingdom" is his peak moment thus far. He's joined on the single by Montreal, Canada based Nigerian/Canadian Stephen Voyce and this combination may prove pivotal to the single's ultimate success. The meditative track reflects the introspective nature of PT's art, yes, but anyone listening to his lyrics can hear that the process of revealing himself has a twofold purpose. It's testimony and entertainment as well.
The interplay between PT and his guest vocalist Voyce makes for a winning combination. PT is behind the controls much of the song, of course, but Voyce's contributions provide a potent musical contrast for the listener. Voyce wisely tailors his voice to serve PT's, but it isn't a case of where he's here as window dressing. They are equals, all the way, and PT does a masterful job of interweaving their considerable talents.
PT's songwriting is another highlight. "Kingdom" covers familiar aural terrain, it isn't groundbreaking in that way, but it's gripping to hear how he turns the expected into something fresh. The segues from each section into the next are handled with confidence and there is not a single jarring transition present during the cut. There are a handful of small surprises in the song that add up to arguably PTtheGospelSpitter's finest single yet.
https://open.spotify.com/artist/5mJDyI6Mtzeq62VtBKdNjl?autoplay=true
His artistic development is exploding at an exponential rate. Nothing, however, about the cut will strike listeners as overwrought. PT is achieving something with his synthesis of R&B, gospel, and a smattering of hip-hop that few, if any, of his peers can claim. These styles are not uneasy bedfellows, their natural affinity is obvious, but such a blend demands a steady artistic hand. PT has that an early age and we can expect he will continue along this path.
Let's keep following this artist. In a musical landscape where shooting stars are all too common, making their mark with one or two songs before fading into obscurity, PTtheGospelSpitter has the sort of skill that promises posterity will smile upon his work if it continues along such a trajectory. There's ample evidence that it will. "Kingdom" is a song of worship, that's true, but it goes beyond God alone – it testifies to the continuing power of music to elevate. 
Gwen Waggoner