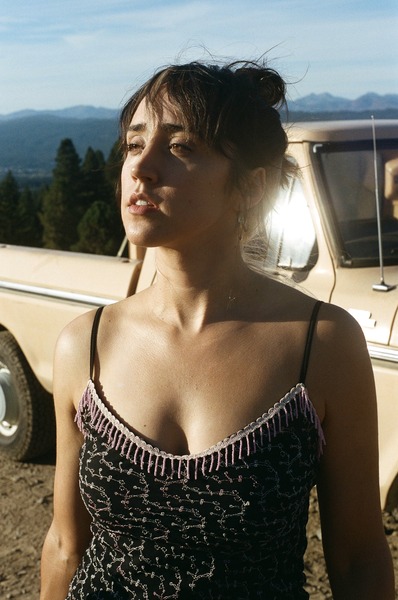 @skopemag news – wednesday – october 26, 2022 @ 12 pm est
@skopemag HQ – http://smarturl.it/skope
Introducing Tess Henley with "Joy Somewhere" ahead of 'Paramount' LP
On this record she collaborated with Jesse Boykins III (Calvin Harris, Steve Lacy) to create a sonic picture of perspective. It's a gorgeous mix of soul, RnB, and pop, with Henley's intentional songwriting and absolute powerhouse voice at the center of it all.
Tess Henley is a master of her craft. Taking full ownership of her journey with authenticity as her fuel and fire. The singer, songwriter, and producer speaks from the divine feminine in a way that enriches the listener. These songs are for the heart, from the heart. With her main instrument, piano, as her spirit guide, she provides solace in a time of need like a breath of fresh air. The combination of self-discovery and self-love is why "Joy Somewhere" strikes a chord in us all; Paramount is a series of emotions captured on tape, showcasing the process of freeing oneself.
Stalley Announces Album + New Single
Critically acclaimed Ohio rapper Stalley returns with his new full-length album via his partnership with Mello Music Group entitled "Somebody Up There Loves Me" coming December 6, 2022.
To herald the arrival of the record, he just shared the hard-hitting and hypnotic new single "Red Light." Produced by B.A.M, the track's jazzy instrumental underscores airtight rhymes from Stalley in between flashes of airy saxophone. Channeling GoodFellas, he reminds, "No, we don't talk business on the phone," and warns, "If you owe me, gotta pay before you go."
Tripping Jupiter releases "Torn America" video, LP out Nov. 4th
"Torn America" is a message song, with a lyric music video that edits together footage from the past 2 years of protests across the country, attempting to channel the rage and frustration of that moment of upheaval into an uplifting celebration of love and solidarity across different political movements, from Black Lives Matter, to LGBTQ+ rights, to the growing climate crisis.
French folk-metal duo Twisted Mist streamed new album 'LACERARE'
A few weeks after sharing a first excerpt from the effort with the single "Le Linceulé", French folk-metal duo Twisted Mist finally released its sophomore full-length album with 'LACERARE' out now on CD & digital release through Music-Records and the main legal services.
R.A.M.B.O.: Philadelphia Hardcore Punk Outfit Issues "New World Vultures" Single
R.A.M.B.O. is back with their aptly titled Defy Extinction. This is not a nostalgia trip, or an attempt at recapturing past glory; the band has their sights trained on the present. On these sixteen tracks of pounding, epic, crust-infused hardcore punk and beatdowns, R.A.M.B.O. is imploring you to believe in science, fight authoritarianism, and most of all Defy Extinction! For fans of Discharge, Integrity, Doom, Municipal Waste, Tragedy, Negative Approach, 9 Shocks Terror, Spazz, and D.R.I., R.A.M.B.O. is a must-hear!
Jason Collett (Broken Social Scene) Shares "Right On Woman"
Jason Collett, a founding member of Canadian stalwarts, Broken Social Scene, is today sharing "Right On Woman", the final advance single from his forthcoming album, Head Full Of Wonder which has found support so far from FLOOD, Exclaim and CBC. The new album is out via Arts & Crafts on November 4.
Tiiva shares their dreamy new single 'IN MY SLEEP'
Touching on hedonism and self destruction, In My Sleep comes as a gorgeous insight into the fragility of looking at the end as a beginning. The self produced offering is a catchy and weightless listening experience adding yet another impressive string to the bow of this artist on the rise.
GARETH CAMPBELL RELEASES NEW LOVE SONG "LISA"
With emotional lyrics like couldn't figure out if you wanted, money, games, or love, what if we fit just like a fine leather glove, "Lisa" describes a modern-day love story that listeners are sure to connect with.
Helen Ganya Shares New Single & Music Video "I Will Hold That Hand For You" Via Bella Union
Fox Revett Broadcasts His Love on "Breaking Point"
BLACK SPACE RIDERS Release Video for "Queen of the Light"
Progressive, heavy psychedlic rockers BLACK SPACE RIDERS have released a video for their song "Queen of the Light". The song is from their album We Have Been Here Before which is out now on digital, CD and vinyl via Cargo Records.
The band comments "Queen of the Light is one of the album´s centerpieces. At first glance the lyrics are about creatures from all corners of the universe making the long journey at a certain time to finally see HER, the 'Queen of the Light' after such a long time. Metaphorically, of course, there could be so much more to it: Waiting, darkness, longing, journey, light, redemption …. But that´s up to the listener.
WHITECELL Reveals Horror Video Comic, "Deal with the Devil"!
WHITECELL–GRAMMY® nominated songwriter, recording engineer and touring guitarist for multi-Gold and Platinum selling band IN THIS MOMENT RANDY WEITZEL–has revealed the masterful horror video comic for his newest single, "Deal with the Devil." With all visuals and vibrations created by Weitzel himself, "Deal with the Devil" encapsulates all of the best of cinematic 80s rock and horror shlock, and will forever hold a place on Halloween playlists!
DAVID GARZA & NOELIA GARZA SHARE NEW MOTHER-SON PROJECT "MI TESORO"
Mother and son Noelia and David Garza transport listeners on a musical journey spanning generations and genres in their soul-stirring debut Album, Mi Tesoro.
Long dreamed-of and finally realized, Mi Tesoro effortlessly roams from ballad to bolero to spoken word. Throughout, Grammy-winning producer David serves up ingenious arrangements while Noelia offers full-throated vocals brimming with 80+ years of truth.
OCEANHOARSE Release Lyric Video for "Help Is On The Way"; New Album to be Released February 17th on Noble Demon!
SUBMISSION: Gotta Get Back To My Baby by BECK BLACK
"Beck Black" the brand, is a Hollywood based band formed in 2014. One of her most note worthy releases, is a collaboration with Beatles' drummer, Ringo Starr, for the song "Who's Gonna Save Rock N Roll" in 2020!
Inny Announce New LP on Nadine Records and Release First Single
Born out of a need to preoccupy their own anxieties, Inny was formed in Portland, OR during 2018. Brody M plays guitar and sings, bringing a variety of succinct, catchy riffs and reflective lyrics to the table. Dan and Toby (on bass and drums respectively) help augment, flip-over, and arrange the songs from their seemingly simple roots into a deeper dynamic horizon. At its base, INNY is 3 really good friends who have been playing music together for the better part of a decade. Their sole mission being to write meaningful songs and have fun doing it.
Toronto Teenage Pop Sensation ANNA GOLDSMITH Wants You To Create Your Own Path And Not Be A 'Follower' In New Single
Brighton based ĠENN new single 'Rohmeresse' – queer maltese post-punk with Jamaican and Portuguese roots | Supporting Pussy Riot on their UK tour
SLANEY BAY share brand new single 'LS6' | out today (Oct 26th)
South West London-based trio Slaney Bay share euphoric, synth-infused effort 'LS6' (out today – October 26th), the final track taken from the band's debut EP 'A Life Worth Living' set to arrive November 11th.
LOU RIDLEY SHARES SURPRISE EP GRAVEYARD DEMOS + MUSIC VIDEO
In celebration of the new moon, rising singer/songwriter and human rights advocate Lou Ridley returns with a surprise new EP titled Graveyard Demos. The four-track project, which fearlessly calls out each of her exes by name, is a raw and unedited look inside the ebbs and flows of the artist's past love interests with songs written about them in real time. Three of the four tracks were written and recorded in her bedroom after listening to 8-bar loops sent from producer Keith Askey, while "sam" can clearly be heard recorded in the corner of a chatty Hollywood party. The project showcases the artist's ability to effortlessly transcend across multiple genres of r&b, soul, country, and pop, all while never sacrificing her vocal and songwriting prowess.
Hohnen Ford collaborates with Matt Maltese on new single "Don't Fall Asleep", debut EP 'Infinity' out now via Young Poet (Conor Albert, WOOZE)
Icelandic metal act SORG release new album 'Nordandrekar'
Musician on the album: – Mýrmann. All guitars, Bass, Keys, piano, vocals and lyrics – Freyr. Vocals – The drums are programmed drums from the producer and musician Arnaud K
BRANT BJORK: stream new album "Bougainvillea Suite" in full
Legendary Californian singer, songwriter and multi-instrumentalist BRANT BJORK (also founder of Kyuss, ex-Fu Manchu) presents his fourteenth solo album "Bougainvillea Suite" in its entirety today, ahead of its official release this October 28th through Heavy Psych Sounds. Get ready to groove like never before!
Full Album Premiere & Review: Brant Bjork, Bougainvillea Suite
CHARLI D'AMELIO RELEASES FIRST SONG "if you ask me to"
Today, Charli D'Amelio, the multi-hyphenate internet sensation, Hulu TV star, and current Dancing With The Stars cast member releases her debut single "if you ask me to". The song and music video first premiered Tuesday evening on the season 2 finale of Hulu's The D'Amelio Show. After the finale, Charli independently launched her debut single across her social media platforms with over 225 million followers.
"Hard to Love" by Justine Blanchet
"Hard to Love" represents a lot of "firsts" for Justine. It's her first collaboration with hitmaking Nashville producer Danick Dupelle (Emerson Drive, Tebey, Tyler Joe Miller, Matt Lang), her first single to be produced in Music City, and the first release from her debut EP that will drop in 2023.
The Men return with New York City – Out Feb. 3rd on Fuzz Club, listen to "Hard Livin'" now
"When everyone left NYC, the sewer opened and we crawled out." Prolific Brooklyn institution The Men are today announcing their ninth studio album, 'New York City', and sharing the incendiary lead cut, 'Hard Livin". Arriving following 2020's 'Mercy', the new LP is released February 3rd 2023 on the group's new label home Fuzz Club Records and marks a return to the more scuzzy and abrasive rock ploughed over their decade and a half spent coursing through the grimy sewers of NYC.
Icelandic act SORG release new album 'Nordandrekar'
Sorg is the brainchild of the Painter, Musician, and philosopher Myrmann. The influence for SORG combines both, a variety of disparate rock and metal genres, and also Myrmanns interest in history, romanticism, Icelandic Folklores, Alchemy, and philosophy. Sorg is a tool for using his voice for to 2 create awareness about spreading love and kill judgement and prejudise in modern Society.
Mýrmann comes from Iceland, small mystical and gloomy Island in the North. His work is heavily influenced by Icelandic Heritage, cultural traditions, the three major elements of the Icelandic nation: The landscape, The rich literature and the old sagas.
Philip Selway (Radiohead) Announces Solo Album Via Bella Union
When Philip Selway approached some of his favorite musicians to play on his third solo record he said he imagined it as a Carole King record if she collaborated with the pioneering electronic composer Daphne Oram and invited him to drum on it. Unsurprisingly they were all sold, and so began the bringing together of an extraordinary number of gifted people, including Hannah Peel, Adrian Utley, Quinta, Marta Salogni, Valentina Magaletti and Laura Moody.