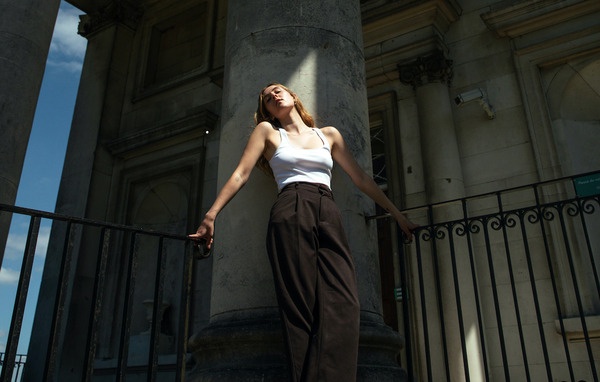 @skopemag news – tuesday – october 25, 2022 @ 12 pm est
@skopemag HQ – http://smarturl.it/skope
Toronto Pop Singer JORDANA OF EARTH Tells You Only What You "Need To Know" In New Single
Toronto-based Electro-pop R&B music sensation Jordana of Earth transports listeners with melancholy romance and light smoky vocals to tell a vulnerable tale of distance and its effect on love with the ethereal single "Need To Know" — available now!
AP Tobler Debuts Their New Alt Rock and Grunge EP, "Devoid"
The 4 song EP tackles hard topics like anxiety, betrayal, and pain. "False Hearted" speaks on broken promises and fake friends, "Claustrophobia" speaks on their feelings of discomfort within their own skin, "Hostage" speaks to the feelings surrounding the cycle of neglect, and "Devoid" encapsulates grief and anguish. The title track "Devoid" was inspired by the anime Attack on Titans."I was watching a particularly dark episode and felt inspired to write from the perspective of a scout from the Survey Corps watching their fellow soldiers suffer," shares AP.
BOOK OF WYRMS Stream "Sodapop Glacier" At The Obelisk
Virginia stoner metal band BOOK OF WYRMS are now streaming their new instrumental single "Sodapop Glacier" at The Obelisk. The song will be released on October 26th via Desert Records via Bandcamp and all streaming platforms.
The Waeve (Graham Coxon & Rose Elinor Dougall) Share New Single "Drowning" From Upcoming Debut Album Via Transgressive
"Drowning is one of the more meandering, cinematic songs on the album. The song touches on themes of allowing oneself to be subsumed by forces you can't deny, whether that be romantically or life in general, of giving into the delicious risk of total failure and oblivion, despite one's better judgment… Lyrically it comes from two different perspectives, with Rose's vocal beginning as an intimate half secret, which then expands into soaring strings. By the end we hear Graham's refrain, acquiescing to the rising tides of intensity and acceptance of a shared fate – "Hold on to me as the waters rise. Drowning again…" – Graham Coxon and Rose Elinor Dougall, The WAEVE
Ladymen release "En Vivo Desde el Ensayo", live session presents powerful guitars with acid and stoner rock vibrations
"In mid-2021, as the pandemic faded, we began planning our comeback and composed an energetic album full of very frenetic acid rock and stoner rock vibes projected to be released in the beggining of the next year 2023." – says the band.
On the meantime they've released a three-song live session in October 2022 titled "En Vivo Desde el Ensayo" (Live From the Rehearsals).
partygirl Shares Self-Titled Debut EP via CHORUS.FM | Read more in EARMILK and The Alternative
Today, partygirl share their eponymous debut EP partygirl. The EP represents a "tasting" of what partygirl strives to be: a maximalist indie rock band which writes and performs songs that depict the experience of Survivorship (those who identify as Survivors of sexual assault and rape) as a radical political identity and as a space for radical political action. As a Survivor, musician, and political organizer, Pagona Kytzidis formed partygirl to try to process her own sexual assaults and the resulting psychological and political trauma, and to challenge popular discourse on sexual assault and the violence of misogyny.
"Dreams of Daraa" Named Best Documentary at Portland Film Festival
Directed by M. Reilly Dowd, the partly-animated film follows Hanadi on a harrowing five-year, international wartime journey with her three daughters through Syria, Jordan and Germany while searching tirelessly for her beloved husband after he is taken by Syrian soldiers and vanishes without a trace. As the dream that was her life in Daraa, Syria, morphs into a living nightmare, Hanadi is forced to flee their home. Now living in the world's largest Syrian refugee camp with her children, she feels both alone and unheard as things in the camp go from bad to worse. Not knowing whether her husband is dead or alive, Hanadi decides to return to the war zone in Syria and leave the relative safety of the refugee camp for answers.
HITMAKA & JIM JONES DROP NEW SINGLE & MUSIC VIDEO "GUNSHOT" FEATURING BEAM
GRAMMY® Award-nominated visionary Hitmaka and New York hip-hop legend Jim Jones unleash their first collaborative single and music video "Gunshot" [feat. BEAM]. "Gunshot" arrives as the first single off from their upcoming collaborative album Status Update, due out soon.
FAUSTIAN: Invisible Oranges Premieres Self-titled Debut EP From Louisiana Death Metal Marauders (ft. members of Barghest, etc.)
Invisible Oranges Editor Jon Rosenthal writes, "FAUSTIAN's self-titled debut EP delves even further into death metal's brawn and guitar acrobatics than Barghest's more bestial approach would ever allow. Though brief, Faustian is dense, relying on sophisticatedly interlocked riffs and blasting intensity to express a deeper discontent and rage."
Nashville's top DJ Feelz releases new single "Wake Me Up" with LAVANT (ft. Gabriel Eli)
Feelz is Nashville's most up and coming DJ and EDM artist. Feelz, born John Lawson, paved his way into the Nashville EDM scene full-force, and has been making his way to the top ever since. Feelz's main influences come from various electronic pop artists, lending him the high-energy vibes of his live shows.
JESTERS OF DESTINY Partner with Decibel for "Luxifur" Video Premiere – New Album 'Distorting Everything' Out Tomorrow!
Proto-metal veterans JESTERS OF DESTINY have partnered with Decibel Magazine to premiere the music video for their new single "Luxifur", which can be seen here. The track is the latest offering from the band's new album 'Distorting Everything', which comes out tomorrow (Oct. 25) via Ektro Records. Speaking with Decibel, bassist and lead vocalist Bruce Duff shares:
moondaddy // new song (produced by Manuel Calderon of Estereomance)
San Diego dream pop project moondaddy – aka Cara Potiker – just put out the first single from their upcoming full-length, which was produced by Estereomance's Manuel Calderon, and I wanted to see if you'd be into sharing or featuring it in some way.
Xondra Releases Powerful New Single "Inner Child"
Today, New York-based singer and songwriter Xondra shares "Inner Child," the latest single from her upcoming EP, 'Tedious & Brief.'
"Inner Child" opens with Xondra's stirring vocals and sparse instrumentation before surging into a lively rock-inspired chorus. Following on the heels of her powerful feminist anthem "Dead Girl," which was released last month, "Inner Child" delivers another important message about finding the root of one's pain and lovingly embracing it.
Out Today – Tommy Ashby's New Single 'Not That Far To Go'
OUT TODAY: Marie Sahba – AZERI BABY (FFO Snoh Aalegra, Tove Lo)
Marie has never hidden her roots, but on AZERI BABY she proudly presents five songs heavily influenced by her Iranian heritage and the role of her family in shaping who she is as a person and an artist. "Growing up in a multicultural home has had a big impact on my artistry," she explains. "My father left Iran in 1983. He then spent four years in Istanbul, Turkey, immersed in the country's culture, he then moved to Norway. Both my father's and my own longing after our family in Iran and what could've been, has been a big part of my life."
WALT DISCO RELEASE "NEVER KNEW LOVE LIKE THIS BEFORE" (STEPHANIE MILLS)
​​Following the release of their critically acclaimed debut album 'Unlearning', Glasgow's WALT DISCO today release the second in a series of covers of their favourite artists, due to form the 'Always Sickening' EP out November 25th. Released today, the second cover is a brooding reimagining of the 1980 Stephanie Mills R&B classic 'Never Knew Love Like This Before' – listen here. The EP also includes covers of Aldous Harding, The Japanese House, The Associates and Dusty Springfield. This month, the band embarked on their first run of US headline shows before returning to the UK for further dates, including a show tonight at London's Heaven with label-mates HMLTD.
UK's Industrial Metal Project BINARY ORDER To Release New Album; First Single Unveiled
UK's Industrial Metal project BINARY ORDER set November 29, 2022 as international release date for the new album – Messages From the Deep.
Introducing: Rising Alt-Pop Songwriter PAIGE KENNEDY
Fast rising Kent-raised, London-based alt-pop songwriter PAIGE KENNEDY is pleased to reveal their new single 'This Is The Girl!', set for release on 25th October 2022.
Commenting on the track, Kennedy says: "This Is The Girl!' was inspired by the David Lynch film Mullholland Drive. It explores the way that celebrity worship has become a modern day religion. 'The Girl' is seen as an icon, fetishised for her youth and idolised…until it's time for the internet to rip her down. From an artist's point of view, it's easy to be paranoid that the music industry is rigged and that there is always a pre-selected 'chosen one'."
Jess Yaffa unveils pop-rock anthem 'Run Away', produced by Grammy-Award winning producer Scott Jacoby
Jess Yaffa began singing at four years and honed her songwriting skills throughout middle and high school in order to understand the struggles and excitement of growing up.
October Drift release 'Lost Without You' video
Indie-folk/rock songwriter WILDES releases new single "(Run to the) Flames", debut album 'Other Words Fail Me' out 13th January
London singer/songwriter Ella Walker aka WILDES has released her new single "(Run to the) Flames", the latest taste of upcoming debut album 'Other Words Fail Me'. The new album was produced by St Francis Hotel (Michael Kiwanuka, Greentea Peng, Little Simz) and will be released on 13th January 2023 via AWAL.
AOIFE NESSA FRANCES — Shares New Single: "Chariot" || + New Album 'Protector' Out This Friday
The floating sonics of "Chariot" is about the powerful testament to the strength and bonds of family and friendships when distance is greater than ever. Protector will include the previously shared offerings "This Still Life", which arrived with a video directed by Ella Margolin, "Way To Say Goodbye," and "Emptiness Follows".
MAIA BAROUH releases thought-provoking bass loaded new album 'AIDA'
Written, arranged, and produced by Maïa over the past few years, she has built a distinctive sound world around her two main instruments, flute and voice. The resulting album is raw, spacious, and thought-provoking whilst also being playful, quirky, and sometimes disconcerting, for example when she explores anti-Asian racism and feminism.
Introducing, HEROES AND MONSTERS! This New Power Trio, Featuring Todd Kerns, Stef Burns, & Will Hunt, Release First Single, "Locked and Loaded"!
Frontiers Music Srl is pleased to announce the signing of an incredible new trio, Heroes And Monsters.
New video: Phomea – Take Control
Ahead of Daniel Bachman's new album, watch the video for "540 Supercell" – Almanac Behind is out November 18th on Three Lobed Recordings
From the heart of Delhi, to Tangier Island. The burning redwood forests, the dying jet stream waters. It is happening to you and to me. We pump carbon dioxide and methane into the atmosphere by the gigaton as the cascading feedback loops of climate breakdown continue to destabilize the biosphere. Oh, the wind and rain. We have all lived it. Stunned by the unfathomable power of our Earth and a sinking derealization about our tenuous future.
Quicksand Share New Single "Felíz"
Following slow burner "Giving The Past Away" released in August, both songs were previously unreleased recordings from sessions for their highly praised 2021 album 'Distant Populations'. Like a sucker-punch to the face, the palpable aggression of "Felíz" is felt from the onset of the track. Lead by a bass heavy groove, the steady rhythm is driven by a vital electric guitar riff with the distortion turned all the way up for this headbanger's anthem.
Quasi's Breaking The Balls Of History out Feb. 10th/Sub Pop, "Queen of Ears" video + 2022-23 Tour Dates
Quasi (aka Sam Coomes and Janet Weiss) will release Breaking the Balls of History, their awesome new Sub Pop debut and frontrunner for our favorite album title ever, worldwide on February 10th, 2023. The twelve-track effort was produced by the duo and John Goodmanson (Sleater-Kinney, Bikini Kill, Unwound, Treepeople, Team Dresch) at Rob Lang Studios in Seattle, engineered and mixed by Goodmanson, and mastered by Bill Skibbe at Third Man Mastering.
Melodic Death Metal Outfit BRYMIR Releases New Lyric Video for "Forged in War"
After the long-awaited release of their staggering fourth studio album, 'Voices In The Sky', Finnish melodic death metal outfit BRYMIR have revealed a brand-new lyric video for their epic, hard-hitting track "Forged in War". With thousands of views on their videos and more than hundred thousand streams on their latest tracks, the band has established their befitting position on top. Culminating with their European tour with Finntroll and SKALMÖLD kicking off in Stockholm on November 3, the band stirs up the scene on records and stages alike.
Reminder: Fernando Milagros Shares New Album "Obsydiana"
With an eclectic musical palette sourced from both traditional and modern music, Obsydiana is the summary of a nearly four-year journey of research, music production, songwriting and self-discovery. Combining Latin American indigenous traditions with digital production and sound manipulation techniques, the album pulls from folk, hip-hop, and various electronic genres to create a dark melange of mystical and modern.