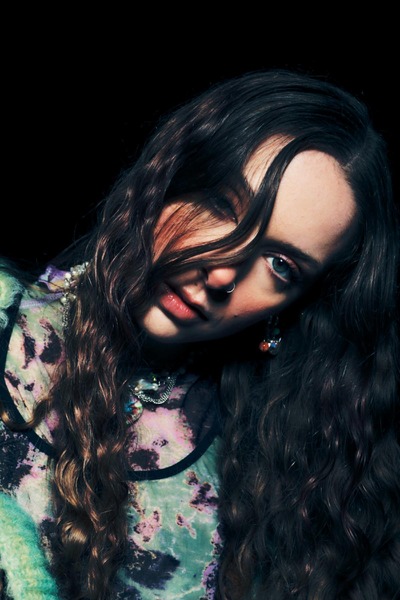 @skopemag news – monday – october 24, 2022 @ 5 pm est
@skopemag HQ – http://smarturl.it/skope
Out Now: SAN ROMAN announces new album 'MESSY' – shares new single "Julia"
Alongside "Julia," MESSY features previously released tracks "Rain Cloud," "Messy" and "Stay Where You Are." MESSY is a culmination of years of musical experience and a fresh start for Alexa. Taking inspiration from events in her life, citing loss and the pain of watching time pass, MESSY is a diary entry put on play, loud.
Maraschino shares "Smoke & Mirrors" video, playing Clifton's in LA this week
SAMPA THE GREAT UNVEILS ICONIC MUSIC VIDEO FOR "LET ME BE GREAT" FEATURING ANGÉLIQUE KIDJO
Blu DeTiger Drops New Single And Visual, "Elevator"
"'Elevator' is an upbeat, tongue in cheek way of expressing how I feel when I'm stuck in the elevator (of life). It's about moments when I'm down and need to be taken back up," explains Blu DeTiger. "The song is about turning a bad situation, like being caught in an elevator with someone you don't like or just feeling down, and going through it and getting past it. It's encouraging. The lyric 'I could be a big shot too' reminds me that I can take control of my own journey and path."
NEW MUSIC: ADANNA DURU RELEASES DEBUT SINGLE "BOOGIE" TODAY!
Sara Noelle shares new single / video, "Color Of Light On The Water" from her forthcoming 3rd LP
OXYTOXIN Release New Single "Disorder"
OXYTOXIN are offering up another taste of their upcoming album, Don't Lose Your Head, with new single "Disorder". You can stream the new track HERE.
The band comments on the new single: "Disorder is all about deep issues in society around law enforcement and the blatant illusion of control. We say that prisons help rehabilitate when in reality we've moved onto to a new form of slavery that sees men without means fall prey to a system of illogical chaos. The end goal is no longer to help humans unfortunately."
The Lighthouse And The Whaler Share "What's In Your Head" Single + Video via CHORUS.FM | New Track Out Now via All DSPs
Cleveland-born rock band The Lighthouse And The Whaler has returneed with a brand new single entitled "What's In Your Head," alongside an accompanying music video.
BUZZHERD Release New Single "Menstrualcity"
Pennsylvanian death/sludge metal band BUZZHERD have unleased their new single "Menstrualcity" on all streaming platforms. The song will be released on their upcoming split with fellow sludge band PALE HORSEMAN on October 28, 2022.
The band comments "This is a song about fear of the unknown, and creating monsters from that fear. Menstrual city? Menstrual atrocity? A menstrual themed ode to our favorite police album? Some of our songs have a little deeper meaning than it would seem on the surface. Most of the time it's dumb stuff that makes us laugh. We will leave it up to you to decide where this song lies."
Holly Humberstone Releases "Can You Afford To Lose Me?"
Closing the beginning chapter on one of music's most exciting stories in recent memory, Holly Humberstone has released Can You Afford To Lose Me? today: an extended collection of songs tracing her sensational musical journey to-date. Out now via Darkroom/Geffen/Polydor, the project is led by the brand new title track – a devastating slowburn carried by a piano-driven heartbeat and swelling choir vocals.
Skope Magazine x Lincoln Returns with "Everything Is Wrong"
BENEATH MY FEET Unleash Brand New Music Video And Sign Worldwide Record Deal With Noble Demon!
AUSTIN MAHONE DROPS BRAND NEW SINGLE "SUNDRESS"
"Sundress is a beautiful start to something new. It's a mixture of all the genres that I've been inspired by as an artist," Austin says. "For me, this is a perfect blend of Pop, R&B and Country. The song is about those first impressions and unforgettable moments that stay in your mind forever. It's a memory of meeting someone very special for the first time."
LEATHERWOLF Out For Blood With 'Kill The Hunted' Video And Digital Single
Showcasing the band's innate ability to create hard driving anthemic metal, Kill The Hunted was conceived in 2008 by drummer/producer, Dean Roberts, but not revisited and completed until some ten years later after the band fractured in the wake of a short European tour. "I starting writing the lyrics in 2018, prompted by what led to the split with our old singer. So the song is very personal to me but it could apply to anybody in a similar situation," reflects Roberts. "The lyrics are really about self-discovery – discovery about all the negative stuff that was around me. And that I had to do something about it and make a change. The second verse, "I can feel the darkness that surrounds me / killing everything that I create / wasteland's rule by death and the forsaken / bind and tie the blood that runs within" speaks to those feelings. In the final verse, the song conveys a more positive, self-empowering tone though. I gotta give props to Rob (Math) and Keith (Adamiak) who helped finish the song in the studio and helped me telling that story to myself. It really made me realize that I needed to move on."
R&B/SOUL NEWCOMER NOAH GUY RELEASES OFFICIAL VIDEO FOR NEW SINGLE "SMALL TALK CAROLINA"
Kihyun of Monsta X, Releases 1st Mini Album, YOUTH
release day Selfish Bodies share driving and glittery electro alt pop single "Bambi Legs"
Cathartic new single, "Bambi Legs," was inspired by insecurity. When self consciousness rears its ugly head, it can lead to a lot of fear and second guessing. This is a lonely feeling yet we are oddly united in it as we all feel this way at least sometimes. The duality of the feelings in the lyrics through the instrumentation is magnified as the song sways back and forth between a heaviness to a more lightheartedness.
Ladyman presents the stoner acid rock live session "En Vivo Desde el Ensayo"
Ladymen is a band from Altos de Jalisco that, through the live session En Vivo Desde el Ensayo, presents "De Tierra y Sal", "Sanguinario" and "Los Desiertos del Futuro", a psychedelic acid rock tracks with powerful guitars and tremendous force. The group has blues, punk, stoner and new psychedelia influences.
In mid-2021, as the pandemic faded, we began planning our comeback and composed an energetic album full of very frenetic acid rock and stoner rock vibes projected to be released in the beggining of the next year 2023.
BAILEY ZIMMERMAN SHATTERS RECORDS WITH BIGGEST STREAMING COUNTRY DEBUT EVER
Zimmerman joins Zach Bryan and Luke Combs as the only country artists this year to earn more than 1 million streams on each track during street week alone. The track listing features standouts like "Trainwreck," co-written with Morgan Wallen and "Rock And A Hard Place," which ranked as the highest non-Morgan Wallen country song premiere of the year upon release and reached the Top 10 of Billboard's Hot Country Songs chart as well. The project's lead single, "Fall In Love," is racing towards the Top 5 at country radio and already the fastest debut song to reach the Top 10 at in five years. Propelled by more than 300 million streams to date worldwide, it is the 9th most-streamed country song of the year and currently Top 10 on Billboard's Hot Country Songs chart and Top 20 on their all-genre Hot 100 chart.
Waldo Witt shares "Love Like A Fire" & announces new LP
Waldo Witt spoke on the single's origin: "'Love Like A Fire' is inspired by a 16th century poem written by a Spanish mystic. It follows the journey of the soul through the darkness and solitude of uncertainty, towards illumination and clarity. This poem has helped me in understanding my own struggles as being part of life's path – thus opening the door to acceptance and growth."
TEKE::TEKE: Tour announcement + "Dobugawa" video