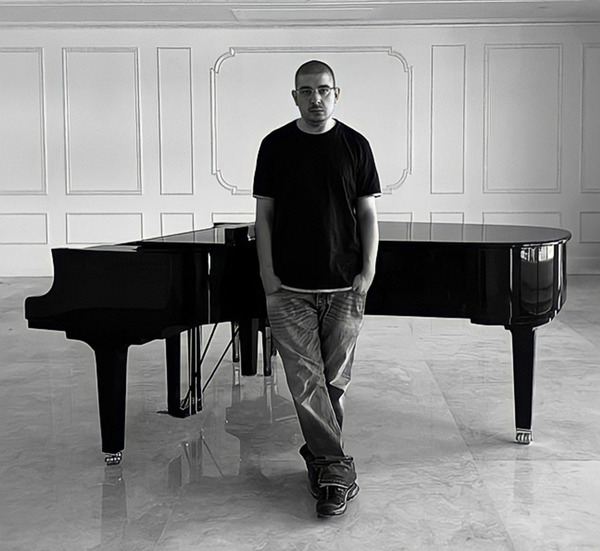 It's rare to find a musician who successfully transcends musical borders and genres, Amin Homaei the Iranian-German singer, composer, pianist, and producer plays multiple instruments, including the piano. By exploring his own creativity by trial and error, he has created his own unique style that not only transcends genre but also borders themselves
Born in Iran, Amin was exposed to the traditional music of his country.  He became interested in piano because his first instrument was the piano. At first, it took him a while to understand where the sound came from but then his two teachers taught the basics of piano. For him, the trial-and-error method was how he learned music, which still appears in his compositions. He was impacted by Iranian traditional music and the approach is visible in his work.
Amin did not attend any university after graduating from Farabi High School. He followed in the footsteps of his family members and worked in the railways. He started playing music when he was 18 years old. For a long time, he had been primarily working in his father's factories, but in 2017, he left everything and pursued a career in composing music. By the start of 2019, he had made only self-serving songs, until one day his wife listened to one, then convinced him to release it. 
The National Symphony Orchestra of Ukraine (Volodymyr Sirenko) and the Kurdo Choir collaborated on the recording of Spring Blossoms, his first album. Dance on the Moon, his second album with the same orchestra, was released on May 1, 2019. It was his first collaboration with a traditional Iranian musician, Vahid. There were also other albums he released such as Koja Rafteri with Salar Aghili, and Ey Sanam album, also recorded with Mohammad Reza Niazi on poems of his, he has been in the Fajr Music Festival.
His music is not confined to a single style, it is influenced by different musical styles from all over the world, including blues, jazz, funk, classical, and Persian traditional music. He blends them together seamlessly in his albums. He creates what he describes as a fusion of diverse melodies. He has over 2063 monthly listeners on Spotify, and One of his songs Thoda Rahm Konad has more than 150000+ plays on Spotify. 
https://open.spotify.com/artist/5WJKWWFOVfV0PIxiIJsgiX?si=QcVx9cgQRM2f_W6qLMpt8A&nd=1