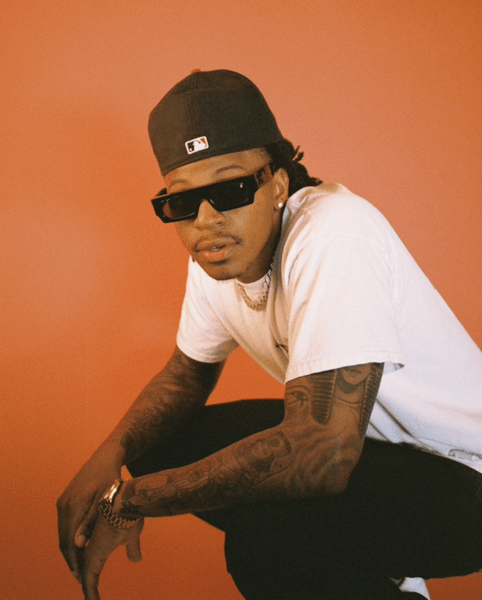 @skopemag news – monday – october 24, 2022 @ 12 pm est
@skopemag HQ – http://smarturl.it/skope
French Space/fuzz/ambient/synth/post-everything/noise One-Man-Band L'Orchidée Cosmique streamed new single "La Corde Sensible"
About 2 years after the official release of the EP 'M87*', French Space-Noise Ambient/Synth/Fuzz-Post-Everything one-man-band L'Orchidée Cosmique aka Flo P. (bass/fuzz/synth/looper) shared a brand new single called "La Corde Sensible" and live video session, avaible on both Bandcamp and YouTube platforms.
Music Submission: The Walrus filter
H3RIZON are a Filipino/Australian RnB/Pop girl-group hailing from Western Sydney with backgrounds in not only singing, dancing & acting, but songwriting, classical training and production/engineering.
GRANDE FOX – NEW official video clip and mini tour with GODSMACK!
[Video] Wolfman Jeckyll ft. Minez – Dirt Nap prod. by Body Bag Ben
WOLFMAN JECKYLL strikes again with his new single "Dirt Nap" accompanied by fellow R.I. artist Minez. The lyrical onslaught showcases both emcees dropping bars from Providence to Oxnard, CA with producer Body Bag Ben providing his customary gritty and hard hitting sound. Not only did Ben produce this single but we can also expect an entire EP from Wolfman & Body Bag aptly titled "Bodybag Tapestries" dropping on October 31st!
War Panties – Loving Sunshine Dream (Official Music Video)
"We are gearing up to release a shiny new album and I wanted to pass along the first single for your most significant listening pleasure, 'Loving Sunshine Dream'! The guys from Half Brothers Media hit it out of the park producing this music video, and truly captured the would-be love fantasy of the two balls of goof in War Panties who have clearly lost their heads up in the clouds, wishing their life away. Watch out for the stunning rock and roll twist at the end of the video! And remember to always pack your War Panties when embarking on a loving sunshine day at the beach…"
The End At The Beginning Release The New Album "Lightbringer"
About "Lightbringer" the band says: "'Lightbringer' is our third full-length and our first LP composed by the actual line-up. It comes from one of the hardest time we have passed and represents a direct consequence of the composing path we started to draw in 'Elements'. All the nine songs are connected both in music and lyrics, shaping a real concept album with the aim to tell a story. Inspired by the poem Paradise Lost and by mythological figure of Prometheus, we have tried to tell our own reinterpretation of these two visions: the story is about Lucifer that, after his banishing from the Heavens and his rebellion against the punishment, becomes the one who brings the fire of awereness to the mankind and eventually the emissary of their distruction, ending enviding their mortality. Musically, the songs are connected through the presence of important orchestral sections, a path we started to follow with the previous EP that in this work, has become more and more the characterizing element of the sound of the band. Everything is obviously surrounded by the typical sounds and structures of the metal and the modern metalcore".
UWUW Release Captivating Retro-Soul-and-Pop Influenced Debut LP
UWUW (pronounced you-you) have just released their debut, self-titled LP on We Are Busy Bodies Records. With some of Toronto's most experienced and revered musicians making this project possible, it's no wonder why the sonic presence of this project demands your attention and doesn't let you go.
MAMAEV KURGAN – Destruction That Wasteth At Noonday (August 3, 2022
It all started with DREAMy, we had a lot of discussions to manage its business side. It is thus from this moment that we decided to create DKrecords to be able to give our knowledge to other diverse artists. We are very happy about it, it's our little project that we care about. We want to have as customers people as invested as us in their projects and in music. DKrecords wants to impose itself in the music and to be able to promote our artists in a positive and diversified way.
Idle Ruin: Australian Blackened Thrash/Death Metallers Release Single/Lyric Video for Delta Hexatoxin
On the concept of the song, the band states: "The song's about the bad apple spoiling the bunch, how one individual's actions can potentially ruin a larger group from the inside out. "Delta Hexatoxin" is the compound within the venom of funnel-web spiders, which can impair one's nervous system once infused."
Pollyanna Blue reveal new single, grunge-pop anthem 'Haunted'
Formed in the summer of 2019 by Zoe Collins (guitar and vocals) and Rich Earle (bass and vocals), the duo released their debut single Saviour during 2020's lockdown, being forced to utilise the digital age to share song ideas online before being able to get together in a room to piece them together.
Tod Lippy releases breezy cover of Tom Petty's 'Don't Come Around Here No More'!
Lippy's interpretation of the classic Tom Petty song is instantly infectious with breezy organ and fuzzy guitars, which break to make way for Tod's emotive & delicate vocal, as the melting pot of sounds twists and intensifies towards the peak of the song.
The People Versus Share Shimmering New Single 'Lonely Teen' Via Museum-Pop Records
Oxford 6-piece The People Versus return with the alluring, atmospheric new single 'Lonely Teen'. Having already made a big impression with their first few releases following radio play across BBC Radio 6 Music, Radio X and BBC Introducing as well as appearances on BBC News, the band have built a growing hype around their infectious indie-come-dream-pop sound.
Teri Underhill joins forces with rapper GodIsMickey for experimental new track 'Rise'
SOHODOLLS release video for divorce anthem 'Letter To My Ex (Thank You, Goodbye)'
COCO JONES SHARES "ICU," INTIMATE NEW SINGLE + VIDEO, AVAILABLE TODAY VIA HIGH STANDARDZ / DEF JAM RECORDINGS
XG release first personal profiles of the girls
Trap MaulWTS – "Mint Regulations"
"Mint Regulations" is a track you can play anywhere and catch a vibe to with his laid back flow and accurate description of how his days typically go when he comes back to Los Angeles. Trap Maul provides listeners with all the right ingredients for a smooth ride or just a laid back day at the house. The video was shot by John.Marq and it was directed by Interlude studios. They came together to bring you a wonderful snippet into the life of one of the most stand out up and coming artist of today.
Rising Streatham visionary RAF-SAPERRA blends Pakistani heritage with UKG for the highly-anticipated visuals to "N.L.S."
Visionary underground phenomenon Raf-Saperra unleashes the highly-anticipated visuals to his recent cult UKG smash hit "N.L.S." (Nach Le Soniye).
Colin Tyler Releases New Single "Julian"
This is a powerful new song telling the story of Wikileaks founder Julian Assange, who leaked government secrets and ended up in jail for his troubles. "The revelations cut like glass, they were ever so detailed, until they couldn't take it anymore"
After That flirts with indie rock on new single "Tik Tok"
Continuing the original projects, "Tik Tok" enters as the second studio work released by the band After That, this time as a single. The track, which continues with strong indie/alternative rock influences as well as the "City Lights" EP, is a complement to the song "Love is a Joke", released in 2021, where the central theme is based on a heartbreak, but this time from the point of view of the one who causes the disillusionment and not the one who suffers it, as observed in "Love is a Joke".
Mariah Carey Announces Special Limited Engagement Holiday Shows
Today, singing and songwriting icon Mariah Carey has announced her latest Christmas revue – Merry Christmas To All! – which celebrates the global superstar's repertoire of classic holiday songs. The special two-date only run will be on December 11th at Scotiabank Arena in Toronto, Canada and December 13th at Madison Square Garden in New York, NY.
BLUR drummer DAVE ROWNTREE shares new track "HK"
Blur drummer DAVE ROWNTREE shares another new track from his forthcoming debut album, Radio Songs.
"HK" is streaming now and is lifted from the album out January 20, 2023 through Cooking Vinyl.