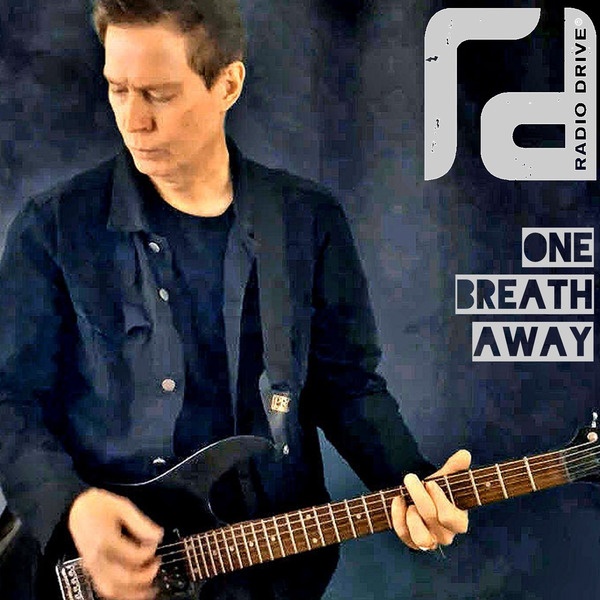 Radio Drive is a talented act out of Minnesota fronted by Kevin Gullickson who sings and plays all instruments on the new EP titled 'One Breath Away'. Midi software was also used during the making of this record to incorporate more string & keyboard arrangements. For the drum tracks on 'One Breath Away', Radio Drive utilized a session drummer from Italy by the name of Matteo Andrigo. Matteo has worked with Kevin Gullickson/Radio Drive before including the last few albums, so the chemistry is in place. To add more of a Pop appeal to this new EP, Radio Drive hired Steve "Mr. Big" Migliore to handle the final mixing and mastering of 'One Breath Away'. The final result is a successful hit, in my opinion, as Radio Drive truly included all the right pieces toward becoming a big, hitmaker. This four-track EP just may take your breath away with its popular sound that will appeal to people from all walks of life.
I am no stranger to Radio Drive and its distinct sound as I continue to be impressed by the original, creative and thoughtful material. As the sole engine behind Radio Drive, Kevin Gullickson never disappoints and always brings fresh and innovative songs to the table. 'One Breath Away' is no exception as Radio Drive truly knows how to tap into a sound & style that can be enjoyed and appreciated by the masses.
The first song that I hear on this EP is "Be Yourself Tonight" that has an extremely catchy chorus & melody. Radio Drive delivers a commanding performance on "Be Yourself Tonight" where Kevin Gullickson provides a sincere delivery. Musically & vocally, "Be Yourself Tonight" checks all the boxes where Radio Drive is in charge and on top here. An excellent beat and highly enticing sound rushes through my ear canals next on "Don't You Know" where this song will get you all jazzed up. "Don't You Know" you will be clapping and singing along to this contagious number and will be enthralled with the rhythm. It is out of your hands and out of your control…"Don't You Know"! The next track, "I Believe I Believe", is all about faith & hope and Radio Drive draws you in immediately with one killer hook. Radio Drive gives a standout performance on "I Believe I Believe" and is perfectly executed, in my opinion. I have always believed in Radio Drive/Kevin Gullickson because the music is heartfelt and speaks for itself. "I Believe I Believe" exhibits all of those fine qualities and proves why I am a longtime fan of Radio Drive. Last but certainly not least, I experience a song worth hanging onto and it is called "Moment by Moment". Meaningful lyrics and a powerful message will hit you and consume you note by note. The listener will receive a fulfilling and complete sound on "Moment by Moment" that will appease all of your senses. "Moment by Moment" is special because it gets you moving one step at a time and has you contemplating how precious time is and how we should cherish every second of it.
Radio Drive is a well-oiled, music machine and 'One Breath Away' is well-orchestrated offering something for everyone. Music with substance, music with a purpose and music that can connect with many can best describe this recent release by Radio Drive. 'One Breath Away' is ready for major airplay on radio waves worldwide and I'm just thankful that Radio Drive continues to supply high-quality recordings for a wide, listening audience. Represented by 12 Story Records, Radio Drive will continue to thrive & survive in this music industry by way of timeless music. Embrace the sound and be sure to add 'One Breath Away' to your personal playlist, (https://open.spotify.com/album/1SvvUvu4IsppNUo3OdmYlY?si=6py-PefmRjWbngCv6h5E1A&nd=1).