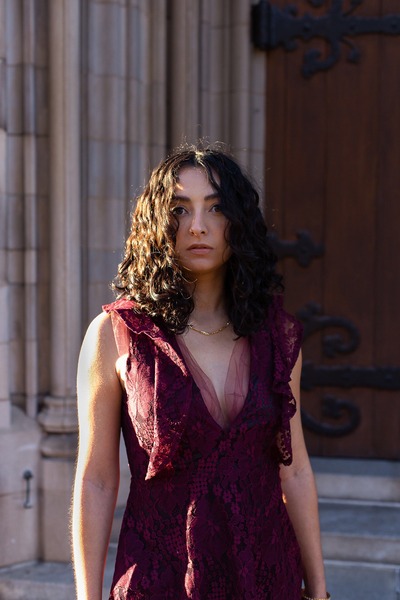 @skopemag news – wednesday – october 12, 2022 @ 8 pm est
@skopemag HQ – http://smarturl.it/skope
Annabel Gutherz Shares Acoustic "Life On Mars" Cover
Filmed in a seemingly endless field of sunflowers, the acoustic video for "Life on Mars" is a vibrant and stunning visual. In contrast to the theatrical and full-bodied sound of her original cover, Annabel's raw and powerful vocals take centerstage on the stripped back version of the song.
Speed Metal Heroes STÄLKER Surprise with 12" Double Single Vinyl to be Released on November 4 via Napalm Records
UK rock trio Tigercub release first single on Stone Gossard label; tour starts next week
"They say comparison is the thief of joy," says Tigercub's 7-foot frontman Jamie Hall, "and nowhere is this more acutely felt than on the internet; the public ledger where I must amend my social cv daily, to portray my life to others in the most rose tinted & ineffable way possible. The reality couldn't be further from the truth of course, beneath this facade I am crumbling, cascading into despair and at odds with my emotions. 'The Perfume of Decay' is my expression of this feeling, an argument between affectation and naturalness. It marks the beginning of a new era for us – this is Tigercub at its heaviest, its most accomplished, and most unapologetic."
NEW MUSIC: Multifaceted Electronic Producer Nau Leone Releases 'Nº1 Cambio' (FFO: FOR FANS OF: Ben Böhmer, Trentemöller, Avoure)
MIMI WEBB ANNOUNCES DEBUT ALBUM AMELIA!
"Announcing my first ever album is such an important moment in my career that honestly, sometimes I wasn't even sure would happen. But after 3 years of hard work, I just can't wait to share this body of work with all of you who have helped me get to where I am today," Mimi shares. "The album is named Amelia, my full first name, as there are two sides of me that I want people to get to know. There's Amelia, the girl from the UK countryside who loves to be at home with her family, friends, and dogs; and Mimi, the pop artist who loves to be up on stage traveling the world. It was important for me to capture this duality with songs written for both of those girls, and I'm excited for you all to get to know them!"
Plaid unveil new single + AI-powered short film for "Perspex," new album due 11/11 on Warp Records
VIDEO: Lasse Matthiessen unveils wicked visuals for 'Dreams Don't Make Noise'
DISILLUSION reveal new single 'Driftwood'
DISILLISION have released the beautifully melancholic, yet also highly dynamic track 'Driftwood' as the final single taken from the forthcoming new album "Ayam", which has been slated for release on November 4.
Soul Blind spiral on heavy new single "Tribe"
Andrew McMahon in the Wilderness Releases New Single "Skywriting"
"Creating for a living, you want every song to be your biggest, every lyric to be your best, but in the end, it takes time to know whether or not what you've made will outlast you or at least the moment of its creation," shares McMahon. "When I think about the act of skywriting it really is a perfect metaphor, not just for creating but for living. It's a big gesture to own a place in the clouds even if it's just for a moment. To share a bit of yourself on a big stage no matter who looks up to find you there. In the grand scheme of things, what we think will last is, in fact, temporary, so maybe doing something daring and beautiful is really what it's all about. I came at this song with a sense of freedom. Comforted knowing that for a moment I was sharing a room with friends who wanted to make something together. We danced around the studio, made each other laugh and wrote a song about the wonderful magic trick of existence. Now you see it, now you don't."
Hans Pucket announce US tour with The Beths / premiere "Bankrupt" via FLOOD
No Drama, the new LP from the Wellington, New Zealand four-piece Hans Pucket is due out in a little under a month via Carpark Records (Cloud Nothings, The Beths). The album was recorded with producer Jonathan Pearce of The Beths and features several cameos from his Beths bandmates, and today Hans Pucket are announcing an extensive US tour with the band that will take place in early 2023, and sharing a new single from the record entitled "Bankrupt" that is premiering now via FLOOD Magazine.
Pepper Lewis Releases New Single "FABIO"
Pulling its vivid lyrics from a real date that Pepper had (You said, "I don't really go on dates," As you held the door for me to the arcade,"), "FABIO" is about a man manipulating her into thinking he wants a long term relationship when he just wants to sleep with her ("You know my bars low, so, I'll take you home, If you call at a reasonable time, Just to say hi").
"Firecracker" Taylor Sanders Won't Be Tamed in Debut Country Single
Taylor gained recognition for her covers of songs by well-known artists such as "Jolene" by Dolly Parton and "Walkin' After Midnight" by Patsy Cline. In 2022 she was selected as an opener for Grammy-Award-Winning, Grand Ole Opry residents, The Gatlin Brothers.
SEA OF SNAKES Stream Entirety of "The Serpent And The Lamb" At The Obelisk.
The band comments " 'The Serpent and The Lamb' attempts to wrestle rock music from the hands of the bland, the weak, the jaded, the tired, and the worn…and thrust it back into the hands of the real raunch rebels. Dive into the paranoid bliss of sweat, drugs and rock n' doom, then play it again for your friends."
Sea of Snakes Stream Debut Album The Serpent and the Lamb in Full
Soulful Single ITSO: Meghan Trainor's "Workin' On It"
The fourth single from Nilka's seven song collection, "Mercy" is inspired by Nilka's personal life and faith experiences during the pandemic. The single tackles topics of mental health and spirituality, while having a slow groove worthy beat. Singing the title word "mercy" with willing persistence, Nilka brings the listener into her world with profound candor.
Singer-Songwriter Lily Meola performing in Boston on Oct 27
Singer-songwriter Lily Meola is on tour opening for Ray LaMontagne. She will be performing in Boston at the MGM Music Hall at Fenway on Thursday, October 27th.
This past year, Meola released five new original songs on her ep Daydream. And she performed the title track on America's Got Talent, where Heidi Klum picked Meola for her Golden Buzzer. Meola went straight to an AGT's live semi-final show, where she performed another new, original song "Butterfly."
Eli 07 Shares Single "15 Miles" | New Single Out Now via Icons+Giants
I'm an 18-year-old artist from Berrien Springs, Michigan. When growing up, you could find 6-year-old me sitting next to the radio flipping through channels and listening to everything that I possibly could. When people asked me what I wanted to be when I grew up, I would say "A Superstar". It wasn't until late into my junior year of high school that I started making music. It all started when my friends and I were bored and tried to make a song for fun. I realized I really enjoyed doing this and continued with the best dude in all of Berrien Springs. My friend Felipe Navia! I would record a track and then send it to Felipe to edit the vocals. 6 months into making music people were feelin' the music and we got addicted to just creating. I started posting on TikTok regularly and gained the attention of many different people. In my senior year of high school, I accepted that music was what drove me and what I wanted to do with my life. Just recently I signed a record deal with an great indie label and I'm excited to see what comes next.
Tara Macri Releases New Single "Waking Up in California"
Tara Macri erupted into the pop music stratosphere with the release of her 2015 hit single "Prettiest Girl in the Room" which broke Billboard's Top 80 chart and received extensive airplay on US terrestrial and Sirius XM radio. "Waking Up In California" follows Tara's most recent single/video for "Excuses," inspiring listeners to know their worth and speak their truth.
Vixen77 Share "Royalty" + Debut LP Out Friday (Megaforce Records — Metallica, Anthrax, Meat Puppets)
Heist or Hit synth-pop revellers Tungz announce debut album
Psych-pop quartet Tungz have returned with their next single, buttery 70s-inspired track '80,000', releasing via Heist or Hit alongside a premiering video. Alongside the new single, the 4-piece have announced a debut album 'A Good Dream' for release 17th February 2023, also on Heist or Hit.
Long Live Rock N Roll With Calgary's Lÿnx's New Video For Rock Anthem "Shake It Up"
Kay Franklin and Problem party in the D.R. for their music video "Ven Aqui"
Los Angeles singer/rapper/songwriter Kay Franklin teams up with Problem for a music video to their latin-infused single "Ven Aqui." Co-produced by Kay Franklin and Grammy-nominated producers Mike & Keys, the track flips the mega-popular Tik-Tok sound "Cumbia Bueno" by Grupo La Cumbia into a bouncy track with playful lyrics in Spanish and English that guarantees to get your body moving. In the Jason Madison directed music video, the two artists take a trip to the Dominican Republic to soak up the sun, ride ATVs and party with beautiful women.
Mary Yalex – New Album 'Sunset Stories' out October 21st 2022 on sound as language / New Single "Tonix" Out Now
A native of Erfurt in central Germany, Mary Yalex has been residing in Leipzig for the past decade, a city with a suitably industrial past that's often reflected in her own music. Like many in her chosen field, Yalex grew up in a musical home, with a piano- playing mother who passed along a deep appreciation of classical music. From an electronic music perspective, hers is a story that can be traced back to a teenage obsession with all things Warp Records, a future-facing British outfit with a sound that seemed a million miles away from the streets of Erfurt. As such, Yalex is a live act who boasts a complex sound palette — and one that's as likely to incorporate house and techno sounds as it is to veer toward more ambient planes.
METRONOMY ANNOUNCE SMALL WORLD (SPECIAL EDITION) OUT 11.29 VIA BECAUSE MUSIC + "LOVE FACTORY" FT KATY J PEARSON
Today, Metronomy announce Small World (Special Edition) due 29 November via Because Music. The special version of their acclaimed seventh studio album Small World will feature reimagined versions of songs from the original album created by some of the band's favourite artists, including French synth-pop icon Sébastien Tellier, genre-bending Manchester four-piece Porij, electronic provocateur Haich Ber Na and more.
MIA GLADSTONE & Teezo Touchdown Enter a LOOPY Digital World in "OPEN LETTER"
Hot Chip release video for "Eleanor"
Letchen Grey – New Single & Video "Castaway"
Letchen Grey, the energetic rock band originally formed in the 1980's from Los Angeles, CA., is back with another emotion-evoking single, "Castaway" out now and the follow-up to their very well received single, "Burn".
SPIRIT IN THE ROOM: Ghost Cult Debuts "Venting" Video; Flamingo EP Out Now On Housecore Records
If you ever wondered what goes on in the head of a film noir hitman, horror novel asylum inmate, or a golden age silver screen villain, it might sound something like SPIRIT IN THE ROOM. The vision of Louisiana-born and Los Angeles-based singer, songwriter, and multi-instrumentalist Dennis R. Sanders unfurls through cigarette smoke, cheap booze, and distortion like an anachronistic fever dream soundtracked by a collision of gothic vocal hues, immersive alternative architecture, and jarring metallic catharsis. It's scary at times. It's sad at other times. However, it's always unpredictable— especially on SPIRIT IN THE ROOM's 2022 debut EP for Housecore Records, Flamingo.
lozeak SHARES NEW ALT-POP SINGLE "XO"
lozeak has already cultivated a huge online (over 611k followers and 48 million likes on TikTok alone) with her debut singles being streamed over 3.7 million times to date. Her music is winning over famous fans, with Bring Me The Horizon's Oli Sykes, Radio 1's Jack Saunders and Frank Carter all championing her sound (with both Oli and Jack recently inviting her to perform at their respective club nights). Tastemaker publications like Dazed, Rock Sound, Stylist, and Wonderland have also tipped her as an artist to watch.
New Single // Dr. Mary's Monkey – "(She Said) This Girl Is Free"
Near-death Fall Still Makes the Edit in this Music Video
Mt. Zion is the newest video from Atlanta rapper Cellus Hamilton. This video is the second single release from his newest album "His Songbook for the Journey". All of the music on this album was created with authentic ancient instruments and tells descriptive stories from Hamilton's real life. Mt. Zion was created using a ram's horn and captures the melody of an African landscape set in Old Testament times. Featuring New York City rapper Trubl3, the Andre Palace-produced Holy anthem is perfectly matched with a stunning visual directed by Paul Ashch. Check out the official video below!