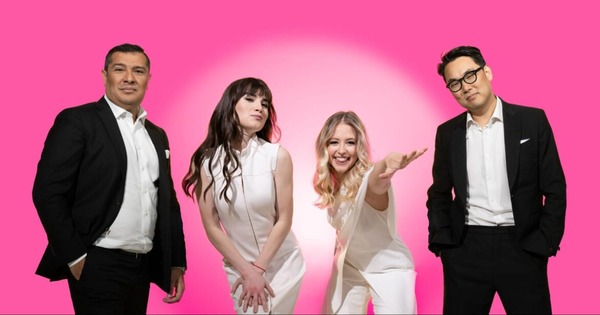 The Dallas String Quartet enjoys a reputation that few other musical units of their ilk can claim. The synthesis of classical and pop instrumentation isn't entirely new, but few bands boast the layered and deeply emotional sound these musicians achieve. They've opened for five-star acts such as Chicago, Trans-Siberian Orchestra, and Josh Groban. The quartet has played for luminaries such as two Presidents, several professional sports organizations as well the College Football Playoff, but they've graced stages in traditional venues such as symphony halls and the House of Blues.
URL: https://www.dallasstringquartet.com/
Love Always from the band's forthcoming album is one of the Quartet's best collections yet. The band's joined by guests The Piano Guys on this album, but it's as distinctively Dallas String Quartet as ever and illustrative of why the recently wedded Blake Shelton and Gwen Stefani chose the band as their matrimonial entertainment. "10,000 Hours" introduces newcomers to the Dallas String Quartert's proficiency as interpreters. This instrumental cover of Justin Bieber's smash hit makes for a great opener and hearing how they dig deep into the melody.
Their contemporary aim remains as strong as ever over the album's next two tracks. Taylor Swift covers of her songs "Lover" and "Wildest Dreams" convey the effortless melodic of both tracks while re-envisioning them thanks to the classical music influence. No one else breaks this sort of ground in modern music today and renders the distance between pop and art virtually indistinguishable. "Wildest Dreams" is the more effective of the two, in this review's estimation, but it's more a matter of energy than anything else. The latter track has a more decisive forward surge that carries listeners along. 
"You Are the Reason" features The Piano Guys' contributions, but it's the soaring lyricism provided by the song's strings that you'll remember Some listeners may be a bit hesitant going in because of the potential for schmaltz, but there's none of that during "You Are the Reason". I dare say many of the people hearing these reinterpretations will enjoy the Dallas String Quartet's takes on these tracks more than the originals.
They cast their gaze back to 2004, however, for "Bless the Broken Road". This track continues the DSQ's unbroken run of rendering these modern pop "classics" in a new guise that's more appealing and polished overall. You hear none of the pandering and histrionics, but the substance is multiplied by a factor of ten. Their version of Dolly Parton's "I Will Always Love You" won't prompt listeners to forget either the Dolly Parton original or later Whitney Houston smash – an instrumental performance of the track may emphasize for some that this is, indeed, a song driven by its vocal.
https://open.spotify.com/album/49HT4HurVKJJ8i1yKplkq0?autoplay=true 
The finale "Hallelujah", originally written by Leonard Cohen but popularized by Jeff Buckley, wastes zero time propelling listeners into the song's melody. No introductory preambles necessary. It's an excellent choice for ending this release and hits an emotional note in keeping with its predecessors. The Dallas String Quartet's Love Always radiates the message of its title in each of its eleven performances. 
Gwen Waggoner