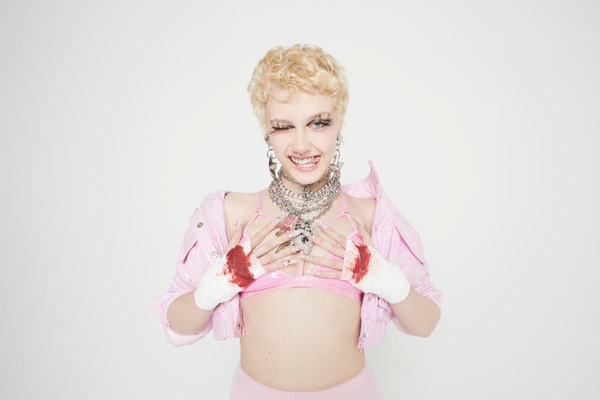 @skopemag news – friday – october 7, 2022 @ 12 pm est
@skopemag HQ – http://smarturl.it/skope
Thunder Bay's Along the Lines Release Impactful Debut Metalcore EP "Our Dear Finale"
Along the Lines is a metalcore band out of Thunder Bay, Canada is releasing their debut EP "Our Dear Finale". The seven-track EP has 24 minutes of songs that hit hard, lyrics that pop, and a dramatic story that is based on a story of domestic abuse. They previously released two singles, to a great response from fans around the world. The band comments on the EP:
Will Sheff (Okkervil River) Releases Solo Debut Nothing Special, Out Today On ATO Records
Today CAUSTIC CASANOVA release new album "Glass Enclosed Nerve Center"
FAOUZIA SHARES "HABIBI (MY LOVE)"
"I wrote 'HABIBI (MY LOVE)' as a sweet and simple love song to remind those closest to me how priceless and valuable their love is," Faouzia says. "I used the word 'Habibi' (which means 'my love') since it's an Arabic term I use (as well as anyone who speaks the language) and it is very authentic and real to me. It's a very simple term but holds so much meaning."
Indie-alternative act Expert Frowner releases No Smiles EP
Today Charlotte, NC-based act Expert Frowner aka Patrick Haynes releases its debut EP, No Smiles. Calling to mind everything from Oasis and Joy Division to more recent acts like Cloud Nothings, the record is an exploration of rock music fused together into a punk-power-pop sound. It's an EP born of the extra time at home caused by the pandemic. Haynes recorded all the vocals, guitars and bass on No Smiles in Charlotte, with Miguel Vasquez (Echo Base) adding drums from Philadelphia. It was mixed by Steve Kelly (Sinking Ships Records) and mastered by Jon Markson (Drug Church, Soul Blind). Opener "Rookie of the Year" is a hook-laden track that gives an introduction to Haynes' knack for writing thoughtful, guitar-driven material. "Last Chance" digs into a more jangly, pop-forward influence while "See You Again" is a fuzzed out number with somber lyrical content. The album ends with a cover of The Kinks' "Death of a Clown," which Haynes always wanted to hear distorted and loud, as if a '90s power-pop band wrote it instead of a '60s British-Invasion group. The self-release of No Smiles is intended to serve as a calling card to be followed by a full-length Expert Frowner LP in 2023.
Young The Giant Releases Act III: Battle
MisophoniA Release New Maxi-Single 'Sorrows Of Yesterday'
CHLOE MORIONDO UNLEASHES NEW ALBUM SUCKERPUNCH
KATIE GREGSON-MACLEOD SHARES NEW SINGLE'COMPLEX'
Today, breakthrough Scottish singer-songwriter Katie Gregson-MacLeod shares her highly-anticipated new single 'complex' via Arista Records. Written by Katie and produced by Greg Kurstin (Adele, Paul McCartney, Maggie Rogers), the track is a new version of her breakout single 'complex (demo)'.
MIMI WEBB RELEASES NEW SINGLE & MUSIC VIDEO "GHOST OF YOU"!
TALOS RELEASES NEW ALBUM 'DEAR CHAOS' TODAY VIA BMG
Irish artist Talos today releases his long-awaited third album, Dear Chaos – a beautiful, expansive work that features the singles 'All Ours', 'dance against the calm', 'KITES' and the sublime 'Crows', featuring Lisa Hannigan, which closes the album. The 11-track record, out via BMG, is available on digital, CD and limited clear vinyl.
THEODOR BASTARD Releases New Song, ft. in TV Series 'Zveroboi'
THEODOR BASTARD comments on the track: "Through the eye of a needle I'll crawl into your dreams, just not to choke there from your tears …"
Nonô drops infectious new single 'Lovesick'
Her first release after signing with Helix Records, the infectious, high-energy dance jam, 'Lovesick' combines soaring breakdowns and a pumping bassline with Nonô's irresistible vocals. Produced by Lewis Thompson (David Guetta, Joel Corry) and co-written with Karen Poole (Becky Hill, Kylie Minogue), 'Lovesick' is the latest in a long line of revered singles Nonô has released this year, following on from 'All Day' with Welshy, 'Time To Groove' with Majestic, 'Deep' with Example and Bou, and 'Sky High' with Alok.
Atmosphere Release Their "Sculpting With Fire" Single Today
This time around, the group break dimensional boundaries, layering pensive, poetic, and ponderous wordplay above psychedelic architecture. Producer Ant sets airy sonic flourishes against a backdrop of live instrumentation courtesy of G Koop on guitar, bass, and percussion and Graham Richards on piano, organ, and synth. It instantly transfixes as Slug's bars cut deep. Getting existential, he thinks aloud, "This could be the last song that I ever wrote. Only Heaven knows I'm like whatever though. Everybody's gotta travel across it. When I go, I hope I go from supernatural causes."
Alt-Pop Up & Comer LOOME Shares New Single 'Talking To Strangers'
Barrett Davis Releases Acclaimed Debut "The Ballad Of Aesop Fin"
"I just came to this serious point in my life where I realized that if I want to make music and perform, then it's now or never—I've got to make something of it," remembers 29-year-old musician Barrett Davis of the time leading up to his debut album The Ballad of Aesop Fin. Luckily, for us listeners, Davis's dedication to his dream paid off in spades.
BAYLI's "act up" single/video
MÅNESKIN Release A New, Heart Wrenching Rock Ballad Single "THE LONELIEST
As The Breakthrough New Rock Band Of The Year Also Prepares To Launch Their First Extensive North American Concert Tour, USA TODAY Also Hails MÅNESKIN Today For "Seducing The U.S. With Style, Sass, and Blistering Rock n Roll"
DANIELLE SANTILLI RELEASES BEAUTIFUL NEW BALLAD "DREAMS"
"I've tried to give up music at times when it feels like I'm getting nowhere or I become frustrated with the industry," Danielle explains. "But, it never works! At the end of the day, I've learned that it will always be a huge part of me. Songwriting brings clarity to my emotions and allows me to express myself really authentically. Not everyone is lucky enough to have that outlet, so I've learned to embrace it."
Hyper Pop Artist Danny Dwyer Double EP 'Losers' – an emotional portrayal of liberated youth 
NEWS: Tim Green releases single 'Lune', announces forthcoming mini-LP with All Day I Dream
Today, Tim Green returns to Lee Burridge's All Day I Dream label, releasing a new single, 'Lune', and announcing his mini-LP, Eastbound Silhouettes, to be released October 28. The mini-LP will contain six tracks, Tim's largest body of work on All Day I Dream to date.
INVICTUS: No Clean Singing Debuts "Bleed Me Out" Video From Project Led By Kataklysm/Ex Deo Frontman Maurizio Iacono; Unstoppable To See Release October 21st Via MNRK Heavy
INVICTUS, the new solo project led by Maurizio Iacono, today unveils a lyric video for "Bleed Me Out." Currently playing courtesy of No Clean Singing, the band's latest single comes off their debut full-length, Unstoppable, set for release on October 21st via MNRK Heavy
Introducing: DEWEY & her beautiful new offering 'Another Woman'
electronic artists INZO and Elohim release "Earth Magic" single
"Earth Magic" is INZO's first release for Lowly. (home of NGHTMRE, Said The Sky, TroyBoi, and more) and heralds a new direction for his sound marked by the more quiet, introspective areas of his range. Created during lockdown, Earth Magic is more cinematic and calmer, with lo-fi beats, piano breakdowns, and transcendent synth beams—a byproduct of INZO's renewed focus on health and wellness. Making music itself has become therapeutic for him, so it's fitting that his new work reflects that cozy headspace. As much as he enjoys playing live, he especially loves the quieter, more intimate moments of listening back to a track he's made for the first time and realizing it's exactly what he'd envisioned.
SUBWAY TO SALLY to Release New Album 'Himmelfahrt' in March 2023!
French heavy-metal four-piece unveiled new music video "Rock Squadron"     
About 3 years aftr the official release of 'Into the Jaws of Death' (2019), French heavy-metal four-piece Evil-Minded is about to release a brand new full-length effort called 'Lucy's Fate' and expected on CD & Digital mid-October through Music-Records (Twisted Mist, Angel Rising, Carnage Of Children etc.).
OUT TODAY! Electric Hard Rock Trailblazers, The Alpha Complex, Release Their New Single "My Inferno"
The Alpha Complex has a larger-than-life sound that melds together hard rock with electronic influences. Their pulsing melodies, hard-hitting grooves, and unapologetic lyricism embody the spirit of modern hard rock music while their electronic infusions in the synths, sonic textures, and vocals make them a refreshing must-hear new band.
Augusta a 7-piece alt rock group share debut video track "Little Birds" a groovy polished introduction
The Kody Norris Show Releases Their Latest Single "Mountain Rosalie" Today!
With the release of their new project, The Kody Norris Show is continuing on the path of bringing bluegrass music to both core fans and new audiences across the United States and beyond. Offering a youthful voice of bluegrass, music fans often state, "I don't like bluegrass music but I like you!" As a result of their fresh new sound to the genre, The Kody Norris Show has received multiple IBMA & SPBGMA nominations and wins in 2022 for Entertainer of the Year and Fiddler of the Year for Mary Rachel Nalley-Norris.
Indie Pop Artist Lyzzie Drops New Track "IJWYD"
On her journey to self-discovery and self-love, Lyzzie confronts her pain in "IJWYD" (I Just Want You Dead). "A grown man fell in love with me when I was in high school," she discloses. "I've felt a lot of conflicting emotions surrounding this relationship. I've felt disgust and anger but also heartbreak and betrayal. The song is about what I wanted to say to him, but never did at the time. He should know what he did was wrong."
RESTLESS ROAD RELEASES "SUNDOWN SOMEWHERE"
Written by Cole Swindell, Ben Hayslip, Jacob Rice, and Cole Taylor, "Sundown Somewhere" highlights the hope of meeting that future someone you're meant to be with and has been highly anticipated by fans since the band first teased the song weeks ago.