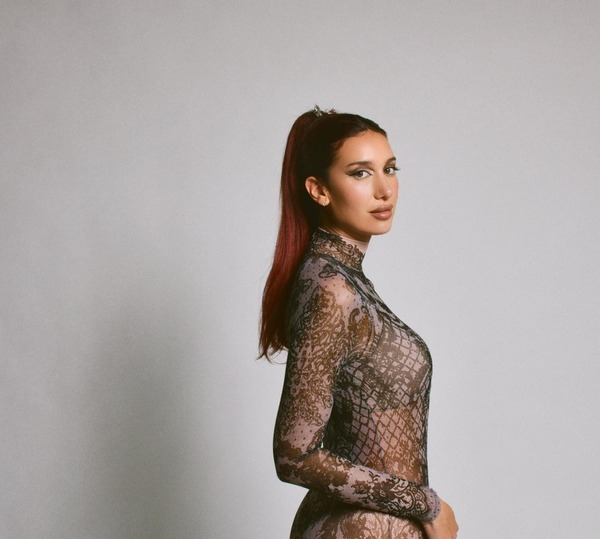 @skopemag news – thursday – october 6, 2022 @ 12 pm est
@skopemag HQ – http://smarturl.it/skope
LUCKIEST GIRL ALIVE Star on Theatrical Debut Opposite Mila Kunis
Triple threat, Canadian-born, Filipino/German/French actress, dancer, and singer Nicole Huff is set to make her theatrical debut in the highly anticipated thriller LUCKIEST GIRL ALIVE which is set for a limited theatrical release on September 30th and then a wide release on Netflix on October 7th. Most recently starring as 'Paige Aquino' in the dark thriller Netflix series "Tiny Pretty Things", Huff has established herself from a young age in the entertainment industry, having booked over 35 commercials before she was 13, and starring in projects alongside such notables as Lauren Holly, Jason Priestley, and Mila Kunis. We would love to set up an interview with you and Nicole Huff to discuss her latest project and her career overall.
Track Out Today from SESPOOL
BELEN LOSA UNA DE LAS CANTAUTORAS DE MÚSICA CRISTIANA MÁS RESPETADA, ESTRENA NUEVO EP "FORJANDO ADORADORES"
Difundiendo el Evangelio a través de su música con la cual inspira a millones alrededor del continente, Belén Losa estrena "Forjando Adoradores" su nuevo EP donde comparte su indiscutible talento, uniendo a muchas personas con un solo fin, la adoración y el camino hacia el Señor.
Este proyecto cuenta con una esencia muy especial, y es que más de 60 alumnos de su escuela de canto viajaron desde diferentes partes del mundo para participar como coristas en la producción del EP, "Forjando Adoradores".
New Impactful Single/Video About Bullying From Fiercely Creative Canadian Artist, Producer & Musician, Terez – "luv2h8"
A high school student at the time when cell phones with cameras and the internet were becoming increasingly popular, Terez belonged to the generation at the forefront of bullying on social media, and was unfortunately one of the many victims of it. With deeply emotional lyrics sung to an incredibly upbeat, bubbly Pop melody, Terez's "luv2h8" tackles internet bullying, the bullies themselves, and their targets. With influences from Mean Girls and her own experiences with bullying, the video for "luv2h8" was produced and directed by the renowned Glean Productions, with a full cast and crew. With the intent on shining a light on the emotions and impact associated with bullying, the talented artist who ranks among the 2.1% of female producers in the industry today leaves a bold statement about bullying in her soon to be released video.
DEMOGORGON Release New Single 'A Servant Of Satan'
bbno$ RELEASES NEW SINGLE 'top gun' WATCH NOW
School of X's Rasmus Littauer features on wicked THE ADAM debut!
Longheads release tongue-in-cheek video for 'One Step Further'
ADDIE BRIK — Releases Simmering New Single: "Retromingent" || + New Album: 'That Dog Don't Hunt' Out 25 Nov
Taken from Addie's forthcoming new album, 'That Dog Don't Hunt', it's a song of a transfixing gravity that will bring to mind the works of Talk Talk or Kate Bush to halt you in your tracks.
Introducing Militarie Gun | Signs to Loma Vista Recordings | Announces "All Roads Lead To The Gun (Deluxe)" out October 21st | Shares new single/video "Let Me Be Normal"
French Space/fuzz/ambient/synth/post-everything/noise One-Man-Band L'Orchidée Cosmique streamed new single "La Corde Sensible"
About 2 years after the official release of the EP 'M87*', French Space-Noise Ambient/Synth/Fuzz-Post-Everything one-man-band L'Orchidée Cosmique aka Flo P. (bass/fuzz/synth/looper) shared a brand new single called "La Corde Sensible" and live video session, avaible on both Bandcamp and YouTube platforms.
Experimental sound artist & composer Yair Elazar Glotman shares new dark, ambient, electronic single 'A Year' via SA Recordings
ANZILLU Return With "The Cleansing Flame" Music Video and Digital Single
SAN LORENZ (formerly SPQR) Reveal Video For New Single 'Accessory' Out Now
NATIVE HARROW — Release New Single: "Heart of Love" || New Album 'Old Kind of Magic' – out 28 Oct
Japanese rock band tricot celebrate their ongoing UK and Europe tour with the release of new song 'Aquarium'
ELECTRIC MOB ANNOUNCE NEW SINGLE & VIDEO "SUN IS FALLING" AVAILABLE NOW!
Richard Dawson announces new album 'The Ruby Cord' – out Nov 18
Due on November 18th via Weird World, The Ruby Cord is the final part of a trilogy that started with the pre-medieval world of Peasant, was brought back to the present day with 2020 and – possibly – concludes in the future with Dawson's seventh studio album. After recent collaborations with Finnish metal innovators Circle and his work with Hen Ogledd, this is a return to Dawson's own world with seven tracks that plunge us into an unreal, fantastical and at times sinister future where social mores have mutated, ethical and physical boundaries have evaporated… a place where you no longer need to engage with anyone but yourself and your own imagination.
postcards from new zealand stream liminal space at Doomed & Stoned
liminal space is streaming now at Doomed & Stoned ahead of its release on October 7th. The concluding chapter of the betwixt and between trilogy, this is the band's most experimental and unchained album yet.
SUN VOYAGER: the best garage-psych you'll hear this year!
New York-based garage psychedelic power trio SUN VOYAGER premiere their self-titled sophomore album "Sun Voyager" in its entirety today, in anticipation of its world release this October 7th on Ripple Music.
Mabe Fratti Shares Lush New Single "Algo Grandioso" From New LP Out 10/14 (Unheard of Hope)
Guatemalan cellist and composer Mabe Fratti today released the lush and textured "Algo grandioso," the latest single off her forthcoming new album, Se Ve Desde Aquí, due out on October 14th (Unheard of Hope). Translated to "Something great," the track reflects one of the album's central characteristics: a "frontal" approach–which Fratti says is "informed through the aesthetics of rawness and a 'dirtiness"–with lyrics that refer to walls falling. Its fittingly surreal video was co-directed by Kim Torres and Thania Diaz (who previously worked with Fratti on her "En Medio" video). Fratti's forthcoming LP received early support from The Guardian (4 stars, Global Album of the Month), with previous album singles "No se ve desde acá" and "Cada músculo" earning praise from WNYC New Sounds ("Not pop, by any means, but not avant-garde abstraction either, Fratti takes an exploded song form and makes it into something distinctly her own"), Pitchfork (track review), Remezcla, XLR8R, Riff Mag, and more.
Dalton Cyr Releases Emotive New Single, "Happy"
Off the heels of his single "Dying To Love You," Dalton Cyr once again showcases his storytelling abilities in his latest offering, "Happy," a track defined by sentimental melodies and lyrics that pull at the heartstrings. The longing for love and happiness demonstrates the scrutinizing trials and tribulations of a breakup, which is an all too real feeling many empathize with. "I wrote this track to capture that sinking feeling of playing the 'what if' game after a relationship ends," Cyr explains. "Sometimes it can kill you to see an ex happy — not that you want them to suffer, but that you couldn't give that happiness to them." The pool of feelings at the end of a relationship can be confusing and hard to process, and Cyr explores this heartache head-on. "Happy" was co-written by Sophie Rose and produced, mixed, and mastered by Mikal Blue, who has previously worked with OneRepublic, Colbie Caillat, Jason Mraz, and Five For Fighting.
Princess Goes To The Butterfly Museum Releases New Single "LET IT GO"
Princess Goes To The Butterfly Museum (Michael C. Hall, Peter Yanowitz & Matt Katz-Bohen) are kicking off their next era with the highly anticipated single – "LET IT GO" – which has quickly become a fan-favorite and a staple in their sold-out live shows. The song is a soaring, synth-heavy escape from reality as the band really encouraging listeners to do exactly as it says, LET. IT. GO.
Jamila Woods Shares New Single 'Boundaries'. Stream Now.
**PRESS RELEASE: EMPIIRES RELEASE NEW LYRIC VIDEO "INVINCIBLE"
Julia Wolf Announces Debut Headline Tour Following the Release of F-U Anthem "Get Off My"
With three highly-praised singles notched in her belt this year, including her most recent anthem "Get Off My," emerging indie-pop singer/songwriter Julia Wolf has announced her premier headlining tour—Gothic Babe Tendencies Tour—and will be hitting the road in Feb. 2023. Julia will make a stop in her hometown, New York City, on Feb. 16, and Los Angeles on March 2 following the release of her eagerly-awaited debut album (more on this soon). Julia previously sold out both her NYC and LA shows for her EP release.
Blair Lee blurs the line between her dream world and reality on "Peachy World"
Vocalist/Composer CHARLOTTE WESSELS Releases New Single "Venus Rising" & Official Video
Rapid-rising UK rapper NvM delivers the explosive drill heater "Break It Down"
SixSaidIt Drops Dynamic Genre-Bending LP 'Outside II'
Vancouver Musician Ché Aimee Dorval Premieres New Single + Video FALLING UNDER
'Falling Under' follows the release of 'Blood Red Son' and is the 2nd single from Ché's forthcoming album. The track is about the sadness of watching someone you love lose themselves to addiction, but Ché wanted to convey a more positive message with the video.