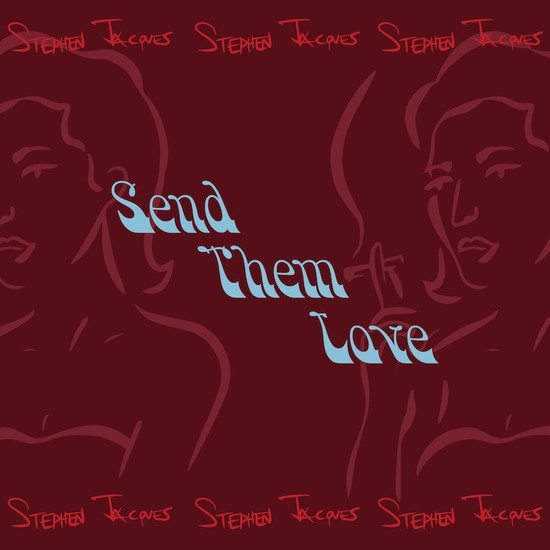 If you're wanting true artistry, then look no further! Stephen Jacques is hitting on all cylinders with his latest album titled 'Send Them Love'. This is music done right as Stephen Jacques has put together a wonderful project that has so much heart and stellar material. 'Send Them Love' is full of potential and will get listeners buzzing with excitement.
The record starts up with the title track, "Send Them Love" that is just a wonderful arrangement from beginning to end. "Send Them Love" is a rich composition where Stephen Jacques is singing & performing with such conviction. Get ready for a powerful production done right on "Send Them Love" and add in a sweet melody coming your way. Next, I am hearing "Night of the Wine" that is a refreshing listen and you will want to soak up all of the flavorful notes here. "Night of the Wine" is a stylish track and super smooth plus pairs perfectly with the average music connoisseur. Prepare for "Slowed Down World" next that hits you with an emotional impact and sincere delivery from Stephen Jacques. Take a step back and stop for a second as you bask in the glorious sound of "Slowed Down World". Just ease your mind and calm your soul as you fully digest "Slowed Down World" in all its glory. Enter a dream-like state of musical magic on the following number, "All I Have to Do is Dream, which is a classic song by The Everly Brothers. This is a unique take on a timeless hit as Stephen Jacques added his own spin to "All I Have to Do is Dream" while still honoring the integrity of the original recording. Head down to "Point Reyes Farm" where Stephen delivers a genuine performance overall that is gripping. "Symphony of Freaks" is a freakishly good time and highlights Stephen's musical talent as he jams out like there is no tomorrow. Next, explore "Utah Countryside" that displays a calming effect, peaceful flow and soothing melody. Moving along, you will get "Swept Away" by one catchy hook and you can sense Stephen Jacques is truly enjoying this song and is in the zone. Stephen Jacques is soaring high on the next track, "Heaven Beyond" with its heartfelt presence and musical purity shining through. Stephen Jacques is serving up "Teaspoon Me Joy" next that contains just the right amount of sweet sugar for your ears. I'm jiving along to the perfect vibe on "French Wake Up Call" where one will receive a cool, rock-steady beat. You're just in time for "Midnight Lover" where this joyful tune will please your eardrums and satisfy your musical palette. Stephen Jacques goes out with a BANG on "Texas to Brooklyn" where he takes the listener on one high-spirited adventure for the ages.
With elements of alternative & rock, Stephen Jacques brings his own, original style to the table and 'Send Them Love' is a terrific album. Stephen Jacques is a multi-dimensional artist with a true vision in place with that statement being 'Send Them Love'. If you're in the mood for high quality music and well-written compositions, then 'Send Them Love' is your ticket!
https://www.facebook.com/boxofmoxie.net
https://twitter.com/jacquesstephenr
https://www.instagram.com/stephenjacquesmusic/
https://soundcloud.com/stephen-jacques-429639698/tracks
https://open.spotify.com/artist/1gImcfm9xjM9Y0lcGgBTkB
By Jimmy Rae