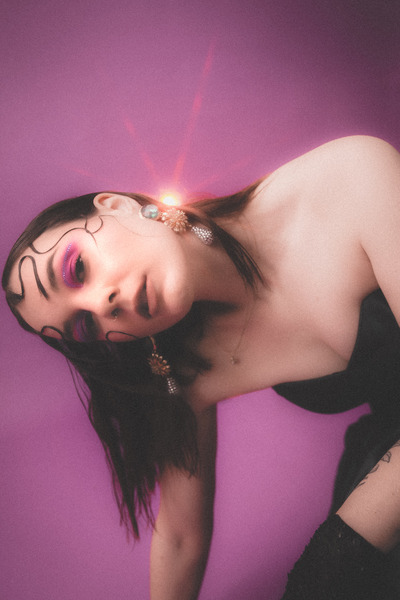 @skopemag news – monday – september 26, 2022 @ 8 am est
@skopemag HQ – http://smarturl.it/skope
Orlando's 408 Teams Up With Titus To Create New Pop Punk Anthem "2016"" Video
Alternative/pop-punk four-piece 408 have been on a tear since signing with BreakSilence Recordings and they began dropping new music from their debut album, Out Of It, which is coming on October 28th. 408 is back this time teaming up with genre-bending rapper/pop-punker TITUS to create a new pop-punk anthem "2016". The song blends the addictive guitar riffs and hooks of Y2K pop-punk and takes listeners' hand as they stroll down memory lane, reminiscing about the past.
GEORGIA WEBSTER RELEASES CHAPTER 1: THINGS WE'RE NOT SAYING EP
"This week is a dream," says Webster. "I'm finally releasing the music I've been working on this first year in Nashville and I get to play them on tour with one of my favorite artists in country music. I've been rehearsing all week and can't wait to share this music with all my fans."
J. Cacao – Letter 2 Dip Hop [Video]
Born in Los Angeles, raised in Cleveland J. Cacao [producer, songwriter, heritage signer] son of two deaf parents gifted him with a deeper purpose in life. As a proud CODA [Child of Deaf Adult] J. Cacao unique experiences are reflected in latest video "Letter 2 Dip Hop." The self-produced single expresses a mix of frustration, admiration, and overall love for Dip Hop [Hip-Hop through deaf eyes.] His debut EP "Trap ASL" [True Rhythm and Poetry in American Sign Language] is an introduction into the deaf world through the eyes and rise of a CODA, featuring Lena Jackson, Wawa's World, and Prophet Link.
Asbest – AUTODIGESTION // New single now available
"Their new single "Autodigestion" winds its way from a dark, threatening guitar riff with a pounding bass underneath into a sluggish noise lament, the vocals sounding like desperate lamentations. In the break after three minutes, desperation really rises, the instrumental part that follows reveals the trio's unexpected melodic talent for a noise band."
King Legba & The Loas – Shine A Light // New EP now available
The band teamed up with Tomas Skogsberg again. The result is a wild witches brew of fuzzed out guitars, thundering drums, walls of bass guitar and hypnotizing vocals. This time complemented with a psychedelic component unheard on the bands previous releases. "Shine a Light" takes the listener on a journey through a landscape of eclectic songs, which wander between Stoner Rock, blues soaked Sixties-Fuzz-Psychedelic and the Seattle Rock of the 90ies.
New Seun Kuti & Egypt 80 Single with Black Thought Out Now Across All Platforms
"Kuku Kee Me (Remix)" is the first of several new hip-hop versions of songs from Seun Kuti & Egypt 80's 2018 Grammy®-nominated album Black Times, in collaboration with Black Thought—co-founder/MC of Jimmy Fallon's The Tonight Show house band The Roots. This lead single perfectly marries the two artists' unique but global perspectives, combing funky beats and blistering verses to share the message of "people power" in the world today. The track is an official soundtrack selection for FIFA 23 and is accompanied by an animated music video, ready for you to post right now:
Seun Kuti And Black Thought Champion "People Power" On "Kuku Kee Me (Remix)" [Premiere]
Press Release: TALCO: video for new single "Garage Jukebox" out now
Talco are coming back with a new album! After weathering the pandemic hurricane by masterfully riding the stormiest waves of their career with the side project "Talco Maskerade" and reviving their powerful engine with the EP "Insert Coin," it's time for the Italian band to release their highly anticipated new work, titled "Videogame."
jacqui lumsden releases new single 'closer'
Jacqui wrote this song about falling in love at 16 years old while on exchange overseas — and then having to go home and leave her love behind. The song is upbeat, synth-soaked and vibey, but the heartbreaking lyrics ("pain finds places to hide/you'll be fine til you find it,") reveal the track's true meaning.
Alt. rock drenched in obscure, dark guitars –
ALICE SK pays tribute to all the great women in her life with 'Daisy Jane', out today!
Sounding like a jangly 60's-esque Joni Mitchell psych-folk classic, with 'Daisy Jane', Alice SK has once again delivered a single that is both intriguingly unique, yet engaging and memorable all at the same time.
Learn To Lie – 'Lost Boys' | New single from Midlands rock group is a visceral journey through Neverland
Established within the Midlands circuit, Learn to Lie pride themselves on energetic and dynamic live performances and accessible songs that sit between rock and pop. Channelling the energy of female-led alternative outfits such as Paramore and Marmozets and the melodic hard rock of Arcane Roots and Lower Than Atlantis, Learn To Lie provide their own unique sound.
TikTok star Charlotte Sands shares new single 'Tantrum' with video | Announced for Slam Dunk 2023
TikTok star and queen of angsty pop/rock, Charlotte Sands, has released her hard-hitting, fan favourite single 'Tantrum' with a video that captures her live energy. It's also just been announced that she'll return to the UK to perform at Slam Dunk Festival next year.
Naturalistic Lo-fi producer Birds Of The West remixes KARMACODA's song 'Time' (FFO: potsu, Elijah Who, [bsd.u])