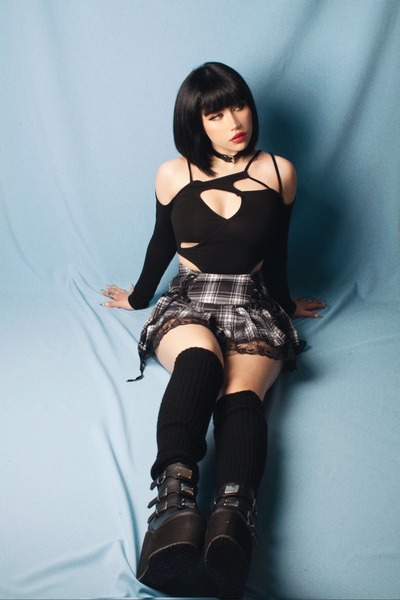 @skopemag news – thursday – september 15, 2022 @ 2 pm est
@skopemag HQ – http://smarturl.it/skope
THE SCUM release "The Death of Light" video!
Colombian death Metal distributors THE SCUM release a new video for "The Death of Light" from their recently released album "The Hunger".
Fast Rising Pop star Sabina Beyli releases emotive single 'Daddy's Daughter'
Effortlessly blending genres, the hypnotic production lays the foundation for the rising stars raw and vulnerable lyrics as her vocals dance between tones, showcasing her powerful range. Building anticipation throughout the track, stacked harmonies and cut up vocal samples create an entirely fresh sound on the chorus, setting Sabina apart from her contemporaries.
Aluna, Prettyboy D-O & Kooldrink drop official video for single 'Nowhere To Hide'
Aluna is one half of AlunaGeorge and builds upon the UK electronic duo's sound in a solo context to venture further into eclectic dance-pop territory. She debuted with 2020's stylistically elastic Renaissance, with follow-up standalone singles 'Trouble' and 'Forget About Me' appearing in 2021 and 2022 respectively.
Neoclassical composer Vince Pope shares new single 'Pause' featuring Sophie Hutchings via Manners McDade
Vince Pope is perhaps best known for writing music for hit TV shows like Black Mirror, Misfits and Wallander. His soundtracks have seen him nominated for a BAFTA and win Royal Television Society Awards for best music. As a pianist and composer, Pope's music crosses the boundaries of classical, electronica and jazz and has a neoclassical aesthetic reminiscent of composers such as Johann Johannsson, Olafur Arnalds and Max Richter. Now, he is preparing to release his third studio album, Together Apart, an ambitious collection of collaborations with composers from across the globe which is set to be released on October 7th via Manners McDade.
[PRESS] New Junk City "High Contrast" Video Premiere
Atlanta alt-punk outfit, New Junk City, will be releasing their A-F Records debut LP in late October and are teasing the second single from it today. "High Contrast" is about reminding yourself to focus on the positive things in life instead of everything that is rotten. Musically, the song leans a little more on the punk side with the gain cranked on the guitars, driving drums, and a catchy chorus. The band put together a music video for the track which is premiering now at Chorus.FM. "High Contrast" will be available on digital platforms on Friday, September 16th and is the follow up to the 90's alt-rocker, "Rosey", that was released earlier this year. Both tracks will be available on their album, Beg A Promise, that comes out on October 21st, 2022 via A-F Records.
Detroit's Bonny Doon Sign To ANTI-, Share Breezy New Track "San Francisco"
Declared "heroes of ambling, melancholy, poetic indie rock" by Stereogum, the Detroit trio Bonny Doon has signed to ANTI- Records and is sharing the new track "San Francisco" today; laid-back and catchy, the song embodies that sunny California feeling. In addition to the members of Bonny Doon, the song features contributions from Waxahatchee's Katie Crutchfield, members of Woods, and other friends. Listen to it below.
Rise Against Battle Book Bans In New "Pain Mgmt" Video Directed By Indecline, From New EP 'Nowhere Generation II' Out Now (Loma Vista Recordings)
Rolling Stones Ones to Watch, Eugenia Post Meridiem return with the kaleidoscopic 'willpower'
GODZILLA IN THE KITCHEN reveal full album details; sharing first single and video!
Following their impressive self-titled debut, the band returns with a vibrant mixture of melodical recognizability and rhythmic complexity, Psych Rock in a very genuine way. Highly melodic and definitely with a lot of energy, the new album will set new standards for the underground movement!
Give ear to the new exciting single and watch the stellar videoclip of "WILL BE TAKEN AWAY":
Charlie Houston shares new single + announces EP out via Arts & Crafts / On tour with ODESZA
The 22-year-old singer-songwriter, Charlie Houston is today following her Spotify USA Viral 50 track, "Wide Awake", which she recorded with the Grammy-nominated electronic duo, ODESZA with her new single, "What Do We Do Now?" which comes in line with news of her second EP, Bad Posture out via Arts & Crafts on October 7.
Pei (Joji Malani, Broth Records) shares "Count To 10" ahead of debut album, Pei's Pageant out Oct 10
Following the recently released "Themesong" and "Honest", with praise across NME, Clash, triple j, Rolling Stone (Aus), and more, comes the song that Joji didn't even want to write. His producer Tim Fitz (of Middle Kids) pointed out that he didn't have anything on the record that sounded like his own favorite artists. The song is summer-y, with peppy drums and a groovy, driving bassline.
LA-BASED AUSSIE GEM SHARES NEW SINGLE 'RUINS' FROM FORTHCOMING EP OUT SEP 30
Ripe "Noise in the Forest" OUT NOW
Hot off a summer spent climbing the radio charts with single "Settling," the five-piece touring phenoms Ripe have shared their exhilarating new single "Noise in the Forest" out now on Glassnote Records.
Hypnotic Heavy Metal Band, SPELL, to Release New LP, 'Tragic Magic', October 28
Colony House releases new single, premiered w SiriusXM Alt Nation Advanced Placement
In a world that feels more divided every day, Colony House has continued to unite fans under its banner of hope and light. No frills, no gimmicks. Just heart-level rock and roll music. The Colony House catalog is as weighty and intelligent as it is light and approachable. Three studio albums invite the listener on a journey through stories of loss, grief, and heartbreak while welcoming them into the hope that comes on the other side. Their 2014 debut, When I Was Younger, included the instantly popular single "Silhouettes," which became the #1 most played track on Sirius XM's Alt Nation for four months straight. The band followed with their sophomore album, Only the Lonely, whose title and demeanor pay tribute to the vintage sounds of Roy Orbison and the Beach Boys. The surf-rock hit, "You Know It," reached mega-viral status on Tik Tok, and has vaulted to over 100 million streams across all platforms after being featured as the soundtrack to Samsung Mobile's nationwide ad campaign. The band has performed their songs for worldwide audiences with two appearances on both Late Night with Seth Meyers and CONAN, as well as The Today Show, VH1's "Morning Buzz," and MTV Live.
Los Angeles Band Astralux Offers Up a Hard-Hitting Rock and Roll Gem "Desert Dream"
Los Angeles rock band Astralux has unveiled their new single, "Desert Dream." Thrilling, powerful, and enigmatic, the track is a sonic journey through the surreal and inspiring places we travel when the "Sun goes away." The track combines a complex lyrical tapestry with robust guitar riffs, commanding vocals, and pounding drums, giving them a sound akin to The Black Keys, Queens of the Stone Age, and Tame Impala.
Vévaki Shares Music Video for New Song, "Heimdalagaldr"
DORA JAR HYPNOTIZES IN THE SURREAL NEW SINGLE + VIDEO "BUMP"
Plaid's new album Feorm Falorx due Nov 11 + debuts first single "C.A."
An institution since the late 80's, Plaid are a cornerstone for electronic music fans. Outside of their extensive discography, they've also collaborated with artists like Bjork and written music for the BBC Concert orchestra, computer games and several feature films, one of which, 'Tekkon Kinkreet', was awarded the Japan Academy Prize for Animation of the Year.
DORA JAR HYPNOTIZES IN THE SURREAL NEW SINGLE + VIDEO "BUMP"
Legendary Heavy Metal Band Stryper Releases New Single "Transgressor"
Magnolia Park Drop New Single + Music Video "Addison Rae"
ANNIE KEATING — Returns With: "Lovesick Blues" || UK+Ireland Tour Dates This Autumn
NYC alt/country sensation – ANNIE KEATING – is back with the brand new single: "Lovesick Blues".
Arriving on the eve of a slew of live dates across the UK and Ireland this Autumn, the new track is plucked from an upcoming eight-track new collection, the 'Twenty 22 Tour EP', which will be exclusively available at these shows.
Bolinas releases "Ge" from forthcoming LP "Heavy Easy Listening"
Salvatore Ganacci links up with Sebastian Ingrosso & Steve Angello on new single 'Let You Do This'
Swedish House Mafia icons Ingrosso and Angello appear as their Buy Now alias, collaborating with Salvatore Ganacci to dispatch 'Let You Do This', a vibrant, disco-infused house jam that combines driving synths with hypnotic vocals and a deep, funky bassline. It sees Ganacci return to MDLBEAST Records following 2021 single 'Fight Dirty'.
Longheads release spaced-out new single 'One Step Further'
'One Step Closer' transports us to the outer realms with its lo-fi vocals echoing between the spaced out orchestration of punchy drums and reverb rattling guitars transcending the listener to a higher plain.