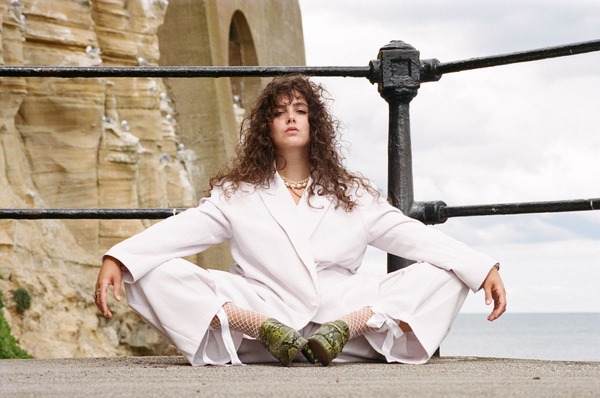 @skopemag news – wednesday – september 14, 2022 @ 1 pm est
@skopemag HQ – http://smarturl.it/skope
JACOB LEE RELEASES NEW SINGLE & VIDEO 'JEALOUSY'
With three EPs, six full length albums and 140 YouTube videos in his wake, Jacob's sights are now set on putting the finishing touches on his third album, Lowly Lyricist, which is yet to receive an official release date. And alongside honing and perfecting his third studio album, a follow up to 2020's Conscience, this ceaseless creative has also been revolutionising the music industry and beyond via his NFT endeavours, founding the indie record label Philosophical Records and establishing his Web3 media publication Lowly Labs – with a headline European tour and an entirely overhauled live show also set to kick off in the not-too-distant Jacob Lee universe.
M O R N I N G T I M E x G H O S T
Alison's song Morning Time wraps you in the chill before dawn, evoking hollow desolation, then transmutes via trip-hop mysticism to a siren's song. The track's hypnotic groove produced by Esben 'Es' Thornhall places listeners in the shadows of smoke and dust, lust and resignation. Alison's voice, defiantly cloaked in wrecked delusion, draws listeners to the razor's edge of mutually assured destruction.
BREANNA BARBARA shares new single 'Landslide' | New album 'Nothin' But Time' out 11th November via Fuzz Club (FFO Katy J Pearson, CMAT, Florence Welch, Cat Power)
Following 'Diamond Light', New York's Breanna Barbara shares new single 'Landslide' – the second track to be taken from new album Nothin' But Time out 11th November via Fuzz Club. Barbara's second full-length is a raw and immersive trip through the sounds of psychedelic rock and blues, anchored by her powerful vocals and unforgettable songwriting.
Kutiman shares new single 'Always Be Alone' ft Dekel + VIDEO
Today, much-revered composer, producer, filmmaker and multi-instrumental polymath, Kutiman releases "Always Be Alone", the third single taken from his forthcoming album Open released on vinyl and digitally on October 14 via Siyal.
Edinburgh Band Dubinski Share Indie Banger 'Beyond Me', Announce Self Titled Debut Album
The new cut comes on the heels of the anthemic single 'MTSB', released alongside the vaporwave-inspired animated video, and 'Soothsayer' – a hard-hitting cut praised by CLOUT for its "classic UK indie rock sound but with a slick, modern cutting edge". Lyrically 'Beyond Me', says the band; "is inspired by the sense of inability to change one's self, with the goal of avoiding the eventuality of getting into one failed relationship after another. We used downstrum, stabby chords and syncopated passing chords to create an almost classic indie rock sound".
Layfullstop unveils soulful new single 'Act Right'
Manchester-born talent Layfullstop has dropped brand-new single 'Act Right', out today – 14th September.
Harnessing a smooth, bossa nova R&B vibe, 'Act Right' pairs slick, downbeat production with Layfullstop's effortless vocals. Producing the instrumental herself, it showcases Lay's production skills, and follows on from recent single 'Building Buildings', a collaboration with Japanese artist Kzyboost.
WOODS OF DESOLATION Reveals New Album Details, Shares First Single
Atmospheric black metal project WOODS OF DESOLATION will be releasing its new full-length, 'The Falling Tide,' on December 9 via Season of Mist, making its debut to the label! The album artwork, tracklisting, and additional info can be found below! In celebration of the album announcement, WOODS OF DESOLATION is now sharing the title track from the offering, which can be heard at THIS LOCATION.
Quinn Christopherson shares final song/video "Uptown from Bullion Prod debut LP
Ahead of this Friday's album release, Alaska's Quinn Christopherson is sharing the poignant and honest single "Uptown" that comes equipped with a visually trippy video to keep you on your toes. Never shying away from some of the harder truths or realities of the part, Quinn explains "Uptown" is about "5 years of sobriety was a milestone that made me re-examine an old version of myself. I try really hard to be a good person, and that's because I was such shit before. I've come a long way."
Haunting Pop Single from Briana Piedra
Swim Deep release new video for "Little Blue", add new dates to November tour
"Little Blue" arrives swiftly off the back of their 'Familiarise Yourself With Your Closest Exit' EP – released in March this year – featuring collaborations with Phoebe Green, Hatchie, Thai duo Dept, and frontman Austin Williams' fiancé Nell Power.
Naturalistic Lo-fi producer Birds Of The West remixes KARMACODA's song 'Time' (FFO: potsu, Elijah Who, [bsd.u])
cruush release 'False Start' | Manchester shoegaze quartet
"I guess you can say our music has the sweet elements of having a crush on someone but the screeching of an industrial car crusher" goes the visceral opening statement from cruush vocalist & front-person Amber Warren.
ODXC And Recky Reckz Share New Single "Steady"
ODXC is a multi-faceted music producer, videographer and director who is pushing the boundaries of audiovisual storytelling through intricate sound design and unique sonic aesthetics in his production. Hailing from Tottenham, north London, the fast-rising producer is breaking new ground with his original ideas and refreshing genre fusions. After much success with his In the Dungeon EP series, he has returned with brand-new single "Steady", which is the first single from his upcoming In the Dungeon: Chapter 3 EP. It arrives alongside a music video directed by ODXC.
Rising Oslo collective Tigerstate release new single 'Occupied' & announce forthcoming debut album…
An ode to the 70s with a vibrant, modern edge, 'Occupied' is a track made for the dancefloor. Packed to the brim with the hooks, the synth driven single is drenched in disco vibes and charmingly catchy. "This is a song about dancing, love and jealousy," the band said of the track. "We embraced the cheesiness and disco. It has a creamy and groovy synth sequence with an infectious cherry melody on top."
ABOUT US ANNOUNCE GLOBAL RELEASE OF SELF-TITLED DEBUT ALBUM DUE NOVEMBER 11, 2022 ON FRONTIERS MUSIC SRL
As previously announced, Frontiers Music Srl has signed an exciting new melodic rock band, About Us to the label.
Hailing from Nagaland, India, and more specifically from a district in the state of Nagaland called Wokha ('Land of Plenty'), About Us will release their Frontiers' debut, a self-titled album, globally on November 11, 2022.
Americana Artist DEB MORRISON Releases Eerie "Salton Sea" Music Video
Glimmers Shares Brand New Single "Dreaming"
About the song, lead singer, Maggie Schneider says, "'Dreaming' is a song I wrote about two years ago, and I am excited that we are finally releasing it! It is about liking the idea of someone, rather than liking who they are in reality. For all my literature nerds out there, the first line of the second verse is a Fitzgerald quote from his essay "The Crack-Up." He writes a lot about the struggles that come with fame and fortune that the public does not usually see. I wanted to play around with the idea of appearances vs. reality in these lyrics."
THE WRECKS Relive Their Sold-Out Summer Tour With New "Where Are You Now" Music Video
Kimberly Morgan York Exposes the Devastation of Domestic Violence in Harrowing New Video
"Taken from Keep on Goin', "Numb" is a dark and disquieting look at love and how we often see past people's flaws when our heart is involved. Over shivering guitar lines, York's plainspoken voice, and a beat that carries us off toward the horizon, the song paints a portrait of affection tainted by cruelty and suffering. "This song is about loving someone with mental illness or addiction," York explains. With lines like "let me go numb before you do / so I can't feel it when you don't care what you're doing", she isn't talking about changing behaviors — she's talking about survival.
Dean Fertita's TROPICAL GOTHCLUB shares new track & visualizer
Producer/Artist aldrch Signs To Epitaph, Drops New Single
aldrch (born Sam Richman) operates in many worlds, and in none at the same time. Instead, he creates his own – a space in which he is free to "[marry] genres that otherwise wouldn't be combined, toeing the line of what makes sense and what doesn't." In doing so, aldrch takes a more expansive approach than most, embracing interpolation, rejecting labels, and welcoming a diverse range of collaborators (including artists like Aldn, Midwxst, Ryan Leahan, Shotgun Willy, and labelmates poptropicaslutz!).
WOLFHEART Joined by NILE's Karl Sanders on New Track "Cold Flame"
WOLFHEART unleashes the ice age on the melodic death metal scene with their blazing third single "Cold Flame", cut from their upcoming full-length, 'King of the North', out this Friday, September 16, 2022, via Napalm Records!
Ruth Lyon announces new EP 'Direct Debit To Vogue' – prod by John Parish (Aldous Harding, PJ Harvey), shares video for new single "Trouble"
(14th September) Newcastle folk/chamber-pop artist and songwriter Ruth Lyon today announces her new EP 'Direct Debit To Vogue' will be released 26th November via Pink Lane Records. The new EP was produced by John Parish (Aldous Harding, PJ Harvey, Parquet Courts) at his Bristol studio, and features the recently released single "Trouble" – a new video for which is released today.
BRANT BJORK: new track "Bread For Butter" with Nick Oliveri
Legendary Californian singer, songwriter, multi-instrumentalist and founding member of Kyuss, BRANT BJORK, reveals another groovy track taken from his forthcoming fourteenth album "Bougainvillea Suite", to be issued on October 28th through Heavy Psych Sounds.
FAITH IN JANE: The Sleeping Shaman Premieres Lyric Video For Title Track To Eighth Album By Maryland Psychedelic Rock Trio; Axe To Oak LP Nears October Release Through Grimoire Records
With the song's premiere, The Sleeping Shaman adds, "An amalgamation of grunge with a groove of psych and heavy rock 'n' roll, the three-piece with their new seven-track album have solidified themselves as a force to be reckoned with amongst stoner and doom heads, as well as those hankering for a second helping of that nostalgic '90s Seattle sound."
Video Premiere: Faith In Jane 'Axe To Oak' – Title Track From New Album That Drops Next Month
EMERYLD RELEASES DEBUT SINGLE "BOMBS AWAY" ON NEON GOLD RECORDS
Emeryld seeks to mesh as many different worlds together as she can, as heard here in "Bombs Away" with its' off-kilter guitar riff that hypercharges the song's punch. This ominous swell culminates on an instantly irresistible refrain awash in gritty distortion as she declares, "Bombs away, you talk, you talk, but you got nothing to say."
ALT-ROCK QUARTET THE HEAVY HOURS RELEASE NEW SINGLE "YOU SAY MY NAME"
The band states, "This song was the culmination of the time we spent making this album in Woodstock, NY. It was the very last song we recorded, and was created with songwriting legend Vance Joy. 'You Say My Name' is about the connections you have with the people closest to you. Connections you can feel but can't quite explain."