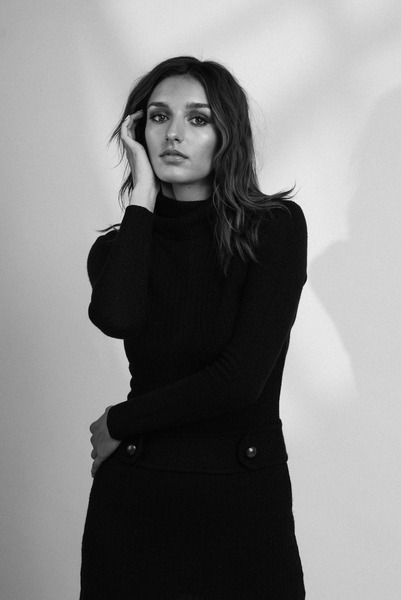 @skopemag news – tuesday – september 13, 2022 @ 8 pm est
@skopemag HQ – http://smarturl.it/skope
A.A. Williams Shares New Single & Music Video "The Echo" Via Bella Union
With her new album As The Moon Rests due out October 7th via Bella Union, and ahead of her London Queen Elizabeth Hall performance this Saturday, A.A. Williams today shares a powerful video for her new single "The Echo". Commenting on the track, Williams says: "The Echo is a dialogue between a person's heart and the head – the head trying to persuade the heart that what they need is to take time for themselves and prioritize their own well-being, not seek verification of one's worth through their relationships with others. Originally titled "Forever Blue", "The Echo" was begun in 2019 but wasn't completed in time for inclusion on my debut album. Renamed and reworked, it is a song of yearning, sorrow and beauty."
"HAPPIE is a revelation." Indie-pop artist announces debut EP (Big Takeover)
Today, with the release of her stunning music video for "All I Needed," indie-pop artist HAPPIE offers fans the first taste of her debut solo EP, 'Heartbreak Season,' out October 14th. Mixing warmly organic instrumentation with sleek electro-ambience, storyteller narratives, sultry grooves, and seductive sentimentality, 'Heartbreak Season' conjures a vintage soul vibe, with stylistic signposts pointing to Maggie Rogers, Adele, John Legend, Olivia Rodrigo, Sault, and Lana Del Rey. The EP's first single "All I Needed" is a sultry and honest track that exudes a sensual longing, featuring a mix by David Block of The Human Experience, whom HAPPIE met while performing in Antarctica. The video for "All I Needed" was premiered today via The Big Takeover, who wrote "HAPPIE is a revelation," and called the video "a stunning debut, and a captivating first-taste of what is sure to be her breakthrough."
Tattoo the Scars Release New Single "Culture of Fear" + Lyric Video via TLG/INgrooves
Tattoo The Scars released their third single, "Culture of Fear" to all major platforms via TLG/INgrooves. The band features Jesse Rush (vocals) formerly of Allele, guitarist Billy Grey of Fozzy, drummer Dusty Winterrowd formerly of Allele and bassist Tyler Hensley formerly of Year of the Locust.
MAX DRAZEN WAKES UP IN OFFICIAL VIDEO FOR "CAFFEINE," OUT TODAY
KIPP STONE FT. J.U.S. + ANNOUNCES EP
Steady on the rise, Cleveland producer/rapper Kipp Stone has announced Kipp Stone Presents: Room 109. An eight-track EP fully produced by Kipp, the project features handpicked crew and collaborators to bring light to Cleveland's burgeoning indie rap scene; an exciting crop of rappers and vocalists from an overlooked city with a lot of talent. For the first track, the light shines from three hours north of the city as Kipp tapped Bruiser Brigade member and Detroit rapper J.U.S. The rest of the features and collaborators hail from Cleveland, OH, and include Nuke Franklin, Gates 216, Eddie Pearl and Trav Hen.
Finnish Thrash Metal Band CEASELESS TORMENT Release "Killing Commands" Official Music Video
The Speaker Wars – Stan Lynch and John Christopher Davis Release Their 3rd Single "Radio Up"
The Speaker Wars are an American rock band formed by Stan Lynch (founding member of Tom Petty and the Heartbreakers) and Texas singer-songwriter, Jon Christopher Davis. Their unlikely meeting occurred in Nashville in 2001 while both in the throes of attempting to understand what became of the music they grew up loving and listening to. It only gets worse…
MORBIKON: Blackened Death Metal Trio Featuring Members Of Municipal Waste And Finntroll To Release Ov Mournful Twilight Full-Length Via Tankcrimes October 28th
MORBIKON, the new blackened death metal project featuring guitarist/bassist Phil "Land Phil" Hall (Municipal Waste, Cannabis Corpse, Iron Reagan), drummer Dave Witte (Municipal Waste, Discordance Axis), and vocalist Mathias "Vreth" Lillmåns (Finntroll, …And Oceans), will release their Ov Mournful Twilight debut full-length on October 28th via Tankcrimes, today unveiling the record's artwork, track listing, and preorders.
Pre-Order MORBIKON's Debut LP, 'Ov Mournful Twilight' & Hear a New Song RIGHT NOW!
NONPOINT Releases New Single "Paper Tigers" + Official Music Video; On Tour This September with Sevendust, Bastardane and Burden Of The Sky
Continuing with the success of their new independent label, 361 Degrees Records, Nonpoint released their latest track "Paper Tigers" on September 9th. This time, adding new talent to the project with producer Chris Collier, the mind behind Korn's #1 album on Top Hard Rock Albums on Billboard, Chris has quickly become a force in the industry… Now he is shaking things up with Nonpoint in the studio like never before.
Kafani ft. Keldamuzik "Mind Sex" Produced by D.C Cash
Marshall Mathers and Swifty McVay Collaborate On DisasterTheory's New Rap Metal Anthem 'Overcome'
Did you ever wonder how a Linkin Park and Eminem collaboration would sound? Pittsburgh nu-metal merchants DisasterTheory answer that question with their new single 'Overcome', which features the rap god himself Marshall Mathers as well as Swifty McVay from the notorious hip-hop group D12. D12 was a Hip-Hop collective that gained mainstream success under Eminem's leadership and also featured Proof, Bizarre, Mr. Porter, Kuniva, and Swifty McVay.
Running Violet Share Uplifting New Single "Who Needs Love"
Their explosive new offering, "Who Needs Love," takes an uplifting, hopeful look at growing up and the consequential traumas that shaped our futures. It features a punchy guitar solo by their guitarist Petr Balaz who fully produced, mixed and mastered the colourful tune about self-discovery.
GABRIELLA ROSE CAPTIVATES ON HER DEBUT VIDEO/SINGLE "IN THE DARK"
Singer-songwriter Gabriella Rose has emerged with her debut single/video "In The Dark," set to appear on her soon-to-be-announced debut full-length via Coeur D'Alene Records. Throughout the track, and evident across her 10-song album, Gabriella Rose captivates with her sultry vocal delivery and poetic prose injecting "In The Dark" with a solemn melancholy reflecting her truth and archetypal tragedy of a troubled past. Her debut single, "In The Dark" pays homage to classic cowboy-pop artists such as Johnny Cash and Dolly Parton while offering a fresh approach to Americana.
The German band THE SECLUDED release new music video for "FAREWELL"
The Frankfurt band THE SECLUDED releases the video for their song "FAREWELL" from their self-titled album, which was released by the Berlin label MOTOR MUSIC. The song was mixed and produced by Düsseldorf producer Michael Czernicki. The band is currently working on their second album, which is due out in 2023.
Jordan Michelle Releases Official Music Video for "It's My Birthday (RIP To Me)"
WATCH: SunDub Releases "Jump & Dance" Music Video feat. Lutan Fyah
SunDub, the Brooklyn-based five piece who expertly mixes classic reggae with elements of soul and blues, is back with a new single, "Jump and Dance," out now on Easy Star Records. This danceable, grooving tune, featuring guest vocals by Jamaican superstar Lutan Fyah, is a perfect introduction to SunDub's lush sound and the next phase they are laying out with their new album. The band describes it as "a simple set of directions for what listeners of this song will be doing – jumping and dancing, wiggling and turning, stepping to the left and to the right.
NAV DROPS VID WITH FUTURE & DON TOLIVER
NAV has dropped a video for "One Time" with Future & Don Toliver from his new album Demons Protected By Angels. Directed by Spike Jordan, the video follows NAV, Future, and Don Toliver as they converge at the supernatural, One Time Motel. The album, which came last Friday, was executive produced by NAV & Amir "Cash" Esmailian and includes features from Gunna, Lil Uzi Vert, Travis Scott, Lil Baby, Future, Don Toliver, Lil Durk, Bryson Tiller, Babyface Ray, and Realest K as well as production from NAV, Wheezy, Pro Logic, Boi 1da, Money Musik, Tay Keith, BenjiCold, Rex Kudo and more.
Phillip Michael Parsons Shows Us What Real Love Is in New Single "Picture Perfect"
Phillip Michael Parsons is a singer/songwriter with Southern Maryland roots, who in a short time has made waves as an up and coming artist to watch. In 2018, he was nominated for Best Country Artist and performed at the Maryland Music Awards. He has performed over 200 shows in 25 states across the country playing alongside artists such as Chris Janson, Chris Lane, Gavin DeGraw, Craig Campbell, Sundance Head and Jimmie Allen.
THE CALLOUS DAOBOYS: Celebrity Therapist Earns #6 Position On Billboard's Top New Artists Chart And More!
Celebrity Therapist, the latest full-length from Atlanta, Georgia-based mathcore architects THE CALLOUS DAOBOYS, pillaged Billboard charts, earning the #6 position on the Top New Artists chart upon its first week of release. Additional Billboard chart positions include:
TERRA Release New Song "Verisimilitude"
Atmospheric black metal band TERRA have released the stunning "Verisimilitude". The song is from their upcoming album Für Dich Existiert Das Alles Nicht, which will be released on September 30th, 2022 via code666.