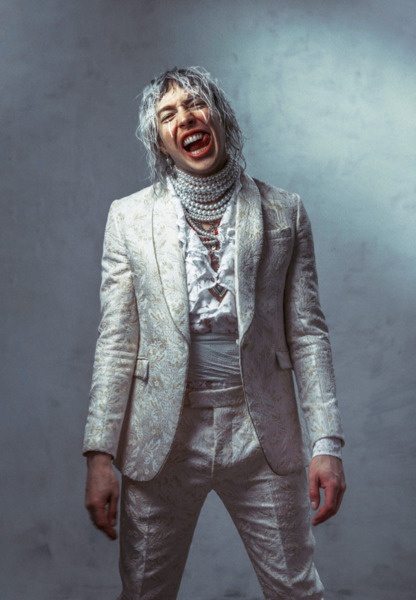 @skopemag news – saturday – september 10, 2022 @ 12 pm est
@skopemag HQ – http://smarturl.it/skope
JUSTUS BENNETTS UNLEASHES NEW BANGER, "DEAD INSIDE"
On his new track "Dead Inside," Justus Bennetts grapples with one of life's most perplexing questions – why does it feel so good to be with someone who's so bad for you? Answers are elusive as he reaches the disquieting conclusion that he's accepted the manipulation. "Dead Inside" is an unlikely anthem that bristles with dark humor, edgy electronic tones and an addictive beat paired with Justus' uncensored youthful lyricism. Justus wrote the track with frequent collaborators Doc Daniel, Jesse Fink (John Legend), Remy Gautreau (Tate McRae), Eugene Veltman, and Jared Scharff (DaBaby, Machine Gun Kelly).
[PRESS] Celebration Summer "Patience in Presence" Video + Single
The Bad Plus share new song from debut album as quartet; album out September 30
Legendary jazz combo The Bad Plus share their new song "Not Even Close to Far Off," available now via Edition Records at all DSPs and streaming services. A nearly six-minute journey, "Not Even Close to Far Off" opens with one of the album's most melodic themes that slowly modulates, creating growing tension underscored by saxophonist Chris Speed's improvisational explorations before fading into an insistent rhythmic trance. The song is the latest from The Bad Plus' upcoming self-titled album arriving everywhere on Friday, September 30. The new album is the group's 15th studio recording and eponymous debut album featuring the band's new quartet lineup. A five-minute film about the making of the album is streaming now.
Kabuki Dream | WMMW
Electro-synthwave Italian duo Kabuki Dream is releasing today "WMMW", a stunning second single taken from "Abstract", their new album to be released on October 7th, 2022 via Veidt Records.
Totally Enormous Extinct Dinosaurs Shares New Album 'When the Lights Go'
Today, Totally Enormous Extinct Dinosaurs shares his new studio album When the Lights Go released via his new label Nice Age. Spanning 17-tracks, compiling the ups and downs of the last decade between both albums, his second LP finds Orlando Higginbottom in greater command of his elegant melodies, tensile voice and cementing his ability to bring indie-pop to the dancefloor and stereo.
ZYAH BELLE RELEASES DEBUT ALBUM 'YAM GRIER' + ANNOUNCES INDIA SHAWN FALL TOUR SUPPORT DATES
Of the album title, Zyah shared, "Yam Grier is representative of a woman that is reclaiming her time, agency over her body and voice through the generations. Inspired by Pam Grier's fierceness that she emoted in her prominent 70s blaxploitation roles. Yam Grier is the embodiment of a woman who has finally come into her own, unapologetically."
LAYA SERVES UP "SAILOR MOON 2.0" FEATURING BABY TATE
This time around, the Staten Island R&B singer/songwriter only amps up the track's uncontainable spirit. Over hyper-animated production befitting of the song's namesake, her wild delivery transfixes in bursts of energy. Meanwhile, the multi-hyphenate hip-hop phenomenon Baby Tate pulls up with a bright, boisterous, and bold cameo laced with quotable bars. "Sailor Moon 2.0" sees LAYA level up like never before!
Country star Leah Marie Mason shines bright in new single "Tears Into Diamonds"
The single was co-written with Claire Douglas (BMG), and the Grammy-nominated Blake Hubbard and Jarrod Ingram (Mickey Guyton). Mason shares, "'Tears into Diamonds' was written with Claire Douglas and The 720 (Blake Hubbard and Jarrod Ingram). This record is essentially a "f*ck you" to the ex that doesn't deserve the time day. To me this song is all about realizing your self worth and coming to the realization that you deserve better."
DYLAN MATTHEW RELEASES NEW SINGLE "BOYS DO CRY"
On the release of "Boys Do Cry," Dylan says "I wrote 'Boys Do Cry' about so many parts of masculinity, but the main topic I feel so strongly about is just how a lot of men are taught from a very young age to act tough and hide their emotions. It's this odd old school thought process that men need to be strong and not talk about their feelings or cry when they need to, and it's caused a massive mental health crisis upon so many men. Mental health is at an all time low across the board, but the suicide rate for men is 4 times higher than for women. We need to change the narrative and make men feeling their emotions and not fitting the perfect image of a traditional tough man much more normalized. I hope I can add just 1% more of that into the world with this song."
TREVOR DANIEL RELEASES "STORY" SINGLE + MUSIC VIDEO
Ryan Cabrera releases first single in eight years, "Worth It"
"Worth It' is a heartfelt song about the journey to find love," shares Ryan on the track. "Through ups and downs, everyone has a story!! and this one has a happy ending. It's a song about reflection, a song that says, even if I had to search a lifetime to find your soulmate, it'll be worth it!"
Hal Cannon Revels In Desert Noir In "Tarantula March" | Out Today
Today the Utah desert musician and folklorist Hal Cannon shares "Tarantula March", the final taste of what is to come on his Nothin' Lastin' album which arrives on October 7th via Okehdokee Records. The song is an immersive dive into a world of southwestern gothic and is soaked in ominous foreboding and delivered through an (unusually for Cannon) husky vocal snarl. "Tarantula March" takes as its muse the arduous annual fall pilgrimage that male tarantulas of the American west undertake to find a mate. Over distances that can reach fifty miles through parched desert and scrubland the tarantula marches in hopes of finding a mate and with the likely possibility of a rejection in which the female will kill and eat him. It would appear that true love's path is painful for all of God's creatures.
OvO Reveal New Single "Distillati Di Tenebre, Pt. 3"
Italian experimental duo OvO are set to release their latest album, Ignoto, on September 23rd. Darker and more salacious than their previous work, Ignoto marks a remarkable progression for the band, while also holding true to the defining characteristics that make OvO who they are. Today, the band has released the final single before the album's release "Distillati Di Tenebre, Pt. 3." Like the creeping dark, this track will overtake and overwhelm you.
RAWAYANA FRONT MAN, BETOMONTE, RELEASES NEW SINGLE "ÓYEME"
Latin Grammy nominated Venezuelan artist Betomonte, frontman of Rawayana, teams up with longtime collaborator Monno Briceno, bassist for La Vida Boheme, for their debut single as solo artists. "Óyeme" which features Big Soto, Rawayana, and Eric Chacón is the first single from their forthcoming and collaborative EP, Picos y Valles, set to be released on September 23rd via Broccoli Records and ADA. The experimental track, which premiered yesterday with Remezcla, is heavily inspired by Lofi hip hop.
G HERBO RETURNS WITH NEW SINGLE & MUSIC VIDEO "ME, MYSELF & I" FEATURING A BOOGIE WIT DA HOODIE
Matt B Releases New Single & Music Video "I'm Here With You"
SPAIN Share "I LIED" Single + Video via UNCUT | 'WORLD OF BLUE' LP Due 9/30 via All DSPs + Vinyl Due October 21 via Shimmy-Disc/Joyful Noise
NIKO MOON ANTICIPATES FATHERHOOD WITH NEW RELEASE "I CAN'T WAIT TO LOVE YOU"
SHIP WREK SHARE SOARING, NOSTALGIC NEW SINGLE "OVER & OVER"
"Over & Over" is a stadium-sized club anthem brimming with old-school energy. Over Ship Wrek's electrifying production—building from dramatic chords and hand claps to skyscraping drum rolls and explosive '90s synth stabs—vocalist Douglas declares her love. "Got me thinking you could be the one," she sings. "I wanna love you til the morning come." This is Ship Wrek at their best: a perfect harmony of visceral songwriting and rapturous, dancefloor-ready production.
Australian Artist-Producer KESMAR Shares the Retro-Pop Single + Video "Out of Luck" 
"This tune is basically a covid tune, it's about waking up late, feeling like you're going in circles. I made a point in covid to write strictly no songs about covid, but it found its way to creep in. I also wanted to write a really British sounding song. I had the verse and chorus for a while but always wanted to do a resolving outro that would shed some light about anxiety and just regular feelings that was common in lock down."
Shapeshifter artist, Boychik (Ben Levi Ross), shares poignant self-titled debut album
The highly anticipated arrival of Boychik, the self-titled, ten track body of work, is years in the making. It's one that carefully chronicles the deepest parts of the multi-disciplinary artist Boychik, and the multi-dimensional person, Ben. It necessarily brings Boychik's queer voice and lived experiences to the forefront, bearing their heart on their sleeve, but not without bandages and bruises. "There's a lot about the release of this record that scares me. I've sat on this music for many years. For a long time, writing music was a very private solitary act. But I found collaborators that created an environment for me to open up this music safely." They continue, "Being able to expand this sound into what it is alongside Jake Luppen, Nathan Stocker and Brad Oberhofer was one of the greatest joys of my life." With such an intimate collection of music being made public, Boychik hopes the time capsule released today is handled with care.
Blunt Chunks (ffo Faye Webster, Maggie Rogers) shares "Wasted" via Fire Talk Records' Open Tab series
The Toronto-based project, Blunt Chunks, helmed by Caitlin Woelfle-O'Brien (of Jaunt) has today returned with her new single, "Wasted" which is out now as part of the Fire Talk Records Open Tab series. The new track follows the self-titled EP which was released in May via Telephone Explosion Records and found widespread acclaim at The FADER, FLOOD, Brooklyn Vegan, Paste, Exclaim, KCRW and more.
All Them Squares Release NEW Single "Sleep"
CAROLESDAUGHTER RELEASES NEW SINGLE & VIDEO "SUNSHINE & ROSES"
Barns Courtney returns with track "Supernatural"
With "Supernatural," what could be pegged as a quintessential relationship track quickly solidifies itself as a song about desire with his growling vocal style that details "the way one dances in and out of each other's lives." The wildly anthemic track features combustible guitar riffs and the infectious presence that's synonymous with Barns Courtney.
Icelandic musician Axel Flóvent Releases Deluxe Version of Debut Album 'You Stay By The Sea' + Official Album Documentary      
On the deluxe album, Axel shares, "I've always been a big fan of when my favorite bands release bonus material from their record or a deluxe version of their record – gives you a chance to get a bit more than just what they choose for the record. Plus, when 'You Stay by the Sea' came out it was in the midst of the pandemic and I couldn't really take it on the road, so this gives me a chance to shine a new light on my debut record and perform these songs live before starting the next chapter. I wanted to close this chapter with some unreleased material from the record."
The Fair Attempts release the new Industrial Rock single, "My Frozen Heart"
He also said, "I started writing this song at the same time as I was producing the "Bloodsport" cover song for Jessi Frey and MC Raaka Pee from Turmion Kätilöt, so I feel it has a lot of the same type of energy in it." In the middle of never-ending conflict, The Fair Attempts almost celebrates it at the same time as shedding light on the root cause of it all.
I AM: Texas Brutal Death Thrashers Unleash "The Primal Wave" Video; Eternal Steel Full-Length Out TODAY On MNRK Heavy!
Jack & Jack Drop New Track "Right Here With You" Inspired by Jack Gilinsky's Relationship
Last month, Jack & Jack returned after a 3-year hiatus with their current single "Runaway." The track, created by the duo alongside singer-songwriter Mikey Ferrari and production duo Dream Addix, was written on an acoustic guitar last year after they lost a friend to drug addiction. After seeing so many people they know struggle, the duo wanted to return to music with a track that their fan base can relate to. Upon release, "Runaway" was added to several Spotify playlists, including New Music Friday (US, Global, Sweden, Gulf, Norway, etc.), Pop Right Now, soda (#1 position), Ny Pop and Singled Out.
NEW MUSIC: Brit Taylor, Produced By Sturgill Simpson & David Ferguson – "Cabin In The Woods"
Released by Taylor's Cut a Shine Records in collaboration with Thirty Tigers, "Cabin in the Woods" is an upbeat tune with a healthy dose of swagger. The mountain fiddle, twangy banjo, funky organ, slinky bass and drum groove take the listener back to better times while also transporting them to a far-out future on some front porch of a cabin where everyone gets along and only drinks the good stuff.
LABRINTH "KILL FOR YOUR LOVE" BRAND NEW SINGLE OFF FORTHCOMING ALBUM 'ENDS & BEGINS'
Headstones Return With a Blistering Single
Since the release of their last album, Headstones frontman Hugh Dillon has maintained a frenetic pace, balancing writing and recording new music with his acting and producing duties. Most recently, he co-created Paramount+ original series Mayor Of Kingstown with Taylor Sheridan who he previously worked with on the critically acclaimed drama Yellowstone.
MOLITOTH Release Video For "The Maze of Existence"
Jordi Up Late Shares "HOAX" Single + Video via MDXWN | New Single Out Now via All DSPS, Look Out For More New Music via WRKSHP
New Zola Simone single, "Unsaid", out now!
"Unsaid is about passion and walking the line between lust and love at the beginning of a relationship," says Zola on the new song. "It's about becoming so connected to someone that you don't need words to communicate."
Today, Damn Tall Buildings Independently Release 'Sleeping Dogs' – Vibrant, Rootsy, and Vivid
Sleeping Dogs is a bop about looking things smack-dab-right-in-the-face and is essentially about how it has become almost impossible to not be constantly influenced by current events, media, and all of the other things that surround you in your day-to-day life.
Check Out BLACKLITE DISTRICT Official Visualizer for With Me Now"!
OVTLIER Releases New Industrial Rock Single "Living Dead" + Official Music Video Directed by Tom Flynn
Boston's PISTACIA Channel The Emo Days Of Old With New Metalcore Track "It Was The Cat"
Darla Jade shares bouncy new bop 'On My Tongue'
Born from the frustrations of injustice, On My Tongue comes as a feisty bop full of resilience. Explaining more, Darla Jade shares: "I wrote On My Tongue last year with Gold Spectacles. We wrote it about the bitterness felt when bad things happen to good people. It's about wanting to wallow in that angry state of mind, even when you know thinking positively would be a better option!"
Los Angeles Artist Allie Crow Buckley Shares New Single "Angel"; Watch The Video Now 
Star2 Teams Up with Soulja Boy and Luh Kel for "New Me"
SYN ZE ŞASE TRI To Release New Album 'Ultimul Lup' Via Code666.
For Skope: Ferry Corsten's remix of BLVD. & Laidback Luke's "Cielo" (out now). BLVK JVCK, Henry Fong remixes out soon