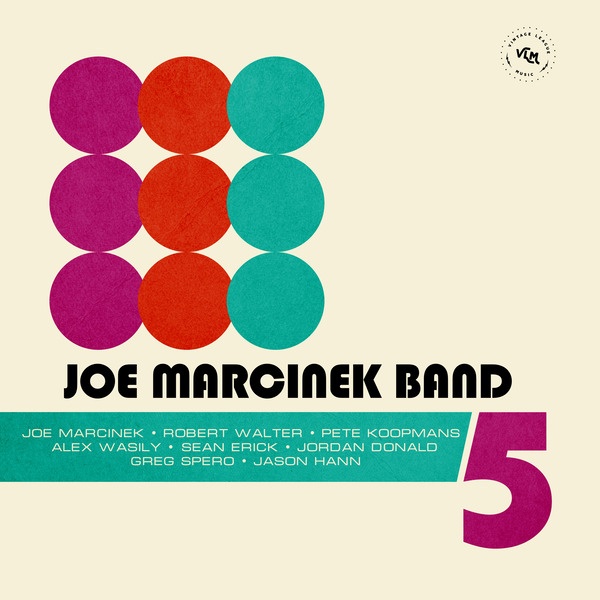 Joe Marcinek Band is a pure extravaganza of sound and production because this group has so many layers and dimensions. Fittingly enough, '5' is the fifth installment for Joe Marcinek Band and the idea behind the record stemmed from an idea to record a live album at the Dunedin Brewery in Florida. Later on, '5' would take shape at Tiny Room Studios in LA in May of 2021 where the entire record was cut. The energy on this album is off the charts as Joe Marcinek Band came to play!
Joe Marcinek Band is made up of: Joe Marcinek on guitar, Robert Walter on Hammond organ, Pete Koopmans on drums and featured special guests on '5' include: Greg Spero on piano, Jason Hann on percussion, Alex Wasily on trombone, Sean Erick on trumpet and Jordan Donald on sax. During the making of this record, you also have: Tim Gamache as Engineer, Mixed by Alan Evansat at Iron Wax Studios and Mastered by Brad Smalling at Evergroove Studios. Excitement is in the air with this new release as lucky '5'is the winning combination!
Joe Marcinek Band is barking up the right tree on the opening number "Dog" where the listener gets hit with a funky, fresh vibe. One will receive a lively instrumental on the following song, "Reciprocity", and then prepare to revitalize your senses with "Vitalizing" where one will enjoy a fun 'n' refreshing display of sound. Track four, "Cool Down", supplies a catchy beat & rhythm that will keep you moving from beginning to end. Next, get ready to take a BIG bite out of this "Bulldog" where Joe Marcinek Band offers up a professional recording, pure quality and top-notch playing. Track six, "Lagniappe", Joe Marcinek Band is bringin' the satisfying noise where the horns are simply on fire. "Lagniappe" is a flavorful song that will excite your ears! I have to say that I am really feeling these "Doggone Blues Again" as Joe Marcinek Band is hitting on all the right notes. The group ends with "Bella" that is one snappy finish keeping you engaged and involved from beginning to end.
Joe Marcinek Band features different players at each live show, so a new rotation is always in the cards when you come to a performance. "The music is equal parts Chicago Blues, New Orleans Funk, Grateful Dead Psychedelia, and Jazz Fusion!" With a blend like that, you can't go wrong with Joe Marcinek Band and their latest album '5' will do just the trick!
https://www.joemarcinekband.com/
By Jimmy Rae