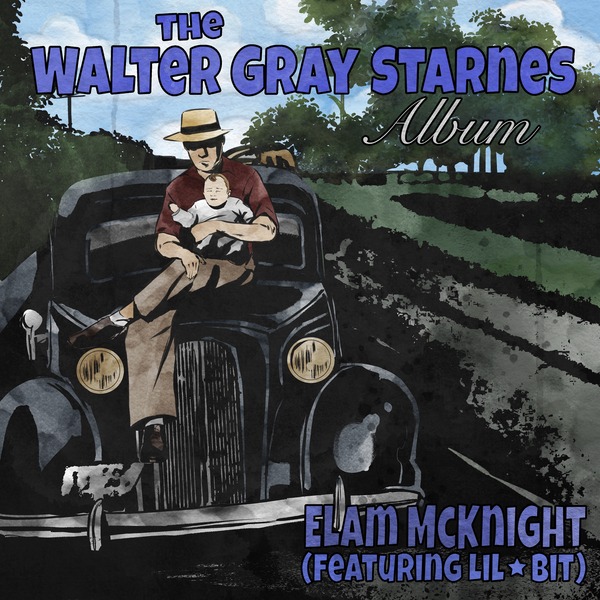 Elam McKnight is a talented singer/songwriter from West Tennessee with many years behind him as a recording musician. Elam's latest project titled 'The Walter Gray Starnes Album', is near and dear to Elam McKnight for many reasons. First and foremost, Elam's daughter aka Lil Bit is featured on this new album and further proves that blood is thicker than water. Also, the inspiration behind the album holds a deep and personal connection to family roots as Elam McKnight explains here: "This album is the culmination of six generations of storytellers passing down the history of a family who lived hard, loved hard, drank hard, and still managed to pull together and find the sunshine despite the gray skies." It's time to dive into 'The Walter Gray Starnes Album' with no regrets!
Right from the start on "You Are My Sunshine (acapella)", you get a unique intro and childlike quality as Lil Bit sings us a sweet lullaby. On the following song, "Gather Your Things", the listener receives polished instrumentation and a wonderful arrangement that will certainly peak your interests. On track three, "Tennessee Sun", Elam McKnight is heating things up by delivering a slowed-down tempo that matches up perfectly with the southern spirit. The soothing notes 'n' chords will fill your ears with happiness on "Tennessee Sun". We hear "Clouds" passing by next as emotional rain drops come pouring out and enter a song that is just full of life. Track five, "No Return Guitar", is all about the almighty guitar and Elam highlights this instrument perfectly with skillful strumming. "Mockingbird Hill" is a wonderful place to roam & play as you experience this land that is musically rich. Track seven, "You Are My Sunshine", showcases Lil Bit as she sings from the heart and displays healthy doses of genuine sincerity and pure innocence. Trucking along, the listener hears "Somebody's Blocking My Road" next that contains a bouncy rhythm and laid-back sound. Track nine, "Poorboy and a Stranger", is perfectly executed with solid, well-versed material that speaks volumes. "No Return Layla" is the following number and I would say this song is simple yet effective. The soft touch and delicate vocals on "No Return Layla" draws you in closer & closer as you're hanging onto every note & bar. Get ready to jump aboard this bluesy train filled with "Long Eared Mules" as the audience will be taken on a fun-filled journey. Elam McKnight delivers a commanding performance on "Evergreen" where this artist is standing tall and sounding strong. Get ready to drink up the next number, "Whiskey", with its intoxicating vibe that will rattle your bluesy bones. Elam McKnight is on the fast track to "Love Is A Road" as this lovely song flies by at just the right speed. Track 15, "Don't You Get Lost", offers up raw energy that can't be contained and it will surround you from start to finish. "No Return Fiddle" is music to my ears and provides some fine playing from Elam McKnight. The 17-song set ends on a sunny, innocent note with "You Are My Sunshine (reprise)" as this composition is filled with honest feeling courtesy of Lil Bit.
With elements of blues, rock and country and a vast musical background, Elam McKnight gives the audience a generous portion of musical goods with his latest release, 'The Walter Gray Starnes Album'. With family connections and Lil Bit by his side, this new album can do no wrong. If you're searching for real substance and true heart & soul music, then look no further because Elam McKnight (Featuring Lil Bit) has got you covered with 'The Walter Gray Starnes Album'.