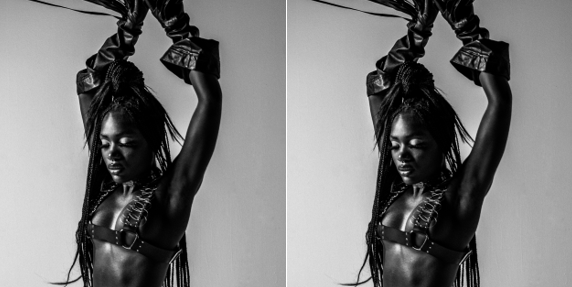 @skopemag news – thursday – september 1, 2022 @ 8 pm est
@skopemag HQ – http://smarturl.it/skope
Queer Indie Band Early Eyes Share Whimsical New Music Video, "Dying Plant"
Minneapolis based indie band Early Eyes have shared a new music video for track "Dying Plant" from their debut album 'Look Alive!' via Epitaph Records. Driven by a percussion based groove, the upbeat jam unfolds with a dexterous guitar riff and cathartic chanting during the hook. The DIY music video is as quirky and endearing as the individual band members, featuring a Muppet-style hand puppet and a very convincing old man costume.
Robyn Hitchcock shares classic new song/video; new album Oct 21
"Songs come to me alive and flickering, fresh from the lake of my subconscious. I'm a compulsive writer," says Hitchcock. "'The Raging Muse' was written in Nashville in 2020. It began life as a sketchy home recording, just me and my old Telecaster – the same guitar I played on ELEMENT OF LIGHT back in 1986 – this time around faithfully engineered by Tubby and Ringo. Once I had the bones of the song, I sent it to my friend Davey Lane in Melbourne, who fleshed it out with spiky lead guitar, and then onto Charlie Francis in Cardiff, who added the melodramatic piano and bagpipes. The fish in the grass in this song are one of my many recurring dreams, I'm sure they'll appear again soon."
Finnish Thrash Metal Band CEASELESS TORMENT Drop Sons of Sodom (Lyric Video)
Formed in Helsinki, Finland, Ceaseless Torment has been thrashing the world with its aggression since 2008. The band takes its influence from the eighties and early nineties Thrash Metal bands, and from the very beginning, it was clear, that brutal and aggressive Thrash Metal was the way to go. As a fierce squad full of hate, the band has played live in over 15 countries and toured with bands such as Nervosa and Evil Invaders. The band has released two full-length albums, 'The End They Bring' (2014) and 'Forces of Evil' (2017). The third album "Victory or Death" was recorded in 2021 and will be released in 2022.
Planningtorock Shares New Collaborative Single With Tyler Holmes
Speaking on the collaboration, Planningtorock says: "Making this remix/collaboration with Tyler has been so lovely and special. I was already a fan of Tyler and loved their album Nightmares in Paradise, so making this track was pure queer pleasure."
Country Singer-Songwriter Ryan Langdon Releases Mood-Setting Single About His Perfect Person
Fiddle and pedal steel complement Langdon's emotive vocals and authentic country production to create a great mood-setting tune perfect for slow dancing under the midnight sky.
Kang Wali – Badd Badd [DJ Pack]
MF RUCKUS Partner with Metal Sucks to Premiere Music Video for New Single "Be Cool"
Denver hard rock outfit MF Ruckus have released a new single, titled "Be Cool", accompanied by an uproarious and unhinged music video that is premiering exclusively via Metal Sucks. What happens when our 'protagonist' smokes a joint that's been dipped in embalming fluid? Frontman Aaron Howell sums it up best.
Exclusive: MF Ruckus Video for "Be Cool" is a Warning Against Taking the Party Too Far
DOECHII AND SZA SIZZLE IN NEW VIDEO FOR "PERSUASIVE"
The song is featured on Doechii's acclaimed EP she / her / black bitch. The upbeat R&B anthem showcases Doechii's impressive ability to flex her signature versatile flows into Grammy-winner SZA's immaculate vibes. The video for "Persuasive" with SZA made its global broadcast premiere today on MTV Live, MTVU, Yo! MTV and BET Soul & BET Jams, as well as on the Paramount+ Times Square billboards.
Singer/ Songwriter/ Producer Mychael Gabriel Releases New Single "Let There Be Light" + Official Music Video; New Album 'GENESIS' Out Now!
Hardcore-punk band Scowl announce U.S. headlining tour and share new music video
Since the release of their debut album, How Flowers Grow, in November 2021 Santa Cruz, CA-based band Scowl have been a non-stop force to be reckoned with. The band's fierce display of hardcore-punk found them opening stadium-sized shows for Limp Bizkit this past spring, conquering the full U.S. with Destroy Boys, and touring Europe and the United Kingdom for the first time. Not to mention absolutely standout festival performances at Outbreak (U.K.) and Sound and Fury (LA). Today the band announces a headlining tour hitting parts of the east coast U.S. and Texas starting October 24th, as well as an appearance at The Fest in Florida. Varied support comes from Restraining Order, Anklebiter, Flatspot Records labelmate's Jivebomb, rapper Ghoulavelli, and Strange Joy. Tickets are on sale here now.
Arkells share 'Teenage Tears" ft. Tegan and Sara
Says Consequence, "Indeed, with vocal harmonies that sound at home on a Justin Vernon project and an earnest embrace of teenage melodrama à la "drivers license," Arkells have somehow successfully crossed i,i and SOUR. Throw in contributions from the legendary Tegan and Sara and you have a recipe for a robust, unabashed song complete with sparse piano and swirling synths."
Arkells and Tegan and Sara Share Origins of New Collaboration "Teenage Tears": Exclusive
AFRO-R&B ARTIST, NONSO AMADI UNVEILS COLLABORATIVE, HEARTFELT NEW SINGLE "EYE TO EYE" TODAY
Following the success of Nonso Amadi's recent single "Different" ft. Majid Jordan which has boasted over 4.8 million global streams and 1.9 million music video views since its release in May 2022, the globally acclaimed, Canada-based Nigerian singer, songwriter, and producer is back with another captivating single "Eye to Eye." Released via Def Jam USA/Universal Music Canada, the country's leading music company, Nonso Amadi's emerging global presence is set to be further realized through this R&B-infused, atmospheric track.
Austin Meade Announces New Album "Abstract Art of An Unstable Mind" & Shares "Rosé Romance" Video
"Rosé Romance" is the third in a trilogy of videos that tells some of the album's story. The story starts with the characters just getting out of high school. Then, it's a fraught and often funny/sad journey through the formative years 'til the diverse personalities from different walks of life reconvene —for better and often worse— as adults.
New Split Featuring WRAITH, GRAVERIPPER, BLACK KNIFE, and UNHOLY NIGHT Now Streaming In Full At Decibel Magazine
Wise Blood Records Faster Than the Fucking Devil, a four-band split of blistering black thrash. All killer, no filler: the split features 11 new songs from four of the genre's nastiest thrashers is now streaming in full at Decibel Magazine. The split will be released tomorrow September 2, 2022.
Full Album Stream: Various Artists – 'Faster Than The F*cking Devil'
PARASIDE Release New single and video off 'Movin On'
Paraside was formed in 2021 by Vic, Pete and Matt. Danny joined the band in 2022. Paraside is continuously working on new songs, so you can be sure that some new powerful tracks will arrive soon.
Blending Matt and Danny's love for modern rock and Vic's passion for rock, EDM and musical comedy with huge soundstages, Pete's progressive rock counterpart, you get a sure recipe for a complex, yet still melodic sound, combining catchy melodies with bass guitars and symphonic and dance/trance elements.
Gabrielle Metz Honors Her Musical Upbringing and Nashville Pride in the Music Video for Her Latest Single, "Mixtape"
The music video for Gabrielle Metz's latest single, "Mixtape," is just as fun and full of variety as the song itself. The video opens with Metz in her car, turning the radio up like we're listening to her track on the radio. Cuts of her having fun in Nashville are interspersed with shots of her playing the guitar and singing along. Metz's light parkour and other tricks throughout the video add playfulness and fun to the whole endeavor.
Craig Finn releases podcast chat with Adam Duritz; last episode of season 1
An original new podcast series examining the connection between memory and creativity, each episode of That's How I Remember It with Craig Finn has featured a discussion between Finn and one creator – including musicians, authors, filmmakers, and more – about the role memory plays in their art. These exclusive conversations reveal the different ways each creator synthesizes their remembered life experience to tell stories about themselves and the world we live in.
Young The Giant Releases Music Video for "My Way"
YG ANNOUNCES NEW ALBUM 'I GOT ISSUES' OUT SEPTEMBER 30th VIA DEF JAM RECORDINGS
SZA JOINS DOECHII FOR SEXY, FASHION-FOWARD "PERSUASIVE" VISUAL
The song is featured on Doechii's acclaimed EP "she / her / black bitch." The upbeat R&B anthem showcases Doechii's impressive ability to flex her signature versatile flows into Grammy-winner SZA's immaculate vibes. The video for "Persuasive" with SZA made its global broadcast premiere today on MTV Live, MTVU, Yo! MTV and BET Soul & BET Jams, as well as on the Paramount+ Times Square billboards.
TENSION SPAN: Decibel Magazine Premieres "Problem People" By Oakland Dark Punk Act Formed By Members Of Neurosis, Dystopia, Asunder; The Future Died Yesterday Debut Nears Release Via Neurot Recordings
The Future Died Yesterday, the debut LP by Oakland, California-based dark punk trio TENSION SPAN – formed by members of Neurosis, Asunder, and Dystopia – nears release through Neurot Recordings, and Decibel Magazine is currently hosting an exclusive premiere of the album's new single, "Problem People."
MEDIA ALERT: CHEZ KANE Releases Music Video for "(The Things We Do) When We're Young In Love"
[MEDIA RELEASE] DARTZ SIGN TO FLYING NUN AND ANNOUNCE DEBUT ALBUM 'THE BAND FROM WELLINGTON, NEW ZEALAND'
The band have today shared the first track from the album, '40 Riddiford Street' — a firm fan favourite recently re-recorded at Roundhead Studios. '40 Riddiford Street' is a singalong anthem railing against the inherent injustices of New Zealand's gruelling rental market. The single encapsulates the hellish living conditions of your typical beer-loving tenant. Featuring party-starting riffs and lyrics such as "an apple a day keeps the asbestos away" and "900 a week to live like we're squatting", this single is likely very relatable to the band's fans new and old alike.
Utopia Announces 13th Anni. 'ANVIL! THE STORY OF ANVIL!' Remastered Doc Release | In Select Theaters on 9/27, Premieres in NYC (9/13) + LA (9/22)
Utopia and Abramorama have partnered to release the remastered documentary, ANVIL! THE STORY OF ANVIL (2009), alongside Portobello Electric for a special one night engagement in 200 theaters nationally on September 27th with select extended theatrical runs through October at National Circuits including AMC and Regal Cinemas. The rerelease is timed to the film's 13th year anniversary and features remastered picture and sound, as well as a new exclusive-to-theaters epilogue interview with director Sacha Gervasi (MY DINNER WITH HERVÉ, HITCHCOCK) and Anvil's Steve "Lips" Kudlow + Robb Reiner, moderated by former MTV host Matt Pinfield.