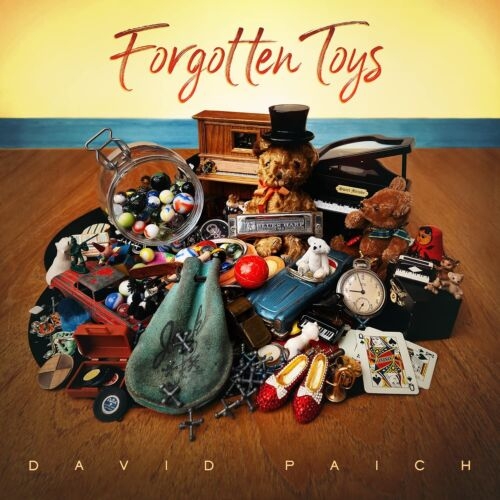 After a career of playing and contributing to some 2,000 of other peoples hits and anchoring Toto, the six time Grammy winning songwriter/keyboard ace has completed his debut solo album. Going on this journey with him are Joseph Williams (Toto) on vocals, Gregg Bissonette on drums, Nathan East on bass, and Steve Lukather and Dean Parks on guitar. Also contributing to the release are friends Brian Eno, Michael McDonald, Ray Parker Jr., Don Felder, and Steve Jordan.
The songs here on this seven track release are ideas/concepts that David has kept mentally filed away for quite some time until he needed to get them out. He refers to them as being like "Forgotten Toys", like the ones pictured on the album cover. Forward is a motion picture sounding orchestral keyboard intro. Will I Belong To You has the familiar Toto type vocal and instrumental arrangement, but also has an underlying Beatles feel to it. Spirit Of The Moonrise has the Toto inspired guitar touch (sounds like Steve). First Time is a nice touching ballad about a father/daughter relationship. Queen Charade features piano accompanied by some nice slide guitar. All The Tears That Shine is a really good heartfelt ballad. Lucy has a definite jazz feel, complete with the horn and percussion effects and Scat background singing.
Whether you realize it or not, DP's ideas have been rattling around in millions of peoples heads for 20 years or more. Many vocal or instrumental parts offered in this release sound familiar or possibly reminiscent of something you may have heard before. The fact is that this is neither coincidental or accidental, but due to David's original contributions to both Toto or one or more of those other 2,000 original songs you have memorized in your long term brain storage. One point of reference is that Toto's Africa for example, has had over 1 billion streams, not including the tons of sampling taken from it. To summarize DP, he has made a career of creating and sounding like himself. Time to dust off your brain and give it a listen!