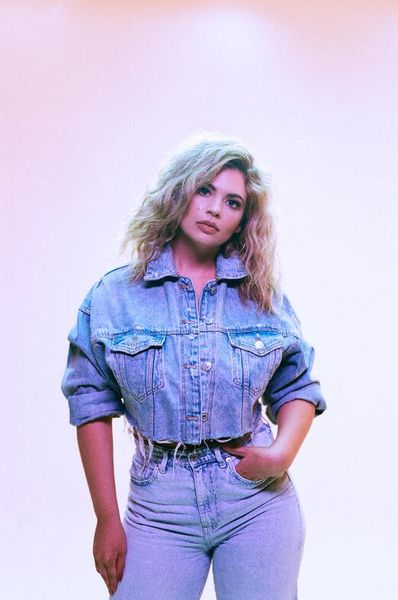 @skopemag news – thursday – august 25, 2022 @ 12 pm est
@skopemag HQ – http://smarturl.it/skope
Toronto Pop Singer/Songwriter OLENKA Has Sweet Revenge In "Happy Birthday"
Relationships can be great – when they go right. However, the problem with there being "so many fish in the sea" is that sometimes you catch one you must throw back. Often, we blame ourselves for making the poor choice, regardless of circumstances or what some would call destiny. There comes a point where, regardless of fate, we must take things into our own hands – and that's what makes Olenka's story of love gone wrong so powerful.
MAN THE LIFEBOATS — Release Incendiary New Single: 'The Fires of England' || + New Album 'Soul of Albion' Out 14 Oct
Taken from their upcoming second album (out 14th October via Wood Head Records), the collective's new single blazes bright with its incendiary violins, glowing accordions and profound lyricism that will warm even the coldest of souls.
Bri Oglu Articulates Living in the Unknowns of Love With "Slowly"
Bri Oglu just dropped her debut single, "Slowly," an alt-pop exploration of the brief moments following a confession of love. The song talks about living in the unknown and being unsure if one is at the beginning of a new romance or at the end of a friendship. "I wrote it about the person who ended up producing it years later; it was a pretty surreal full-circle moment." "Slowly" was mastered at Sterling Sound by Idania Valencia (Shawn Mendes, Sam Smith, X Ambassadors) and produced by Will Snyder. With a unique vocal tone, bold instrumentations, and emotionally evoking lyrics, Bri Oglu is an artist that is coming into her own and exploring new ways to push musical boundaries. Stream "Slowly" now and keep up to date with Bri at BriOglu.com.
Feloneye Shares New Single "Rockstar"
MUSIC VIDEO: Rebellious Rock Band Mellor Shares Music Video For 'Gargoyle Groove'
The Roches' Terre Roche shares new song; announces collection of early years outtakes and live recordings
Take A Tour Through Music City With Gabrielle Metz's New Music Video "Mixtape"
BRAXE + FALCON ANNOUNCE DEBUT NYC & LA SHOWS; WATCH "STEP BY STEP" OFFICIAL VIDEO + EP VINYL OUT TOMORROW
Gearing up for the vinyl release of their debut Step by Step EP dropping tomorrow, August 26 via Smugglers Way, French House pioneers Braxe + Falcon have shared a new music video for their highly lauded single "Step By Step" featuring Panda Bear. Named as Gorilla Vs Bear's #1 song from the first half of 2022 and voted by Stereogum readers as one of the top 10 songs of the summer, the new "Step By Step" video brings the heart-warming power ballad to even greater heights, starring the youngest athlete ever to sign with Nike, 12-year-old Japanese skate prodigy Ginwoo Onodera. Shot in Tokyo, the new video parallels themes found in the music, as footage pans from Ginwoo's early days on a skateboard into highlights of him winning awards and pulling off tricks beyond what most his age accomplish, a nod to patience and appreciating even the challenging things create success.
NYC-based Alexia Avina announced new EP 'Crush', out Oct. 14th on Lost Map Records!
Sardinian progressive metal band Even Flow release new single "Aleichem Shalom"
Even Flow is a progressive metal band formed in the late 1990s by brothers Pietro Paolo (guitar) and Giorgio (drums) in Italy. In 2008, the band released their debut EP "Dream Weaver", which continues to garner universal acclaim from fans and critics.
Little Quirks Call to Unknowns on New EP out now!
Little Quirks is the family that accidentally became a band. Today they are sharing their brand new EP, Call To Unknowns, via indie powerhouse Glassnote Records. Predominantly recorded in their backyard in New South Wales, Australia, Call To Unknowns combines tales of myth and magic with effortless folk-pop songwriting that unashamedly brings catchy melodies and pounding rhythms to the fore.
[Video Submission] BlabberMouf "Rampage" prod. by Sneadr
THE NECROMANCERS: stream new track "The Orchard" now
French heavy rock and metal foursome THE NECROMANCERS unleash their dark and infectious new single "The Orchard" exclusively on Invisible Oranges today! The song is taken from their upcoming third album "Where the Void Rose", out September 16th on Ripple Music (US) and Season of Mist (Europe).
Jann Klose's "Sugar My" Builds on Top 40 Radio
Released by Honey Rose Records, the song and music video for "Sugar My" are gaining momentum and airplay in the U.S. and South Africa. Filmed in Milford, CT, the high energy music video recently passed 120,000 views on YouTube. Jann partnered with director Alex Vishno and choreographer Eileen "EJ" Jaworowicz. Watch the video here:
Bri Oglu Explores the Space Between Love and Loss In New Single "Slowly"
Bri Oglu has released her debut single, "Slowly," an alt-pop exploration of the brief moments following a confession of love. The song talks about living in the unknown and being unsure if one is at the beginning of a new romance or at the end of a friendship. "Slowly" is currently available on all digital streaming platforms worldwide.
Margo Price takes a mind-altering mushroom trip in video for new single 'Been To The Mountain'…
She has been a lover, a queen and a drifter, a cowboy devil, a bride and a boxer; a child, mother and even a number. Over a flurry of fuzzed-out guitar, she belts about being on food stamps, rolling in dirty dollars and standing in the welfare line. But across five and half minutes of the song's unflappable groove, underlined by organ, harpsichord, and a soul-stirring, spoken-word breakdown in the bridge, Margo previews another stronger, freer side of herself that will soon be seen.