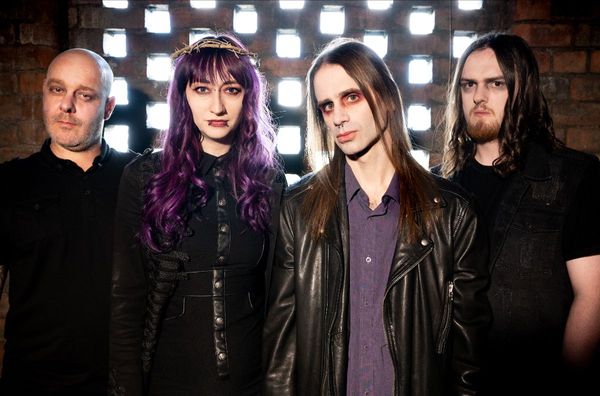 @skopemag news – wednesday – august 24, 2022 @ 12 pm est
@skopemag HQ – http://smarturl.it/skope
Volbeat Share New Music Video For "Becoming"
Michael Poulsen says of "Becoming," "it is a tribute to the mighty Entombed and our good friend L.G. Petrov, who sadly passed away. When we were about to record "Becoming," it has that opening riff that is really inspired by Entombed, and we thought 'why not use that same Boss HM-2 pedal on it that Entombed was known for using.' That pedal is the signature Swedish distorted guitar sound, and is sounds disgustingly good. After we reorded the song we got the news of L.G.'s passing, and decided to dedicate the song to him since Entombed was the inspiration behind that riff. 'Becoming' is for you, my dear friend. Cheers!"
TALK: "RUNAWAY TO MARS"
Born Nicholas Durocher and raised in Ottawa, this multi-instrumental wizard is at ease on piano, guitar, drums, bass, banjo, harmonica and even the mandolin. He toured Canada with a country band in his teens and honed his songwriting and production skills while working with artists at Sony, Def Jam, Wax Records, Physical Presents and more. Then, just over a year ago, he unleashed the eclectic voice and character he'd envisioned for years – TALK – and started asking the questions that are now reverberating in everyone's minds and social media posts:
VISERION Stream New Single "Reborn In Darkness" At No Clean Singing
New York City black metal band, VISERION are streaming their new single "Reborn In Darkness" at No Clean Singing. The song is set to be released on all streaming platforms August 26, 2022. The song tells a tale of corruption. Inspired by the character Oryx from the video game Destiny, who corrupts others known as the 'The Taken', the track depicts the brutality of his war against the light.
Rot Ken and 21 Lil Harold Count Rings like "Ginobili" in Their New Video
With a fiery flow and co-signs from some of the best in the game, Rot Ken is coming for the Georgia rap throne. Sharing a video for a melodic highlight from his recent Free Me mixtape, Ken mobs with Atlanta's 21 Lil Harold in "Ginobili." Created in collaboration with a long line of heavy-hitting producers, including JetsonMade and Neeko Baby of Spaceboy Productions, and Rio Leyva, Nico Baran, and Taz Taylor of Internet Money, "Ginobili" is a showcase for Ken's freewheeling flexes: "I bеat on the bag, I beat up her back/A studio junkie, I'm still in the lab." Lil Harold's halting drawl is the perfect complement to Ken's fast-talking styles, as the two rappers trade verses over hyperactive pianos and trampoline 808s. In the video, directed by Man Films, both rappers retreat to the outskirts of Atlanta to count their cash and spend quality time with a baddie.
Reggae artist debuts at # 5 iTunes Reggae charts just below Bob Marley
Ahead of the album, Hezron has released three singles. Title track "Man on a Mission" is a song about his personal journey as a goal oriented person but also offers encouragement to anyone in pursuit of their dreams, despite the inevitable challenges, while also honoring the heroes all around us. "Tik Tok I'm Coming" appeals to his more sensual side and the most recent single "Save The Children", released on June 24th, is a heartfelt commentary on the alarming number of brutal acts committed against the youth, including physical and sexual abuse.
GUARDIAN OF LIGHTNING (doom metal) 'Cosmos Tree (Remastered)' new music out today!
Brazilian metal band Guardian of Lightning reveal "Sound of Thunder" music video
Watch the new "Sound of Thunder" music video via YouTube, and stream it on Spotify, Apple Music, Pandora, Amazon Music, Tidal, Deezer and more.
YVNGXCHRIS RELEASES THE VISUALS FOR "GUNNINHIMDOWN"
"Gunninhimdown" is sandwiched in between the release of the "Quikkskope" featuring DC The Don video and his explosive VIRALITY EP which features singles like Lil Yachty assisted "DAMN HOMIE", "Ain't No Fun", "excuse me", and the cloudy "EXTRAVAGANT".
Maggie – Paralyzed
"The pull of Maggie's debut single – yes, debut! – is instant. It's a landmark, stirring track that submerges you from the first sweep of the cinematic string accompaniment, with Maggie's vast, soulful vocals proving impossible to ignore." – Wonderland
DISHEVELED CUSS ANNOUNCE NEW ALBUM FT. NATE WALCOTT, JIMMY CHAMBERLIN, JOSH KLINGHOFFER, AND MORE
The cover art for the album was created by Mark Desalvo, whose instantly recognizable visual stylings helped to create the Fat Wreck Chords universe, a catalog held in high regard by Reinhart in his NorCal beginnings. During a trip to his parent's house, Nick found an old photo in a high school note box and sent it Mark's way. The objects and stylings in it time stamped to high school in the late 90s. Desalvo's interpretation is a moment made to look like a renaissance-era painting, nostalgia made eternal.
Skope video subminission: video: BALT GETTY, "The Man". Getty Dynasty heir gives himself flowers
Balt Getty presents "The Man", the new single out now on Purplehaus Records. The artist, DJ, producer, award-winning actor, director and Purplehaus founder born Balthazar Getty is the son of German artist Gisela Getty and John Paul Getty III.
Sleep Party People Heap of Ashes
Preparing for his new album Sleep Party People banner knew that his "usual" process wouldn't suffice. "I was in a weird place in my life where I felt like I was some kind of observer. I was watching people around me getting sick, grieving, falling apart and the world was somehow disintegrating as well," he says. "I wanted to make a record mirroring and coping with the way I felt."
Carina Announces Upcoming EP Via Don't Sleep + Shares Second Single "Summer Air Buzz" Ft. Bel Cobain
Speaking on the collaboration, carina explained: "I don't have the opportunity to write with other people that often, and it was really lovely to be able to do that especially because she is someone who I look up to a lot."
Bones:Dreaming lanza el fascinante álbum "A Day in the Labyrinth of a Psychedelic Mind"
El músico Mike Ludwig del grupo Screaming Bones, decidió sumergirse en una experiencia sencillamente fascinante en su pronóstico artístico, iniciando un proceso en solitario realmente arrebatador en su intención. Sabemos que el género ambiental es realmente fascinante, totalmente desconectado de la música como producto y mucho más arraigado en los detalles, en crear una experiencia sensorial fascinante para cualquiera que se adentre en el viaje concebido. Y aquí tenemos la concepción de otra obra maestra, el álbum "A Day in the Labyrinth of a Psychedelic Mind", lanzamiento del proyecto Bones:Dreaming.
I. JORDAN SHARES NEW DOUBLE SINGLE 'HEY BABY / I HAD THE BEST OF TIMES' OUT NOW ON NINJA TUNE
Today I. JORDAN (FKA India Jordan) returns with another double single "Hey Baby" / "I Had The Best of Times". The release is part of a series of paired singles from Jordan and arrives shortly after the release of "Always Been" / "First Time Back", which marked their first solo music since the release of their critically acclaimed 2021 EP 'Watch Out!'.
More Kicks Unveil New Song from Upcoming Full Length for Dirtnap Records and Stardumb Records!
The band's self-titled debut album was a concise and ragged lesson in pop songwriting dripping in melody, cynicism and energy.
'Punch Drunk' marks a new era for the band. Heavier, more expansive, more twists and turns. It veers from sparkling harmonies to fearsome riffing in the blink of eye, with never a second wasted. As with the first record, it was recorded live on to 2" tape. It's bottled lightning and the sound of a band firing on all cylinders.
Out Today: Thanya Iyer's 'rest'
Thanya Iyer's acclaimed 2020 full-length KIND was the result of years of touring, connecting with community, and an ethos based in self-love. But her newest release, rest, is approached from a different angle.
"rest is in many ways a reflection of myself, asking the question, "who am I when it all stops?"", explains Iyer, referencing, of course, the early pandemic and its halting effect on the world. Being stuck at home indefinitely allowed Iyer to examine her relationship to rest on a more critical level.
Aquakultre Shares Politically Minded "Africvillean Funk" Video – Don't Trip LP Out Now
Wild Pink share duet with Julien Baker "Hold My Hand" | New album "ILYSM" out October 14th on Royal Mountain
Cecilia Castleman Tells Us "It's Alright"
Today, Tennessee-native Cecilia Castleman dazzles on the release of her guitar-driven single "It's Alright" out now on Glassnote Records. She shares the single alongside an accompanying a stunning performance-based music video directed by Nashville cinematographer David OD (Noah Kahan, Sasha Alex Sloane, Coin).
ALIEN WEAPONRY Releases New Music Video for "Down The Rabbit Hole"
New Zealand global metal frontrunners ALIEN WEAPONRY have been touring around the world nonstop since the 2021 release of their acclaimed sophomore album, Tangaroa, out now via Napalm Records! Spreading vital messages of peace, awareness and warning through the power of their culturally-driven music, Tangaroa proves a massive next step for the band – encompassing all of the elements that make ALIEN WEAPONRY heavy metal's most authentic rising stars.
GOSPELHEIM unleash new single 'Satan Blues'
GOSPELHEIM are now releasing the fiendishly cunning song "Satan Blues" as the second single taken from the British dark rockers' forthcoming new album "Ritual & Repetition", which has been scheduled for release on October 21. Album details can be viewed below.
CAUSTIC CASANOVA reveal second new single 'Anubis Rex'
Howdy! CAUSTIC CASANOVA gleefully present their eclectic best sides on the second new single, 'Anubis Rex'. The track is taken from the Washington D.C. based riff-rockers' forthcoming album "Glass Enclosed Nerve Center". The full-length has been scheduled for release on October 7.