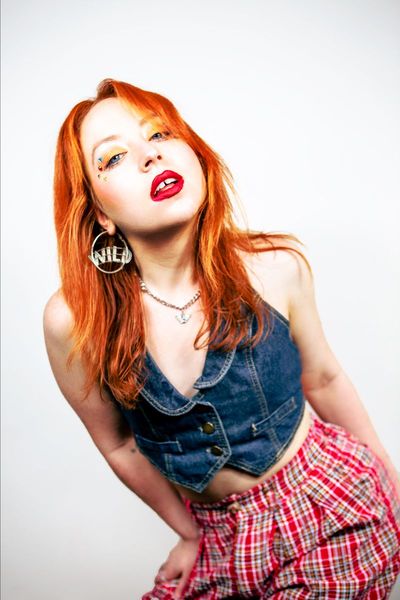 @skopemag news – wednesday – august 24, 2022 @ 10 pm est
@skopemag HQ – http://smarturl.it/skope
TODAY Electro-Pop artist Witte Beer shares captivating track "Fairlight" FFO The Postal Service/Kim Petras
The title track, "Fairlight," was written starting with the intro guitar phrase and portrays a sense of motion and anticipation. The sound came from a CMI Fairlight sound bank, which is a vintage sampler. Witte Beer felt so much inspiration from that single instrument that all of a sudden it became the project name and focal point.
Toronto garage pop band Faiyaz and The Wasted Chances share awkward and romantic single "Flutter"
Awkward and romantic, sad yet uplifting, "Flutter" accepts the fact that sometimes things don't work out. Despite the song's poppier sensibilities, "Flutter" still holds roots in the abrasive punk rock that Faiyaz and The Wasted Chances are known for.
RAYE Hypnotizes on New Dance Single "Black Mascara"
ALNILAM drops new Under the Sun EP!
This EP has been years in the making and has a very dreamy and atmospheric soundscape that invokes a feeling of being swept away in its instrumentation and harmonies. It is a partially crowdfunded production that gradually moved forward against a backdrop of change and unpredictability. During this time, California faced fires, riots, lockdowns, and the pandemic. Some instruments had to be recorded remotely, including a full orchestra in Macedonia. Shortly after recording vocals, Elena Pinto (ALNILAM) moved to a little surfer town in Costa Rica, where she is building a small permaculture-type farm.
Jason Moules (allusinlove) Shares "The Art of Pulling Pork" Video via EARMILK | New Track Out Now via All DSPS, Look Out For Debut LP
Earlier this summer, Jason Moules shared a brand new single entitled "The Art of Pulling Pork," the first track off his forthcoming debut solo album. Today, he shares the track's accompanying music video.
[VIDEO] Jason Moules drops visuals for alt-rock number "The Art of Pulling Pork"
Maisy Kay Releases "Emotionally Unavailable" Single and Video
"That song came from thinking about how my generation has a hard time connecting with our feelings, and how social media has changed the way we date and treat other people," shares Maisy on the inspiration for the song. "I was making a joke about how I'd been labeling myself emotionally unavailable, but then I started questioning whether I was just using that as an excuse or if it was really true."
the impliers Release Their Much Anticipated Alternative and Psychedelic Synth Rock Album, 'cocoon'
cocoon is an eclectic collection that hangs together with focused artistic intent. It defies genres, yet exhibits a signature sound as it winds through lush indie-folk, synth-pop, ethereal electro-pop, dream-pop, grimy distorted indie rock, cinematic almost-Western soundscapes, industrial pop, piano balladry, and dark wave. Thematically, the pair explore heavy topics with abstract poetics. "cocoon is a very vulnerable album that explores some of the complexities of the human condition and the impact it has on all of us in a very honest way. The cocoon that is our human self for our soul is an interesting metaphor for us," Dan says.
Yung Booke – What Happened to Atlanta feat. Skooly [DJ Pack]
Revel In The Violent, Dystopic Assault Of ALL ELSE FAILS' "Flesh/Excess/Wealth" Off Upcoming EP "The Incident at Black Lake"
Edmonton, Canada's All Else Fails knows a thing or two about the local music game with an impressive nine albums under their belts since getting together fifteen years ago. They have another work ready for audiences this year, one that is personal, direct, and in the current era, more relatable. "The Incident at Black Lake" is 25 minutes of technical, harsh, and melodic metal that is being supported by show dates in September.
postcards from new zealand premiere new single "taupō" with visualiser at The Obelisk
"taupō", the first single from postcards from new zealand's upcoming album is an immersive concoction of harsh textures from vocals and distorted guitars, combined with soaring harmonies and electronics. "taupō" aptly conveys the vast ideas of the places in-between – liminal space. The visualiser is available to watch now via The Obelisk.
Postcards From New Zealand Premiere "Taupo" Video; Liminal Space Out Oct. 7
Chelly Flame – Bandz [DJ Pack]
Chelly Flame is heating up again with her latest single "Bandz." She drops the video for the single on the heels of the track's success, which is one of the best performing tracks of her nascent career. Jack Rottier, who is most known for his work with Yeat ("Get Busy," "Mad Bout That," and "Money Twërk"), showcases Chelly in striking looks as she oversees illicit activities in a desert estate. The video, which premiered via HipHopDX, uses drone shots and fast-paced cuts to capture Chelly Flame's glamorous looks and fiery flows.
Kit Major Shares New Single "Rot Ur Mind" via BPM | Read more in EARMILK, Wonderland, and Bops & Flops
Los Angeles-based indie pop queen Kit Major is back with an exciting announcement: after sharing a string of singles for the past year, she's ready to share her debut EP! With the announcement, she shares lead single "Rot Ur Mind." Taking inspiration from Y2K pop-punk icons Avril Lavigne, The Veronicas, and Paramore, "Rot Ur Mind" is an addictive grunge-pop banger packed to the brim with catchy guitar riffs and melodies that'll immediately get stuck in your head. A must-listen for fans of Olivia Rodrigo.
Kit Major shares grunge-pop anthem "Rot Ur Mind", announces debut EP [BPM Premiere]