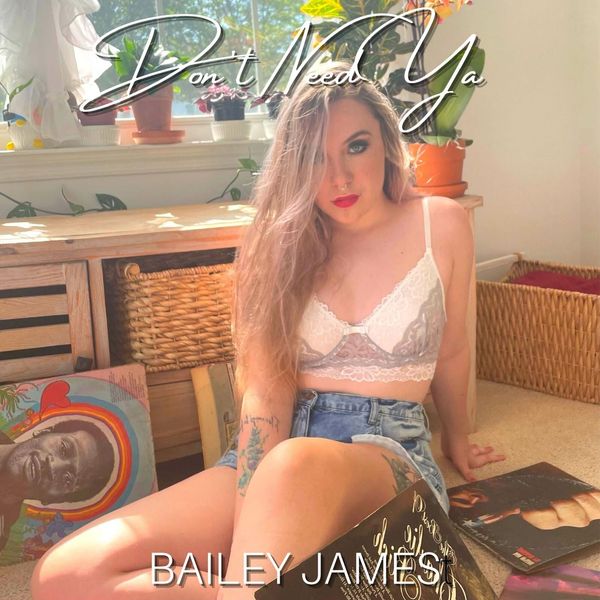 @skopemag news – tuesday – august 23, 2022 @ 6 pm est
@skopemag HQ – http://smarturl.it/skope
RESTLESS SPIRIT reissue "Blood of the Old Gods" and release new video
Magnetic Eye Records will reissue RESTLESS SPIRIT's acclaimed and already sought-after sophomore full-length "Blood of the Old Gods" (2021) on October 28, 2022. The stoner sludge trio from Long Island, New York is celebrating this occasion with the release of a new band video clip for the track 'Judgement and Exile' today.
GRAMMY® AWARD-NOMINATED SISTER DUO LARKIN POE SHARE NEW SINGLE "GEORGIA OFF MY MIND"
Larkin Poe – the GRAMMY® Award-nominated duo of Georgia-bred, Nashville-based multi-instrumentalist sisters Rebecca and Megan Lovell – have shared "Georgia Off My Mind," available now at all DSPs and streaming services. A heavy-hearted yet swinging lament for what we leave behind in chasing our dreams, the track is joined by an official music video/visualizer streaming now at YouTube. "Georgia Off My Mind" marks the latest single from Larkin Poe's upcoming sixth studio album, Blood Harmony, arriving via their own Tricki-Woo Records on Friday, November 11. Pre-orders are available now, including limited edition magenta colored vinyl, CD, cassette, and more.
FULCI: Italian death metallers premiere "Cemetery / Nightmare" video ahead of US East Coast tour
Notorious Italian death metal force FULCI is proud to announce a new USA tour. The band will be touring the East Coast starting in late August, bringing their unique presence to the stages.
Experience the Cinematic Death Metal of the FULCI "Cemetery + Nightmare" Video
SAD NIGHT DYNAMITE DEBUT OFFICIAL VIDEO FOR "WHAT DOES THAT MAKE ME?"
OCEANHOARSE Release New Single "Nails"; Announce Tour with SOEN!
After the release of their debut album Dead Reckoning in 2021 via Noble Demon, followed by several single releases, Oceanhoarse like to stay busy and are perhaps one of the most notable and hardworking newcomers out there right now. This is also proven by the latest single of the quartet from Helsinki, which already gives a remarkable first glimpse into a new album the band is currently working on! "Nails" is not only a powerful and melodic heavy metal banger, as we are used to from Oceanhoarse, but also features Martin Lopez from Swedish progressive metal masters SOEN on percussion!
Alexis Castrogiovanni shares cinematic video/single & announces debut EP
Today Canada's Alexis Castrogiovanni is sharing the incredibly cinematic video for "Someday My Thoughts Will Be Like a Range of Mountains" as well as announcing her debut EP of the same name. Check out the stunning video directed by Millefiore Clarkes premiering on Week In Pop today. Regarding the single, WIP stated that "Alexis paints poems of the heart, spirit and mind with the mediums lent by the systems of the universe where orchestrations of exquisite grandeur are interwoven from the fabrics of elements that arrange and rearrange themselves according to the artist's own passionate design." Someday My Thoughts Will Be Like a Range of Mountains will be self-released on September 21st .
Pop Newcomer Ed Staal Shares Video For 'Baby Blue'
Hertfordshire up and coming UK pop artist Ed Staal is back with his new single 'Baby Blue' taken from the upcoming EP Battle Scars & Broken Hearts. Self-recorded and produced, the 24-year-old's unique style fuses elements of old school Justin Timberlake with hints of John Mayer and a 70's soul to create a striking alt-pop-come-indie sound.
Little Fuss Announce Nine-Chapter Concept Album 'Girls At Parties'
A dazzling collage of My So Called Life-era angst intersecting introspective post-grunge nostalgia and the first single from the self-produced debut full-length from Olivia Martinez and Cody Von Lehmden, "Girls At Parties" captures the dizzying intensity of the ever-changing world during young adulthood. The shadowy single is vivid and alluring, juxtaposing an adrenalin-jolting, technicolor Baz Lurhmann soundtrack-esque atmosphere with the creative versatility of Martinez as a storyteller. She introduces listeners to the album's first character: the omnipotent narrator.
Panic! At The Disco Share "Sugar Soaker" Video
FRONTIERS MUSIC SRL ANNOUNCES THE SIGNING OF ABOUT US
Kenny Muney Works Smarter and Harder on "No Days Off"
Sierra Ferrell's 'Long Time Coming' Turns One, New Video for "Why'd Ya Do It" Out Now
In the year since Sierra Ferrell's Rounder debut Long Time Coming was released, she has captivated audiences at sold-out shows across two continents, collaborated with artists including Billy Strings, the Black Keys, Diplo, Early James, Shakey Graves, Ray LaMontagne, and Old Crow Medicine Show, and longtime fan favorite "In Dreams" has recently become a viral sensation on TikTok and across numerous streaming platforms.
Bailey James Releases The Perfect Breakup Anthem "Don't Need Ya"
Bailey James' hidden power lies in the quiet moments found in her latest release "Don't Need Ya." Written with a fresh start in mind and accompanied by seamless acoustic guitar, the song can be received as an indie country tune as easily as an alt-pop track. James' crystal-clear vocals are effortless, sexy, and raw while retaining a unique tone. In addition, the chorus where Bailey sends a message about empowerment ("Cuz, I put a record on/Dropped the needle/On a goodbye song/I don't need ya") is perfectly matched with a more upbeat melody, which helps convey the idea of not depending on someone else and being happy.
OvO Reveal Another Taste of Their Upcoming Album, Ignoto, "La Morte Muore, Pt. 3"
Italian experimental outfit OvO show no signs of slowing down heading toward the release of their upcoming album, Ignoto. Today they release their third single from the album "La Morte Muore, Pt. 3." Dissonant, haunting and dark, the track is a microcosm of the album itself.
Former QUIET RIOT Bassist CHUCK WRIGHT Shares New Video For "GIVING UP THE GHOST" From His Acclaimed Album CHUCK WRIGHT'S SHELTERING SKY!
Today, multi-platinum, bassist/producer and genre-bending recording artist Chuck Wright released his third and latest single, "Giving Up The Ghost" from his award-winning debut solo album "Chuck Wright's Sheltering Sky." The song is the follow-up to his most recent single "Throwin' Stones," an anti-war messaged funk rock piece which along with the full album, has amassed rave reviews.
CARRION VAEL Announce Release Tour, Reveal New Music Video
EZRA COLLECTIVE — Announce New Album: 'Where I'm Meant To Be' || + Share New Single 'Life Goes On' (Feat. Sampa The Great)
"London meets Lusaka. Moments of Joy, moments of struggle, but United in a spirit that we must carry on. Life must go on," states the band describing their inspiration behind the new track. "We write our music with a consistent will to push the boundaries of what we can mix jazz with. This incorporates the energies of southern African vibes, mixed with our own style of London jazz. And no better person to voice this beauty than the queen, Sampa the Great."
Ukrainian Metalcore Unit SPACE OF VARIATIONS Reveals New Single "DNA Molecule in a Million of Dimensions" + Official Video
TITUS BANK Shares New Music Video for "Radio" via Under The Radar | Debut EP 'Hopeless & Romantic' Out Now
Your new favorite alt-pop artist, TITUS BANK has hit the ground running. The Vancouver-based singer-songwriter and pop connoisseur has only just started releasing music and has already entered the next phase of his music career. With two singles out that have garnered praise from the likes of BBC Radio 1's Jack Saunders and massive support from editorial playlist curators internationally, it is evident that Titus has tapped into something special as a result of refining his prolific songwriting ability into a clear and impressive artistic vision.
Be Swept Off Your Feet in Blaine Holcomb's New Single "Love A Little More"
Hailing from Upstate New York, Blaine Holcomb left all familiarity to move fifteen hours away to Nashville to pursue his music career. A country artist by trade, Blaine notes the influence traditional and 90s country has had on his sound while recognizing the importance of incorporating newer sonic trends into his music to keep things fresh. Blaine opened for a few national acts such as Easton Corbin, Justin Moore, and Josh Thompson. Since moving to Nashville, Blaine has performed regularly on Broadway as well as at The Stage, Legends Corner, Dierks Bentley's Whiskey Row, The Valentine, and Famous Saloon. His song "Then There's You" was added to Spotify's New Music Nashville playlist, and his single "When It Comes To Love" was added to Spotify Fresh Finds. Blaine considers the primary themes of his work to be love, heartbreak, drinking, partying, having fun, and growing up, although he expects these to change with time. Blaine hopes to leave a lasting, positive impact on fans with his music, and hopes to put on shows that leave people with the feeling that they've just attended the best one of their lives.
Indie-Pop Songwriter, Toho, Releases "OFF"
Archers Of Loaf share new single "Screaming Undercover" | New album "Reason In Decline" out 21st October via Merge Records
"'Screaming Undercover' is definitely the heart of the new record," says Eric Bachmann. "It came out quickly and it was the first lyric I actually finished for this collection of songs. I felt good after it had been written because I finally knew the point of view from which I could write more Archers songs. It had an urgent frustration in it that expressed what we were all feeling towards what the pandemic had taken from us, as well as the anger I felt personally towards the Trump administration and its dysfunctional embrace of anti-intellectualism, which unfortunately still seems to be infecting the culture and political climate."