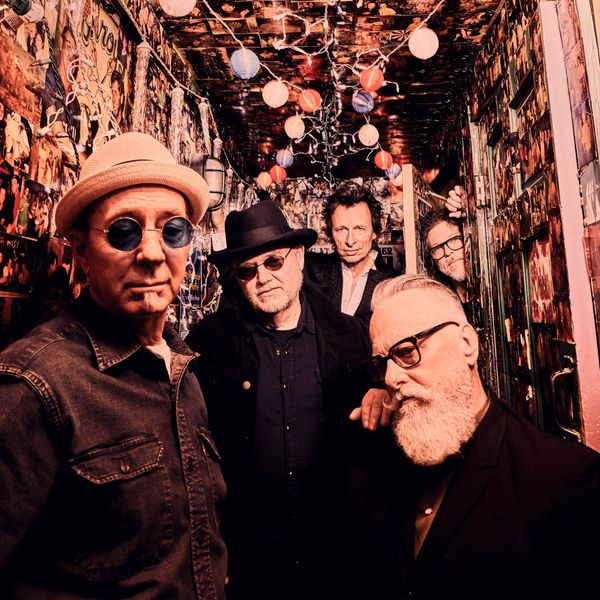 Chagall Guevara's semi-riotous ride from early 1990's indie darling almost-weres through the band-wrecked landscape of 1990's alt-rock and into the 21st century never expected to reach this destination. It should have ended long ago, another well-intentioned and well-written album at the beginning now long disappeared into the ether. It didn't work out that way.
FACEBOOK: https://www.facebook.com/ChagallGuevara
This review doesn't attempt to deal with the why. Everything has myriad whys, don't let anyone tell you differently. The now is what we should be concerned with and the now for Chagall Guevara pops, grumbles, growls, and bellows in a tenor well suited for these times. It's easy to say the nine songs included on Halcyon Days don't sound like the tracks a band of middle-aged musicians would release. What are they supposed to sound like? Mandolins and acoustic guitars? Perhaps a glockenspiel?
The churning grind and twist of "Resurrection #9" doesn't make a big deal about it all. It gets down to business and dirties its hands from the first note. Front-man Steve Taylor's 2022 voice sounds like it has been skinned with sandpaper, but it doesn't undermine its soul. The rugged assertiveness Taylor brings to the table is a big chunk of Chagall Guevara's rock and roll heart. "Got Any Change?" opens with an archetypal guitar rave-up before launching into a shambolic but rough and ready rocker. There's a light near-jangle in the song that lightens its touch.
"Surrender" is cut from the same general cloth as the other songs, but notable differences stand out. Attentive listeners will hear Guevara's focus fall more on the vocal arrangement than elsewhere during the album. It doesn't pull the track out of the band's wheelhouse, however. We're back going twelve rounds with rugged guitar rock with the song "A Bullet's Worth a Thousand Words" and it staggers listeners with one sinewy blow after another. A title such as this promises an enormous amount in terms of attitude and the band delivers, but never in a childlike and near comical way. They are, for lack of a better phrase, for real.
https://open.spotify.com/album/4AxYSJtOThFNgcR52C8m2y
"Goldfingers" is a great up-tempo rock with a bevy of idiosyncratic quirks. It keeps things lively and far from cliché; the instrumental break mid-song adds an exotic touch without ever sounding self-indulgent. "Halcyon Days", the album's title song, emphasizes atmospherics more than any other. It isn't slathered on, however. Guevara, instead, adopts a more cumulative approach to this track than any of the preceding songs and demonstrates their stylistic elasticity. Label them a rock band and nothing else at your own peril because the band's full of more surprises than you may assume.
The high-octane romp of "Treasure of the Broken Land" ends the collection on an unsurprisingly upbeat note. It isn't a final vacuous blast of energy though. Many will love the cinematic suggestiveness of the song title and the music approximates that feel without ever resorting to gimmickry. It's mission impossible to find any gimmicks with these guys. Why bother anyway? Chagall Guevara may have taken the scenic route to arrive where they are today, but Halcyon Days proves they are ready to go on, enthusiastic and intact. Mostly.
Gwen Waggoner