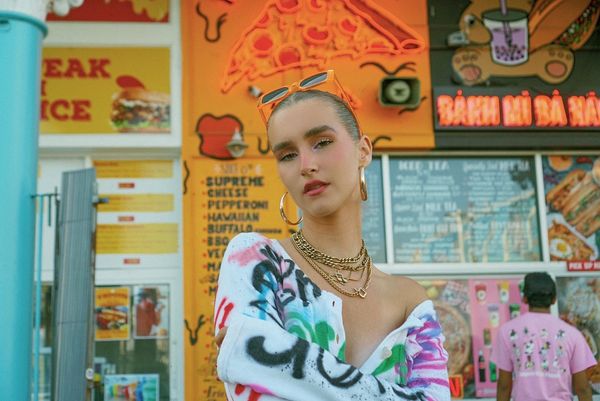 @skopemag news – monday – august 22, 2022 @ 12 pm est
@skopemag HQ – http://smarturl.it/skope
MERCURY CIRCLE – "Black Mirrors" from album "Killing moons" by Noble Demon
MERCURY CIRCLE, born as a brainchild in 2018 by Iconcrash's and Swallow the Sun's Jaani Peuhu, offers dark rock infused with electrifying synth wave and slow, epic doom. Truly a genre of its own, the band is establishing their very own kind of "New Doom" – think "Sisters Of Mercy and The Cult shaking hands with Depeche Mode and Cathedral". Within their own microcosm, the songs tell a story of an ever-repeating journey from painful departures to new beginnings, hope and promises echoing loss and regret.
[Video] Hel Clecs (Lord Willin x Mr. Phormula) – No Holding Us Back prod. by Mr. Phormula + EP Stream
Music Submission: Brown Adri
my music talk about a woman who was hurt deeply by a man who she trusted desperately, she loved him so much but the guy never care about her he hurt her and she became bitter and lost all hope in love because of him so she wants him to pay for all the pain she's been through
DRAHLA return with "Under The Glass" and announce UK tour | First new material and live dates since 2019
Leeds-formed art-rock outfit Drahla return today with the contorted thrill of "Under The Glass", their first new material since an acclaimed debut LP "Useless Coordinates" and a cover of Psychic TV's "Godstar" landed in 2019.
Polydor release The Backseat Lovers' GROWING/DYING + New Album Details!
EWAN MACFARLANE — Recalls Fiery Snuts Gig On: "Won't Stop Burnin" || + Confirms 'Milk' Album For 28 Oct
A cut that's as intensely fiery as it is darkly funny, the latest from the former Apollo 440 / Grim Northern Social frontman finds him recalling a couple's row to end them all.
Rising East London artist BUSTER drops his unorthodox offering "Steppin' In (Out)"
Emerging from the cold streets of Romford shines local talent Buster – an artist brimming with authenticity, aiming to transcend the pop universe alongside his organic streetwise persona and eccentric sonic palette. Delivering a unique soundscape showered in nostalgic funk textures, Buster drops his debut record "Steppin' In (Out)".
Rising R&B/POP newcomer Nat Slater releases brand new single "Ride The Wave" ft Finn Mathews.
Dreamy synths and slick R&B drum loops lay the perfect foundation for Nat's signature honeyed vocals as she tells the story of laid-back young love. A uniquely talented musician and songwriter Nat is steadily building a name for herself with her ability to combine hazy R&B in pop-edged soundscapes. Jumping on the track with his bouncy flow and rich vocals, rising artist Finn Matthews compliments Nat perfectly in a duet bound to set them apart from their contemporaries.
Stellar cast of musicians on Daniel Carlson's trippy "Light Lab"
FALSE HEADS — Release Punchy New Single: "Haunted Houses" feat. Frank Turner || + New Album Out 30 Sept
Featuring punk icon Frank Turner on guitar and vocals, the eerie new track comes as another glimpse into rising rock trio False Heads' long-awaited second album 'Sick Moon'.
Tin Man Falls share alluring new single 'Black To Grey'
​​Tin Man Falls is an indie electronic project by singer Joseph Robinson, in collaboration with producer Felipe Scolfaro Crema and multi-instrumentalist Edo Mjusik. Based in Vienna, Austria, their infectious creations fuse chill grooves and memorable hooks with a pop sensibility.
Testarossa New Single "Worlds Greatest Lover"
Worcester Indie-Folk Artist Josh Northwood Returns With Affecting New Single "Paradise"
Worcester Indie-folk singer, songwriter, multi-instrumentalist and producer Josh Northwood returns with the affecting new single "Paradise" taken from an upcoming new album due later this year. Renowned for his cinematic soundscapes which bring together elements of folk and alt-rock, the solo artist has built a reputation as an exciting up-and-coming talent.
Rasha Jay Returns With Genre Blending New Album 'Muscle Memory'
New Jersey based, Maryland born singer, songwriter and multi-instrumentalist Rasha Jay has made a name for herself with her cross—genre alternative soul-rock hybrid. Now back with the new album Muscle Memory, the solo artist once again demonstrates her unique alternative indie sound across seven soulful, moody, empowered and punchy yet smooth tracks.
The 502s — Florida Sensations Return With "Waves" || + UK Dates This Autumn
Crafting another slice of infectious folk-pop that radiates like a warm slice of sun on a breezy day, "Waves" sees The 502s blend catchy melodies and cheery banjo plucks with twangy vocals and nostalgic lyricism.
Beach Bums Share "Overcast" Single via CHORUS.FM | West Coast Tour Dates | 'Overcast' LP Out Now via Lolipop Records
Los Angeles punks Beach Bums have finally shared their brand new album, Overcast, out now via Lolipop Records, alongside the record's focus track, "Overcast."
Japan's SKY-HI releases official 'Sonic the Hedgehog 2' movie-inspired track 'Fly Without Wings' t
Back in the 1990s, the music from the original 'Sonic the Hedgehog' games was composed by Japanese musician Masato Nakamura, and his band DREAMS COME TRUE recently released their own song based on the music from Sonic's Green Hill Zone – titled 'UP ON THE GREEN HILL from Sonic the Hedgehog Green Hill Zone – MASADO and MIWASCO Version -'. Inspired heavily by the movie, SKY-HI's track samples boldly from DREAMS COME TRUE's song, with production by ☆Taku Takahashi (m-flo, block.fm), and features a positive rap message about overcoming adversity to "fly without wings".
A music video has also been released, harnessing the thrill of Sonic's speed for an incredible audio-visual experience.
LIFECYCLE channel early 90s rave with wobbly FM synth bass and pounding tribal rhythms!
'No Stopping' finds Lifecycle layering harmonies over a minimal, jungle-inspired arrangement. The track is driven forward with a swung breakbeat groove over a dark, sliding bassline, channelling the raw, spacious energy of early 90s rave, wobbly FM synth bass and pounding tribal rhythms.
SLIPKNOT SHARE "YEN" OFFICIAL MUSIC VIDEO
Both the track and the video are a showcase of SLIPKNOT's exceptional range and see one of the world's most popular and deeply enigmatic bands relentlessly charting new ground as they continue to redefine, revitalize, and reimagine the scope of rock music.
Lean Year Share New Song and Video "Legs," Final Single From New LP 'Sides' Out 9/2 (Western Vinyl)
Richmond, VA's Lean Year today shared "Legs," their third and final single from their forthcoming sophomore album Sides, due out September 2nd, 2022, via Western Vinyl. The song is the album's haunting and elegiac opener–anchored by kalimba, piano, and saxophone–and accompanied by an equally stirring video from the duo's Rick Alverson (also known for his work as the director of films including The Mountain, Entertainment, and The Comedy).
Rock Revivalists SANTA CRUZ Release "Disarm Me" Video For Current Single