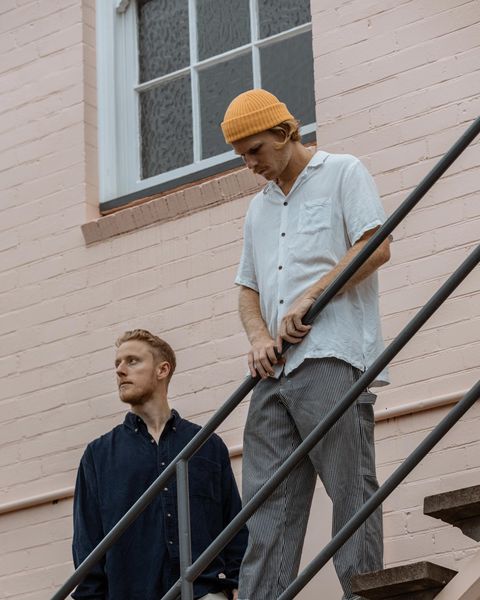 @skopemag news – saturday – august 20, 2022 @ 12 pm est
@skopemag HQ – http://smarturl.it/skope
Brook Pridemore Shares New Single + Video via Spill Mag + Backseat Mafia, Ground Control, Psychedelic Baby Features | 'Glad To Be Alive' LP Out 9/16
Fresh home from a US tour to a Brooklyn that was silenced by the early days of the COVID-19 pandemic, unemployed and unable to play live, Brook Pridemore was overcome with a flurry of middle-of-the-night songwriting. More intimate and unflinchingly honest than anything they'd written before, this batch of nascent songs painted snapshots of the most trying moments of the songwriter's life: an altercation with a teacher ("The Man Who Tried to Kill Me"), the suicide of a childhood friend ("Learned to Play the Drums"), etc. Pridemore imagined this songbook to be a humble demo, a la Bruce Springsteen's Nebraska.
VF7, la jóven revelación del género urbano presenta su nuevo sencillo "Bad Bichi"
SAN ROMAN Shares Brand New Single & Music Video "Messy"
About the song, Alexa says, "The title track of my upcoming album, 'Messy' is about running in place. That feeling when you try to punch something underwater & the moment of slight amusement when things are so bad you can't help but to laugh. It's finding the motivation to nonetheless still get up outta bed and wade through the metaphorical mess. 'When my world fell down around me, I caught fire but I'll be fine.'"
STOCKHAUSEN & THE AMPLIFIED RIOT Share New Video "Hunky Punk", Album Out Today!
Global-Sensation Sofie Dossi Releases Debut Single and Video For "Bunny"
Global-sensation and quirky pop culture wunderkind Sofie Dossi has expanded her ever-growing cultural reach into music, releasing her debut single, "Bunny." The single is being released alongside a girl-scorned revenge thriller-themed music video, which premiered yesterday on YouTube. In support of the release of "Bunny," YouTube has launched several billboards – one in Times Square in New York and two in Los Angeles – which will be active from today until August 26th.
'STAR DREAMS' by FANCEY is OUT TODAY
Today, Vancouver's Fancey releases his new album Star Dreams. Fancey is the solo project of multi-instrumentalist, songwriter, and producer Todd Fancey, who is the long-time guitarist for the indie rock outfit The New Pornographers. Star Dreams features Vancouver's Micae on vocals, and The New Pornographers' drummer Joe Seiders playing the DX-7 electric piano and synthesizer. On Star Dreams, Fancey gazes back to the pop constellations of the early '80s. The album was built from the ground up with vintage 80's instruments like the Korg Poly synth and Oberheim drum machine. Todd Fancey produced Star Dreams in Vancouver with the help of Allan Rodger who owns Crosstown Studios.
S'efforcer Release New Single and Announce 'Metamorphosis' LP
JD Shelburne Releases "The Road I Grew Up On" Music Video
Country music singer-songwriter JD Shelburne shows off his sentimental side, reflecting on his past of growing up in rural Kentucky during a simpler time. "The Road I Grew Up On" was written by Shelburne, Tony Martin, and Mark Nesler and is off his current iTunes top ten record, Straight From Kentucky. Shelburne is pictured strapped with his guitar, carrying out the song's heartfelt lyrics that explain no matter how much things change, home will always be where his heart is. "The Road I Grew Up On" music video was premiered by CMT.com and Heartland TV will air on Country Music Today on Friday, August 19 at 5:30 pm ET.
King Wali – Badd Badd [DJ Pack]
Blake Shelton Releases New Single and Music Video "No Body"
It's the love of country music that brought the Grand Ole Opry member to Nashville as a teenager, back in the '90s. "All I ever considered myself was a country singer," he recently told Entertainment Tonight. "I love country music and that's on my horizon – from a career standpoint – just keeping that thing going and having songs on the radio and being able to go out and tour and play. That's what I do. I am a country singer."
Promising New Country Music Artist Rob Wolf Announces Release Of Debut Single "Home"
Promising new country music artist Rob Wolf has announced the release of his debut single "Home," co-written by Rob Wolf and his sister, Jackie Wolf. The new music touches the hearts of any listener who has ever left their roots in pursuit of a dream. Rob hopes to share a message about digging into your roots, never giving up, and creating successes along the journey as you pursue your dreams.
COASTCITY Releases Visuals for "FACTS"
SUDDEN DEAF Unleash New Song "Mind Control"
SUDDEN DEAF's high powered new single "Mind Control" has been unveiled. An energetic offering with fierce guitars and dynamic vocals, "Mind Control" sees SUDDEN DEAF administer another dose of mayhem. The band are busy working on their debut album Havoc, due to release on October 7th.
The band comments:
"We are beyond thrilled to announce the release of our second single "Mind Control". This song centers around losing yourself to passion and finding freedom within yourself. Take a listen, stream, share and turn it up loud."
Vancouver's HUNTING GIANTS Invites You On An Adventure With "Rituals" Off Forthcoming Album "Mythos" Out Sept 2022
Vancouver, Canada's Hunting Giants have long been working on their next album "Mythos", which they intend to be a full-fledged journey for the listener into wild worlds punctuated with devious riffs, distinctive vocals, and captivating lyrics. Their latest single "Rituals" tells about necromancy, hatred, and shame. This song follows a man who sees morality as a vain illusion, which people create for themselves, and that the maxim "Do what thou wilt shall be the way of the law" reigns supreme.
Vancouver's Hunting Giants Premiere Their Radical "Rituals" Music Video
Sergio Napoletano releases music video for "Downtown"
Sergio Napoletano just dropped his B&W music video for "Downtown", which takes you on an honest stroll through NYC. The track is off his newest EP Memory Aisle. The release is a collection of melodic indie rock tunes and jangled chords that lure you in with their hooks and set you off to reflect on the good 'ol days that still feel like yesterday.
BAILEY ZIMMERMAN SHARES BRAND NEW TRACK "WHERE IT ENDS" TODAY
"Streamers [are] falling hard for Bailey Zimmerman" (Country Insider), who has earned a constantly rising total of more than 400 million global streams to date and currently ranks Top 10 on Billboard's Country Songwriters chart and Top 40 on their all-genre Artist 100 Chart. Before his whirlwind rise since releasing his very first song in 2021, the twenty-two-year-old was born and raised in the small town of Louisville, IL. He grew up listening to hour after hour of country radio on long hauls across state lines with his father, who owned a trucking business, while back at home his mom instilled in him a life-long appreciation for the power chords and edgy vocals of 80's hair rock. But it was time spent at the family's car dealership where he learned the art of telling stories, listening to Grandpa Zimmerman and his oldest friends would sit and tell stories capture people's attention with their words.
Eli 07 Shares New Single + Video "Holiday" via Ones To Watch
I'm an 18-year-old artist from Berrien Springs, Michigan. When growing up, you could find 6-year-old me sitting next to the radio flipping through channels and listening to everything that I possibly could. When people asked me what I wanted to be when I grew up, I would say "A Superstar". It wasn't until late into my junior year of high school that I started making music. It all started when my friends and I were bored and tried to make a song for fun. I realized I really enjoyed doing this and continued with the best dude in all of Berrien Springs. My friend Felipe Navia! I would record a track and then send it to Felipe to edit the vocals. 6 months into making music people were feelin' the music and we got addicted to just creating. I started posting on TikTok regularly and gained the attention of many different people. In my senior year of high school, I accepted that music was what drove me and what I wanted to do with my life. Just recently I signed a record deal with an great indie label and I'm excited to see what comes next.
NO WIN Shares "Where You From" Single + Visualizer via EARMILK | 'Dodger Stadium' LP Out Now via Dangerbird Records
Today, NO WIN — a Los Angeles-based rock'n'roll outfit helmed by Danny Noguerias — finally shares their brand new album, Dodger Stadium, out now via Dangerbird Records. To celebrate the album's release, they're putting special focus on the track, "Where You From."
NO WIN drop focus track "Where You From" from new album 'Dodger Stadium'
The Overcoming Project Releases "Overcoming" Single Today
For Skope: Spanish producer Low Blow gives nod to UK Garage house music with "Back To Me" (out now)
RÖYKSOPP ANNOUNCE CONCLUDING THIRD CHAPTER OF THEIR PROFOUND MYSTERIES PROJECT + REVEAL DETAILS OF VINYL EDITIONS
On the eve of release of Profound Mysteries II electronic pop music superstars Röyksopp have announced the concluding third part to their extraordinary Profound Mysteries project, to be released on November 18th through Dog Triumph. Profound Mysteries III will bring the acclaimed series to a climax, having worked with a cast of global visual and musical collaborators to create an incredible 30 tracks, 30 artefacts, 30 visualisers, and 30 films that have been revealed throughout the year.
BLOSSOMING FOLK ROCK ACT BILLY KEANE RELEASES DEBUT RECORD "TOO MUCH TO LET IT GO"
Today marks the release of Western Massachusetts based rising Americana/Folk Rock act, Billy Keane's Debut Record "Too Much to Let it Go" across all streaming platforms. Keane's music can best be described as indie folk rock with a Bruce Springsteen-esque anthemic sound. Keane can get any crowd singing along to the melodic and epic choruses that just come natural to him, which is apparent throughout this debut album.
PEEKABOO Returns to NIGHTMODE With Restrained, Heart-Aching Single "When I'm Gone" ft. XAELO – OUT NOW
Detroit-based producer PEEKABOO returns to NIGHTMODE with an almost immediate follow-up single. This time, he teams up with emerging vocalist Xaelo on "When I'm Gone," a restrained bass song that warns a soon-to-be former lover about the repercussions once he walks out the door. The forlorn topline is pushed along by melancholic piano chords, clean drum patterns, lilting melody lines, and a bewitched groove. Peekaboo upcoming gigs at Deadbeats showcase (WAMU Theatre), Moonrise Festival, Ever After Festival, + headlining shows across North America.
Artist: PEEKABOO
Title: When I'm Gone Ft. Xaelo
Label: NIGHTMODE
Release Date: Aug 19
Genre: Trap / Wave
Milan McAlevey Announces New LP, Shares "You Can Get It" Single + Video via Under the Radar
Today, Milan McAlevey (of Maine rock band Coke Weed) announces a brand new LP entitled Islands of Milans (due September 30 via Fortune Tellers). To kick off the album cycle, he has shared the record's first single, "You Can Get It," featuring vocals by Nina Donghia.
Shawn Brown Releases New EP 'The Rain Parade'
August 19, 2022 – PDX singer-songwriter Shawn Brown has released his new EP The Rain Parade via streaming platforms today. The 6 song release from the dynamic singer-songwriter includes "Find Another Way" and was given a special preview this week courtesy of Celebmix. Listen to the effort now on Spotify, Apple Music, and purchase the vinyl directly from Shawn Brown's web store and at upcoming shows.
KATAPULT: Swiss/Swedish thrashers slam hypocrisy of meat industry on "Comfortably Dumb" single; debut album comes November via Discouraged Records
Parris Mitchell Shares "permanent +1" Single + Lyric Video via EARMILK, Listen via Ones To Watch
Today, NYC indie-pop powerhouse Parris Mitchell shares a brand new single entitled "permanent +1," alongside an accompanying lyric video.
French progressive death-metal Wrath Of The Nebula shared new official music video "Big Bang In Reverse" // New album 'The Ruthless Leviathan' // Out now on CD & Digital through all legal platforms.
Duncan Daniels 'S.O.L.O' Album Delivers No Skips, Just Vibes
EVNTYD's "Hard On Us" – Released Today
Amidy Ties Off His String of Singles With Apologetic Melodic Bass Release "Tattoo" on Lost In Dreams Records – OUT NOW
Amidy has garnered support from Seven Lions, HALIENE, Trivecta, William Black, Excision, Nurko, and Haywyre. The remainder of the year will see him touch down on a solid list of events throughout North America, including stops at Lost Lands, Lost In Dreams festival, Bloom San Francisco, and Groove Cruise Cabo.
Artist: Amidy
Title: Tattoo
Label: Lost In Dreams
Release Date: Aug 19
Genre: Dance / Electropop
ETHAN BORTNICK RELEASES OFFICIAL VIDEO FOR VIRAL TRACK "engravings"
Says Ethan of the creative process behind the video, "Since the moment I wrote engravings, I knew what the music video looked like in my head. It was amazing working with such a collaborative team that helped to realize my vision for it. I wanted to capture a very accurate representation of what my actual toxic relationship was like as well as the unhinged piano playing people have been seeing on social media. The video sees me trying to escape the unhealthy attachment, and using the string to showcase that we're all tied to our trauma."
Hollow Coves Release Share "Purple" Music Video + North American Tour Dates on Sale Now!