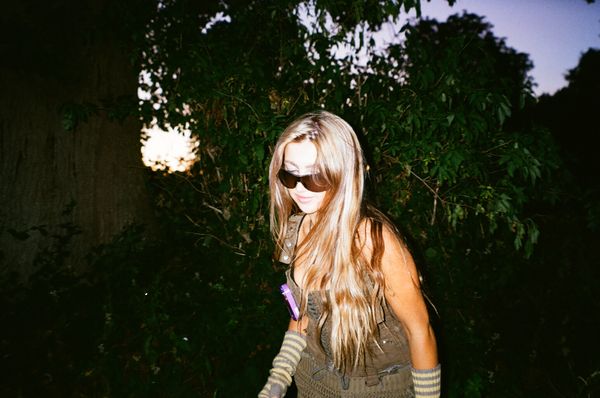 @skopemag news – friday – august 19, 2022 @ 2 pm est
@skopemag HQ – http://smarturl.it/skope
616 Pays Homage to Goth-fathers Type O Negative with "Everything Dies" on New Album
"I chose to do 'Everything Dies' by Type O Negative because it's my best friend and bassist Cam Dewald's favorite band and it his most favorite song and he told me why, when he was down and out and thinking life couldn't get any worse, he listened to that song constantly and it got him through the day. So I told am we're doing it. He is so happy! Also who doesn't like Type O Negative!" – Matthew A Lidwin
New.Today // Mia Berg – "Meadow"
One of Norway's best-kept secrets could well be Mia Berg who today uploads her best single yet titled "Meadow." Although the song's lyric tackles a tougher subject, the track itself feels like a freezeframe moment of those nostalgic times you've had, like a later summer afternoon you never wanted to end. Today's song announcement also comes with the news of a debut album coming on October 21st, 2022 titled "Sleepwalkers At Noon" via GEMS records.
STACEY RYAN DROPS BRAND NEW SINGLE + VIDEO "DEEP END"
Macklemore Releases New Single 'Maniac' Featuring Windser
The Homies Do It All on 'It's A Lot Going On' Album, Share "Out Here" Video
Out now: Aubrey Haddard shares second LP 'Awake And Talking' via Beverly Martel Records
Awake And Talking, the nine track LP out now, puts Haddard's self-examination on full display as she navigates the nuances of love and her relationship to art, and wrestles with existential questions through various lenses. While producing the album, some of the great songwriters of the late 90's and early aughts–everyone from Stereolab and Oasis, to Björk and the Cocteau Twins–were in Haddard's heavy rotation as their conceptual songwriting and harmonic approaches provided plenty of inspiration. With writing partner and multi-instrumentalist Charley Ruddell and drummer Josh Strmic, the trio came together in places of comfort like their weekly rehearsal space, Haddard's childhood home upstate, and their home studio to create this collection of songs throughout the year before tracking them over the course a week in the summer of 2021. Now with a more mature, renewed perspective, Haddard's intimate yet audacious sound is both self-assured and delicately fearless.
Matthew Squires and the Learning Disorders' Release "The Ballad of Norm Macdonald"
Matthew Squires & The Learning Disorders is a band centered around the songs of singer- songwriter Matthew Squires. They are based in Austin, Texas, and will be releasing a new EP entitled The Electric River on October 21st, after a three year hiatus. Since 2012, the ever-evolving band has released eight critically-acclaimed albums which have received praise from Stereogum, TheNeedleDrop, Brooklyn Vegan, and many others.
Alt-rock up and comers Bluphoria release major label debut single (EDGEOUT Records, UMe, UMG)
Today, Bluphoria share their major label debut single "Set Me Up" – a high-energy alternative rock song with blues and psych-rock influences that satisfyingly takes the listener on a journey from anger into a cathartic dance party.
Basset Releases New Single Ahead of LP
Toronto-based folk duo, Basset, are full of timeless heart. Acoustic songwriters Sam Clark and Yasmine Shelton will take you from a beekeeper's fields to the haunted basement of a second-hand store, in a style that is all their own.
[Video and Audio Submission] Basic Vocab "Straight Kemistry"
Basic Vocab is a Hip Hop group hailing from the sunshine state of Florida. Consisting of MC's Mental Growth and JL Sorell, with production from Square4, their style has been described as a mix of old and new school Hip Hop, with undertones from the golden era of the 1990s.
Top New Debut // Charlotte Plank – "Hate Me"
Get acquainted with multi-hyphen genre artist Charlotte Plank (UK/AUS) whose debut single "Hate Me" offers a glimpse into her incredibly unique brand of hard-hitting jungle beats, soft R&B vocals & indie alternative lyrics. The newcomer already counts on Piri and Venbee as supporters within the scene, where music is made for those warm, long summer nights to unleash any emotions, whether that be someone who gets under your skin, the lost boys that still haunt you, or the chemical exhilaration and comedown of a new crush. You can stream the song immediately on all streaming platforms via Black Butter Records (J HUS, BAKAR, Zara Larsson.)
KEVIN GEORGE KEEPS THE HEAT UP WITH 'SUPER ROMANTIC'// LISTEN HERE
A highly rated American football prospect before turning to a music career, Kevin George has quickly built an audience on the back of his genre defying cuts, picking up support from The Fader, Complex, 2Dopeboyz, Pigeons & Planes and more, as well seeing his music playlisted in such Spotify staples as POLLEN and Alt-R&B. Keep a close eye on Kevin George this year.
Global-Sensation Sofie Dossi Releases Debut Single and Video For "Bunny"
NOCTEM: Iberian Black/Death Metal Practitioners Reveal Title Track Of Forthcoming New Full-Length Via MetalSucks; Credo Certe Ne Cras To See Release October 28th On MNRK Heavy
Iberian black/death metal practitioners NOCTEM today reveal their latest video for "Credo Certe Ne Cras." Now playing at MetalSucks, the unholy psalm serves as the title track of the band's eagerly awaited new full-length, set for release on October 28th on MNRK Heavy.
Video Premiere: Noctem Embrace Darkness on "Credo Certe Ne Cras"
OCEANHOARSE Release New Single "Nails"; Announce Tour with SOEN!
After the release of their debut album Dead Reckoning in 2021 via Noble Demon, followed by several single releases, Oceanhoarse like to stay busy and are perhaps one of the most notable and hardworking newcomers out there right now. This is also proven by the latest single of the quartet from Helsinki, which already gives a remarkable first glimpse into a new album the band is currently working on! "Nails" is not only a powerful and melodic heavy metal banger, as we are used to from Oceanhoarse, but also features Martin Lopez from Swedish progressive metal masters SOEN on percussion!
On The Rise Country Music Singer/Songwriter, Allie Colleen, Releases Thought Provoking and Emotional Love Song, "Feels Like"
On the rise country music singer/songwriter, Allie Colleen, has announced the release of her new thought-provoking and emotional single, "Feels Like." Penned by Allie Colleen and Kimberly Atwood, the uplifting new love song is bursting with relatable descriptions expressing how it feels being with that special someone. The new music has been well received by fans at live performances who have connected with the lyrics as it has proven to touch listeners' hearts and bring back special moments in their own lives and creating a bond between Allie and her ever-growing fan base.
LARRY JUNE SHARES NEW ALBUM FT. SYD, BABYFACE RAY, THE ALCHEMIST AND MORE
ADAM DOLEAC DROPS NEW SONG "CLOSE THAT TAB"
Written by Doleac along with Zach Abend and Derrick Southerland, the song is known by his fans as the "watered down vodka soda song," from the hooky line "Everybody and your momma told ya / He's a watered-down vodka soda."
OvO Reveal Another Taste of Their Upcoming Album, Ignoto, "La Morte Muore, Pt. 3"
Italian experimental outfit OvO show no signs of slowing down heading toward the release of their upcoming album, Ignoto. Today they release their third single from the album "La Morte Muore, Pt. 3." Dissonant, haunting and dark, the track is a microcosm of the album itself.
MATTEO BOCELLI AND COMPOSER TOM HOLKENBORG COLLABORATE ON THE NEW SINGLE "CAUTIONARY TALE" FROM THE MOTION PICTURE THREE THOUSAND YEARS OF LONGING
Today, acclaimed singer/songwriter Matteo Bocelli unveiled "Cautionary Tale" – his collaboration with GRAMMY®-nominated, multi-Platinum composer/producer/musician Tom Holkenborg (aka Junkie XL). The pair created the song for the film Three Thousand Years of Longing, which was directed by George Miller (Mad Max: Fury Road) and stars Idris Elba and Tilda Swinton. Bocelli makes his motion picture debut in the film, playing Prince Mustafa. Holkenborg composed the score for Three Thousand Years of Longing.
PANIC! AT THE DISCO RELEASE SEVENTH STUDIO ALBUM VIVA LAS VENGEANCE
Earlier this week Panic! At The Disco released "Don't Let The Light Go Out" which follows the release of songs "Local God", "Middle of a Breakup", and "Viva Las Vengeance". "Viva Las Vengeance" scored the band their third #1 song on the Billboard Alternative Airplay Charts, the fastest song to climb to #1 in over a year!
The Happy Fits share thrilling, pineapple cartel fan-chosen video for "Around And Around" ahead of third LP out Aug 26
Ryan Sawyer, John Dwyer (OSEES), Tom Dolas + More Share "Psychic Liberation" Single via Brooklyn Vegan | 'Live Zebulon' LP Out 9/6 via Castle Face
Bent Arcana is Ryan Sawyer, Peter Kerlin, Tom Dolas, Andrew Renteria, Joce Soubiran, and John Dwyer. Today, the group — who released their debut self-titled album on Castle Face Records last year — have shared "Psychic Liberation," the next single off their brand new live LP, Live Zebulon, recorded at Zebulon in Los Angeles and out on Castle Face Records on September 6.
Maggie – Paralyzed
Written, performed and produced entirely by Maggie herself, 'Paralyzed' is an all-encompassing sonic experience of this budding new artist and an authentic reflection of her widespread, innate musical ability. Opening on a cathartic bed of strings, the track quickly builds into a cavernous space to home the undeniably unique vocals of Maggie, set to soundtrack the emerging world of alternative pop this 2022.
New Music: Cayucas Drop "Sayulita"
Known for their sunny, melodic surf rock and buoyant, rhythmic jams, it follows their previous, breezy single "Topo Rides the Wave," proving that the band will always be there to provide the perfect summer soundtrack.