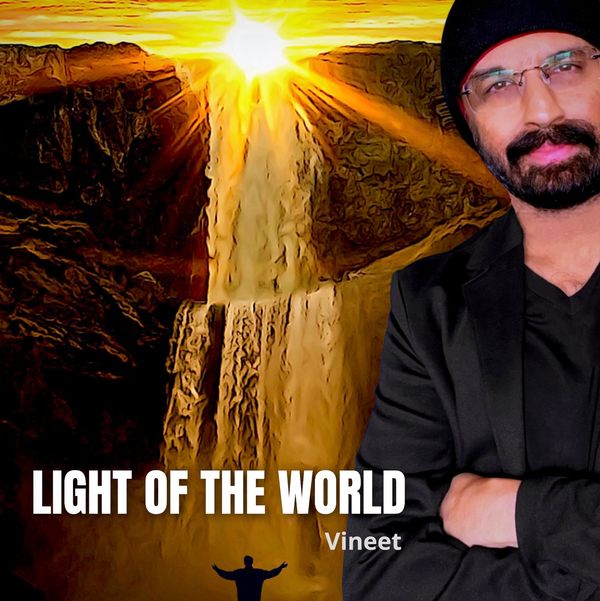 Vineet Singh Hukmani's incredible run of successive chart hits during the height of the pandemic and beyond has received a lot of notice and rightly so. It's a record-breaking run and sets the bar high for Vineet's musical future, but his new single shows that he's ready to meet that challenge. "Light of the World" illustrates his impressive stylistic flexibility as Vineet, once again, explores new musical territory for him.
LINK TREE: https://linktr.ee/vineetsh
Earlier songs share some of the same sonic and songwriting inclinations heard here. "Light of the World", however, is Vineet's first full-fledged foray into the realm of light modern R&B with inspirational overtones. Keen-eared listeners will hear the light gospel influence present in the song, but don't let that alarm you.
Vineet's songwriting message has broad appeal thanks to the lack of specificity in its uplift. He's not proselytizing for any sort of cause beyond elevating the human spirit and advocates finding your elevation where you may. It's a message that crosses arbitrary lines of dogma, nations, and race. It's all the more important that a Indian-born writer and performer sings this work without even a syllable hinting at him being "foreign". This is a global vocalist and not a regional talent.
The musical backing is equally accessible. Vineet has experience fronting bands, but his solo material has thus far been governed by a DIY aesthetic. Many listeners will gravitate to the drums for this song as they set a definite and physical tone for an otherwise thoughtful, even vulnerable, track. The Hammond organ sound he achieves fills the track with impressive warmth and the overall production applies an inviting and understated radiance to the recording. His touch with orchestrating his pop songs is superb.
His penchant for making solid promotional videos is superb as well. Vineet has an eye for arresting visual images that complement the song's lyrics. Past efforts in this vein from Vineet have centered on a loose concept while others are far more free-form; "Light of the World" falls in the second category. His choice to make it a lyric video is in keeping, as well, with Vineet's past. The form continues to be one of the most popular methods of promoting new singles an Vineet recognizes this.
Vineet Singh Hukmani shows no signs of slowing down and, moreover, his talents couldn't be much broader. This is an artist who, instead of resting on his impressive laurels, began the year by publishing a short story collection with each tale based on one of his previous hit singles. He won't settle for predictability, even if it means popularity, and each time out Vineet surprises his fanbase while still retaining their affection and admiration. He's a powerhouse and prolific, but the quality never dips. Vineet Singh Hukmani's "Light of the World" is the latest gem from an artist who, apparently, doesn't know how to deliver a subpar song. There's plenty of uplift in this track for anyone who cares to listen. Let's be thankful and keep listening because there's surely more to come.
Gwen Waggoner