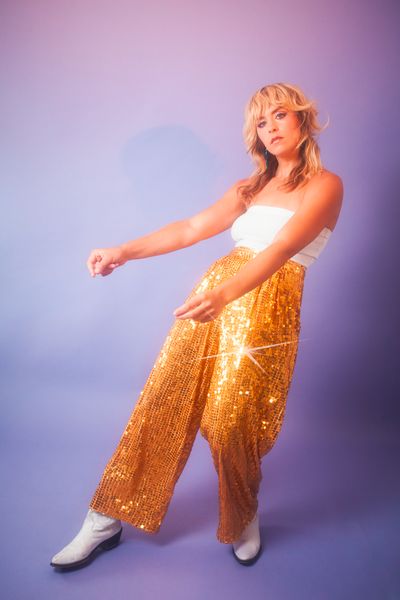 @skopemag news – wednesday – august 17, 2022 @ 5 pm est
@skopemag HQ – http://smarturl.it/skope
Dean Fertita unveils solo project TROPICAL GOTHCLUB, shares "Wheels Within Wheels" single
Renowned Nashville musician and multi-instrumentalist Dean Fertita announces new project TROPICAL GOTHCLUB (Third Man Records, November 4) and shares the new single "Wheels Within Wheels," available now at all DSPs and streaming services. An official visualizer/music video premieres today on YouTube. Pre-orders are available now, and a limited edition "Wheels Within Wheels" b/w "Street Level" 7" will be released on Friday, October 7 at Third Man Nashville, Detroit and London storefronts.
[Skope Magazine] "Sure To Have You Dancing To Its Mesmeric Beat All Day" – Wonderland Mag Premieres Mark Lean Who Opens Up About Mental Health Struggles In An Introspective Jazzy Funk Single 'Lounge'
Watch Bret McKenzie's "If You Wanna Go" Official Video
An unsuspecting Bret McKenzie gets zapped into a series of strange encounters in the bizarre (and humorous) official video for "If You Wanna Go" from Songs Without Jokes, directed by Ezra Simons (who also directed McKenzie's "A Little Tune" visual).
LISSIE SHARES NEW SINGLE 'Sad' – WATCH THE OFFICIAL VIDEO HERE
Poster Paints (mems. Frightened Rabbit, Vaselines) share "Circus Moving On"
Poster Paints are excited to release new track "Circus Moving On," taken from their upcoming self-titled debut album (due out on October 14 via Ernest Jenning Record Co. / Olive Grove Records.) The track follows the single "Falling Hard," which accompanied last month's album announcement and received strong support from BBC 6 Music.
Multi-instrumentalist/producer Kainalu announces sophomore LP + psych-house single + lyric video, "Queen of Wands" out today
Trent Prall is the writer, producer, engineer and singer behind Kainalu, a word that roughly translates to "ocean waves" in Hawaiian. Raised Buddhist in the Midwest, Kainalu's roots lay in his Japanese-Hawaiian heritage and inform both his writing and sound. Since 2017, the multi-instrumentalist has been blending psychedelic funk, synthy beats, and distorted vocals with vulnerable lyricism to immerse listeners in a kaleidoscopic, expansive daydream. The musician's 2019 debut album has garnered millions of streams on Spotify, and in March, Kainalu shared a live EP through Audiotree. Watch it in full here. Most recently, Kainalu supported (and is the touring bassist of) Joe Keery's (Stranger Things) musical project Djo at Chicago's Bottom Lounge. Kainalu carves his own intricate medley of his influences and upbringing creating a modern, spacious sound unlike any other.
Pop-Punk Band Magnolia Park Share Candid Post-Breakup Anthem "I should've listened to my friends"
Today, Florida based band Magnolia Park has dropped an infectious new single and music video titled "I should've listened to my friends." It was co-written & produced by Nick Long (MGK, Iann Dior, Sueco) & Andy Seltzer (Lil Huddy) for a collaboration that highlights the band's many genre-fluid influences. Lyrically, the pop-punk anthem ruminates on a past fling with regret, dodging the red flags and warnings from loved ones before realizing too late that they were right all along.
Edie Bens is your "Therapist" – new single out now!
The 21-year-old rising Welsh singer-songwriter Edie Bens today releases her second single on Glassnote records, 'Therapist'. A vivid storyteller inspired by the great stars of Country and Alternative music, Edie writes about an ex who was the ultimate wolf in sheep's clothing, "you like playing therapist to everyone in the room," whilst belting the song on a long summer's drive through the Welsh Valley in the official video. With an undeniable talent for classic songwriting and candid charm when taking delicate stories from her travels with her band, 'Therapist' follows her stunning debut release 'Had You Never Gone Away' (both mixed by Lee Smith – Holly Humberstone, Dylan) and is a sublime introduction into Edie's upcoming body of work.
PVA share new single "Bad Dad" | New album "BLUSH" out 14th October via Ninja Tune | Biggest EU / UK headline tour to date to take place Oct / Nov 2022
Judy Whitmore Announces New Jazz Album "Isn't It Romantic"
DANILEIGH RELEASES OFFICIAL VIDEO FOR LATEST SINGLE, "HEARTBREAKER"
Boy In Space Shares New Single "Lean On" – 'BACKYARD' EP Out 9/16
Andrew Broder (Fog) Announces New LP, Shares "Herbert" Single via Brooklyn Vegan
Today, renowned Minneapolis producer and multi-genre artist Andrew Broder announces a brand new LP entitled The Show Original Soundtrack (out October 7 via Lex Records). The record is a collection of pulsing, darkly lush and banging tracks, inspired by Broder's collaboration with legendary writer Alan Moore (Watchmen, Jerusalem) on Moore's original screenplay of the same name. The Show Score exhibits features by Yukimi Nagano of Little Dragon, Serpentwithfeet, Moor Mother, and Billy Woods.
Synth fueled indie pop: new electrifying visuals
Haley Johnsen is a Portland, Oregon-born musician with a knack for genre-bending and a hard-earned career path that is uniquely her own. Raised listening to powerhouse singers such as Brandi Carlile, Grace Potter, Eva Cassidy, and Bonnie Raitt, her greatest inspirations become apparent in her soaring vocals, introspective lyricism, and cross-pollinated style of indie-pop, and bluesy folk rock music. Whether her songs muse on the aches of self-doubt, the joy that can accompany nostalgia, or simply trying to stay afloat in tough times, her bona fide songwriting combined with her performance ability is bound to evoke an emotional response. "I want my music to encourage people to push through their challenges and continue to have hope and belief in themselves and their authenticity," she says.
Canada's AQUILA Unleash "The Great Fire", A New Music Video and EP of Aggressive and Progressive Brutality
ANTHONY D'AMATO goes west for his first album in six years, AT FIRST THERE WAS NOTHING
Hailed by Rolling Stone for his "folk music raised on New Jersey grit," D'Amato headed west to record At First There Was Nothing, relocating to American Fork, Utah, for sessions in the autumn and winter with celebrated songwriter and producer Joshua James. Bristling with joyful energy and piercing insight, the record emerged from a period of intense change and renewal, and the growth is palpable, with sprawling, unpredictable arrangements accompanying some of D'Amato's most gripping and incisive lyrical work yet. Drawing on everything from hazy '60s soul to rootsy '70s rock and roll, the songs are loose and playful here, even as they grapple with faith and trust, mortality and loss, resilience and regret, all set against sweeping sonic backdrops every bit as epic and rugged as the landscapes that inspired them.
BOY IN SPACE SHARES THE NEW SINGLE 'LEAN ON' FROM THE EP 'BACKYARD', OUT SEPTEMBER 16TH
Madison Galloway Shares Anthem for Change "Open Your Eyes"
HEARTS & HAND GRENADES pay homage to Rag 'N' Bone Man with new single "Human"
Buffalo, NY rockers Hearts & Hand Grenades have just dropped a new single entitled "Human" which is a stunning metal cover of the hit song originally released by Rag 'N' Bone Man. This cover version brings a new interpretation of the viral pop song to light, and is the first offering to modern rock fans of something new from Hearts & Hand Grenades since the release of their latest full length album 'Between the Lines' which was released in November of 2021.
R&B GIRL GROUP FLO SHARES "SUMMERTIME" VIDEO
DAY SHIFT | Check Out the New Music Video for "BUD (MOWING DOWN VAMPS)"
Alternative Duo Foreign Air Share Sinister Video For "Night At The Zoo" 
Today, alternative duo Foreign Air share the dark and twisted cartoon video for their single, "Night At The Zoo." The track is the latest to be shared from their upcoming sophomore LP, Hello Sunshine, which will be released on September 9, 2022. When asked about the gothic track, the band explains, "It is a story about transformation, a quirky tale about a lion breaking out of his cage at the zoo. Growing up in a zoo is all he's ever known. As the story unfolds, he encounters all the other animals on his journey out. With each encounter, his suspicions are strengthened…there is something odd about this place. He says, 'I'm finally crawling out of my cage now, and there's no telling what I will do.' Beware of the lion."
Blackbird Blackbird Share "Hey Lover" Video via EARMILK
Earlier this summer, Blackbird Blackbird (Montreal-based one-man band, Mikey Maramag) shared "Hey Lover," a brand new sunny disco-pop single that blooms with flowery rhodes chords, groovy electric bass, and vocal-driven indie-pop bliss.
[VIDEO] Blackbird Blackbird drops vibrant visuals for feel-good track "Hey Lover"
MORBIKON: Decibel Magazine Premieres Animated "Universal Funeral" Video From Blackened Death Metal Outfit; Limited Edition Single Out Now On Tankcrimes
MORBIKON, the evil new blackened death metal project featuring guitarist/bassist Phil "Land Phil" Hall (Municipal Waste, Cannabis Corpse, Iron Reagan), drummer Dave Witte (Municipal Waste, Discordance Axis), and vocalist Mathias "Vreth" Lillmåns (Finntroll, …And Oceans), today unleashes their debut video/single, "Universal Funeral," now playing at Decibel Magazine. The single serves as a teaser to the band's imminent new full-length.