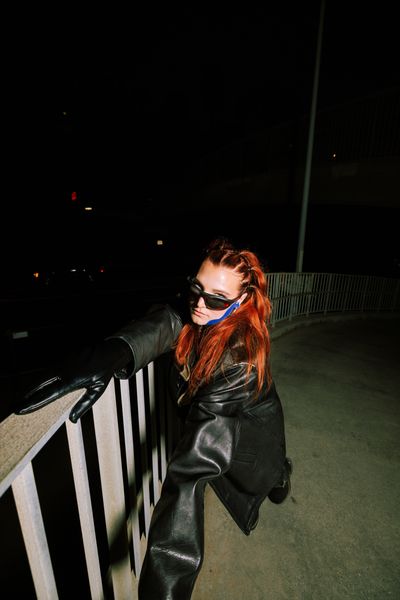 @skopemag news – wednesday – august 17, 2022 @ 11 am est
@skopemag HQ – http://smarturl.it/skope
RIPPED TO SHREDS To Release New Album 劇變 (Jubian) On October 14th Via Relapse Records; Band Shares "Reek Of Burning Freedom" Music Video + Preorders Available
Led by guitarist/vocalist Andrew Lee, RIPPED TO SHREDS emerges from the underground with their most fully realized and visceral work yet. Recorded and mixed by Lee in his home studio and mastered by Damian Herring at Subterranean Watchtower, 劇變 (Jubian) is RIPPED TO SHREDS at their most focused and refined.
[OUT NOW] "One Night" is all Ron Suno needs in new music video
[Video] Empuls – T.U.T. (Time Under Tension) prod by Blockhead
Ben Tyler's New Indie-Pop Album Phoenix Takes Flight
A New Jersey native, Ben Tyler played in various bands while in Albany, NY and Boston, MA before finding himself in a small corner of the Lehigh Valley. His pop-based melodies and emotionally-driven lyrics have landed him many opportunities, opening for national acts including Guster, Simple Plan, Tyler Hilton, Ludacris and Collective Soul, among others.
Finnish Thrash Metal band CEASELESS TORMENT sign with Wormholedeath
Finnish Thrash Metal band CEASELESS TORMENT signed a licensing deal with Wormholedeath for their new album "Victory or Death", which is due for release on September 30th, 2022.
Funny New Video // Florence Arman – "Stupid Heart"
Florence Arman (UK) today launches the official video for her incredibly honest yet emotional, self-reflective alt-pop single "Stupid Heart." Heart-on-the-sleeve to its very core and playful lyrics now has an incredibly funny video.
The Red Clay Strays release video for "Stone's Throw"
Alex Chapman Releases "LFG" Featuring Chloe Angelides
"'LFG' is a motivator—it's for people who work hard and/or play hard," shares Alex on the single. "I want all my songs to sound like they could play in a stadium… if the stadium was full of girls and gays. I think with 'LFG' and my first song 'Horsey' we are 2 for 2."
LP GIOBBI SHARES NEW SINGLE "FOREVER AND A DAY" FEAT. CAROLINE BYRNE
LP Giobbi, the rising US pianist, DJ, producer, entrepreneur, activist, and founder of FEMME HOUSE, has just released her second single since signing with revered independent label Ninja Tune, via their imprint Counter Records. "Forever And A Day" pairs LP Giobbi's innate sense of melody and sweeping piano arrangements with blissful pop vocals by Caroline Byrne, rendering a transcendent daybreak epiphany via their shared expansive emotional palette. LP Giobbi states "This track started in a much darker / heavier place, but once Caroline Byrne wrote to the track it took on a whole new dimension of beauty that allowed me to rework some of music to highlight her wonderful voice and lyrics."
BLACK ALTAR "Arcana of the Higher Principles" – Album Premiere
Cult, esoteric record label – Zazen Sounds, run by V. Priest of Acherontas, released a material of BLACK ALTAR – "Arcana of the Higher Principles". It is a compilation of tracks from the 3 splits: with Kirkebrann, Beastcraft and Varathron/Thornspawn. As a bonus, there is a new title composition specially recorded for this material.
LA's Fatal Jamz shares dramatic new single, "Eternity," on tour w/ Tchotchke now
SUDAN ARCHIVES SHARES NEW VIDEO FOR "NBPQ (TOPLESS)"
Courting share new single "Jumper" | Debut album "Guitar Music" out 23rd September via Play It Again Sam | UK tour to take place Sept / Oct 2022
Single Released Today, from Janna Pelle
Races – Music video is released – Sivan Langer
DEJA – Boom Boom Bah
Junior Brother shares new single "This Is My Body" | New album "The Great Irish Famine" out 2nd September via Strange Brew
Keane's Tom Chaplin reveals video for new single 'Gravitational'…
HAMMER KING Releases New Single "Kingdemonium" + Video
Entering the last round before the release of their new studio album, Kingdemonium, this Friday, HAMMER KING returns with title track "Kingdemonium" – offering pure power from the first note with heavy riffs made of steel and dynamic vocals. The single comes with a cinematic official music video, showcasing the band in best shape!
MAMMOTH VOLUME: stream new album in full!
The Swedish godfathers of progressive stoner rock MAMMOTH VOLUME present their long-awaited comeback album after a 20-year absence! Stream the fuzz-driven and weirdly infectious anthems of "The Cursed Who Perform The Larvagod Rites" now, ahead of its official release this August 19th on Blues Funeral Recordings.
Epic new CHLOEY ROSE summer pop ballad 'Golden Sun' out today!
Backdrop Falls release new music video for "Closer to the edge"
With a mix of reflective lyrics, alternative rock riffs and punk rock sensibilities, Backdrop Falls release the music video of the track "Closer to the edge". Watch here:
Introducing – Michael B Thomas shares pristine lo-fi indie-folk debut "August" via EADES' Bam Bam Records
With influences ranging from Elliot Smith and Nick Drake to Wilco and The Velvet Underground, Michael B Thomas' colourful lyricism and his pristine lo-fi folk arrangements are born from his time as lead songwriter and vocalist in Leeds favourites Party Hardly and his more recent work as EADES' live keys player.
Introducing Chloe George with "Runaway Blue" via FADER Label
The video makes you feel like you're chilling on a no-plans night out with Chloe George – hanging out the window of a moving car on an NYC night, eventually layered with trippy, animated alternate realities full of dolphins and 3D-printed plants.
BETH ORTON — Releases New Track: "Friday Night" || + New Album 'Weather Alive' Out 23 September
The album is released on 23rd September 2022 via Partisan Records and is produced by Beth, her first self-produced album to date. Friday Night follows Forever Young and the record's title track, Weather Alive, as telling introductions to a special body of work.
Andrew McMahon in the Wilderness Releases New Single "Stars"
"I do love the imagery in the chorus of stars falling through a rooftop. I always see imagery like the kids book The Little Prince," shares McMahon. "The song is really about how loving someone can be both beautiful and painful. How the hardships and joy visited upon the person you love become your own. When you really love someone, you love them baggage and all. 'The stars that fell for you left holes in my roof.' 'They fell for you and I'm falling too.' The genesis of this song is mapped out in the first verse. A night of drinking, a misunderstanding in a bar, and everything that follows. Some of my best love songs find me in the morning after an argument. When the dust settles and you realize you're still in love with all the messiness and good and thank god you're loved the same."