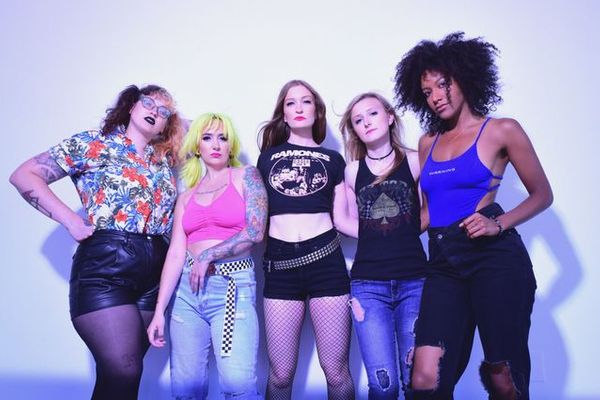 @skopemag news – tuesday – august 16, 2022 @ 8 am est
@skopemag HQ – http://smarturl.it/skope
Beltfed Weapon Drops "Head First Into Hell" Single
Frank Hetzel explains"'Head First Into Hell' emerged from a side project idea with my friend Dagna Silesia who plays bass. She wrote half the riffs and I added my ideas and structured it out. The side project didn't happen, but I felt this song, 'Head First Into Hell' was very good and wanted to add it to the upcoming EP. I then reached out to Tim Aymar, as I really love his vocals, and asked him if he would be interested in doing vocals and he was on board, and Kragen and Bryan were on board as well. It is a honor to have all involved, not only on this song but the whole EP!"
Karaboudjan (mem. Tycho) Shares Single "SCATTER" via Chorus.fm + V13, Backseat Mafia, Ghost Cult, Psychedelic Baby Features | More Music Out This Fall
"Like most artists, I tried to hunker down and write as much music as I could during the start of the pandemic. I'm already a bit of a homebody, so I embraced the beginning of lockdown with open arms. I wrote enough tracks to create a few different projects aside from Karaboudjan, which tends to be a recurring creative issue of mine. I even contemplated releasing a new project/EP instead of these singles, but I really felt that the concept of Karaboudjan wasn't finished quite yet. It's like I'm still figuring it out as I go.
Deer Scout (Carpark) share "Suspended In Gaffa" (Kate Bush cover)/announce East Coast tour
In the spring Deer Scout released her debut LP Woodpecker on Carpark Records. The alias of songwriter Dena Miller, Deer Scout's was a long-gestating project, beginning in a Philadelphia dorm room as a college freshman, before the project grew as she began popping up on DIY shows around New York and Philly. 6 years on from those first singles her debut LP proved worth the wait, earning praise from places like NPR's All Songs Considered, Stereogum, NYLON, BrooklynVegan, FADER, and a host of others.
SPLINTERED THRONE Premiere New Album The Greater Good Of Man At Decibel Magazine
SPLINTERED THRONE's epic new album The Greater Good of Man is premiering now at Decibel Magazine ahead of its release on August 19th, 2022. An explosion of traditional metal, with melodic elements and heartfelt ballads woven in, the record is a thrilling onslaught of driving riffs and soaring vocals.
Frontwoman Lisa Mann comments:
"This album is SPLINTERED THRONE's first as a female-fronted band, and I am so proud to now be fronting this group of badass musicians. We put our heart and souls into making this record- I'm beyond stoked for this release!"
Full Album Stream: Splintered Throne does Good with The Greater Good of Man
Natalie Holmes ​Beautiful Visuals For 'Floating TV'
Described as a consistently astounding songwriter, South West/ Bristol based singer-songwriter Natalie Holmes writes lilting, haunting and yet also invigorating Indie-Folk tinted with a hint of Pop. Now back with new single 'Floating TV' taken from the upcoming album 'Vitamin Be', Natalie once again demonstrates her honey toned vocals and incredible musicianship.
Upcoming Track from Luke Sweeney
"Rishi" comes via the forthcoming album of the same name. Inspired by the traumatic birth and unexpected death of his infant daughter in 2018, the album's 'humble temple of songs' was mostly written in India, where Sweeney's family made a return trip to deliver Rishi's ashes to the Ganges.
Bankroll Freddie Drops Music Video for "Pandemic Boys" ft. Kenny Muney & Big Moochie Grape !!!
INTRODUCING NOTFORTHEO – LISTEN TO DEBUT SINGLE "JUST A LITTLE BIT"
Co-produced by CAMP.30, "just a little bit," is an easy groove, synth-pop offering, imbued with a hazy psych-driven ether. Beyond the vibrant overtones, however, lies a darker, more profound message revolving around the bands' struggles with circumstances brought about by the global pandemic. More specifically, the band is attempting to draw attention to the addiction, psychosis, and technology burnout found at alarming rates among today's youth. The accompanying visual, a lo-fi offering portraying a young group's travels through a tropical country, captures the unsettling feeling of alienated self-indulgence that underlies the group's music. On the track's message, the band note "(the song is a powerful declaration of entering a hedonistic lifestyle to combat the mundane loneliness of days spent in isolation during the pandemic."
New Music: Vixen77's "Some Days" single/video (Megaforce Records — Metallica, Anthrax, Meat Puppets)
High Pulp Announce Fall West Coast Tour Dates, Share New Music Video
Knife Girl battles Gender Dysphoria with new album 'Uniform'
After a year in Japan suffering with gender dysphoria, Knife Girl began writing her debut album 'Uniform', with its first single a personal note that things will get better; a reminder of the painful moments but also that there's light at the end of the tunnel.
Shallou and Ayokay | Us (Fader Label)
Two of the indie-electronic scene's most prolific producers, Shallou and ayokay, have paired up to deliver a surreal new single, "Us", on FADER Label.
Metalcore Bruisers TITAN RAGE Release New Video For "Terrorizer"
Metalcore bruisers TITAN RAGE have released a video for their song "Terrorizer" via Toilet ov Hell.
AUGUST 08 shares new visual "Minivan"; Releases new album Seasick
SEASICK takes listeners through a thematic arc tracking the emotional journey that comes with a relationship's demise. Through every phase along the way, August employs his delicately powerful tenor and spurts of wounded falsetto to make music that feels deeply vulnerable. He distills tender memories of fractured romance and coming-of-age trauma through a glittering, shapeshifting mix of sounds that include dreamy folk, lush R&B, simmering rock, and otherworldly experiments that defy categorization altogether.