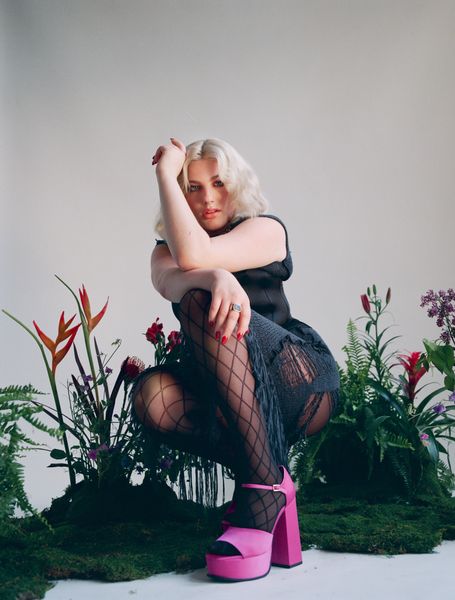 @skopemag news – friday – august 12, 2022 @ 12 pm est
@skopemag HQ – http://smarturl.it/skope
Izza Gara returns to the scene with 'Came To Dance'
Swedish/Turkish vocalist, dancer and artist Izza Gara returns to the scene with 'Came To Dance' an addictive and upbeat new single featuring Venus Anon. With a background as a dancer and painter, the Gothenburg-based multidisciplinary artist began her musical journey in March 2020 with her debut album "Lonely Too?" released in 2021 and followed by a single release 'Not That Hot' in 2022 which represented the first sneak peak taken from her upcoming EP. Gaining extensive support from Swedish outlets such as Sverige Radio (including a radio interview), Götborgs-Posten, Popmani, Dopest and Equaliser (to name a few) as well as international press such as DUMMY – Izza Gara is laying the foundation for what is to be an incredibly versatile, accessible and unique EP blending elements of pop, R&B and left-field production.
New Single: macj "cigarettes with u" (lofi instrumental)
"The idea for the beat came up whilst searching through my older beats, when I found a nearly untouched one, including the piano and trumpet. I instantly felt inspired and started to mix the sounds and arrange them into a chill lofi composition. As I am a big fan of illustrative music, I wanted to make the listener feel a certain way, via a connection of the melody and ambience with memories and emotions" macj says.
Promising Country Music Artist and Professional Baseball Player Bryan Ruby Announces Release Of Sophomore Single, "Two For The Road"
Promising Country Music artist and Professional Baseball Player Bryan Ruby has announced the release of his sophomore single, "Two For The Road," co-written by Ruby, Chad Sellers and Anthony Fiddler and produced by Smith Curry. The new song was recorded at Pentavarit Studios in Nashville, Tennessee with an impressive group of A-list musicians, including Nick Buda (drums), Tim Marks (bass), Smith Curry (steel guitar), Sam Hunter (acoustic guitar), Justin Ostrander (electric guitar), Luke Mosley (keyboard) and Mark Lonsway (background vocals). Bobby Holland served as Sound Engineer, Mark Lonsway as Mixing Engineer and David Axelrod as Vocal Tracking Engineer. Mastering was done by John Mayfield of Mayfield Mastering.
St. Lucia Shares New Single "Hey Now" off 'Utopia' LP Out Oct. 7th || North American Tour Begins Oct. 6th 
Goo Goo Dolls Release "Chaos in Bloom" Today
Today, GRAMMY® Award nominated, multi-platinum-selling band Goo Goo Dolls have released their 13th studio album Chaos in Bloom via Warner Records, marking its release with the propulsive new song "Going Crazy". The standout track harkens back to the band's power-chord alt-rock sound, assisted by the analog-to-tape recording process and vintage amps & pedals they used while making the entire album. As the first record of their career to be produced by frontman John Rzeznik, Chaos in Bloom finds the band continuing to evolve artistically as they have in the last four decades together.
FIRST AID KIT SET TO RELEASE FIFTH STUDIO ALBUM PALOMINO ON NOVEMBER 4; LEAD SINGLE "OUT OF MY HEAD" OUT NOW
Today, First Aid Kit has released "Out of My Head," the lead single from the Söderberg sisters' fifth studio album Palomino due November 4 via Columbia Records. Listen HERE. Arriving alongside the track is the "Out of My Head" official video directed by Jason Lester. Filmed in and around Dublin, IE, the visual draws inspiration from the 2004 Romance/Sci-fi motion picture Eternal Sunshine of the Spotless Mind, perfectly embodying the essence of the song. Watch HERE.
ARLISTON — Unveil New Single: "Mothering" || + New EP 'Even in the Shade' Out This November
Like three complementary threads being woven through an ornate tapestry, "Mothering" sees Arliston gently blend together delicate vocals, glistening guitars and textured piano taps to create a track that feels just as clean as it does complex.
Bergen indie-rock newcomer Bo Milli releases new single "How It Is' (Made Management – Sigrid, AURORA)
(12th August) Bergen, Norway based indie-rock newcomer Bo Milli today releases new single "How It Is", alongside the official release of previous track "At The Wheel" – the latter released on SoundCloud back in March to fervent praise. The latest signing to MADE Management (Sigrid, AURORA), "How It Is" was co-produced by Odd Martin Skålnes (Sløtface, Sigrid, AURORA) and teases the release of more new music to come throughout the remainder of 2022.
[PRESS] Out Now: Strategies (mem. of Lawrence Arms/The Ghost) "Outages"
West Coast recording project, Strategies, have just released the second single from their upcoming EP. "Outages" is about reflecting on a moment in your past and trying to come to terms with the reality of your present life and it's available on all digital platforms today. Featuring Brian Moss (The Ghost/Great Apes/Hanalei), Neil Hennessy (The Lawrence Arms/Joyce Manor) and Paul Lask (The Ghost), the group embraces some of the signature styles of the early-aughts Chicago music scene that they came from. Arpeggiated riffs, cascading guitar delays, and odd time signatures are bound by a straightforward drumming sensibility. Paired with poignant lyrics, Strategies' self-titled EP is breathtaking. Listen to "Outages" now to hold you over until the release of their debut EP on Friday, August 26th.
Moreish Idols share "W.A.M." | Debut EP "Float" out today on Speedy Wunderground | "an exercise in tension and release." – The FADER
London's Moreish Idols arrived this year with the absurdist smarts of "Speedboat" and the contorted punk-funk of "Hangar", their debut singles for tastemakers Speedy Wunderground. Following widespread support across the pair, the band today release their debut EP for the label, "Float", four tracks that fidget and warp their way excitably across a variety of genres and musical directions, providing a thrilling document of the band's here and now.
GIRLZLUHDEV PREMIERES NEW SINGLE & VIDEO "TOP TIER"
Directed by Shotbylate, the video for "Top Tier" captures Dev in his natural environment and perfectly amplifies the track's supremely laid-back energy. Whether he's lingering on the balcony of a city high-rise or holding court at a party, Dev lights up the screen with his mellowed-out and magnetic presence.
Billboard Chart-topping Singer-Songwriter J. BROWN Releases Visuals To His Powerful New Single, "I JUST CAN'T LOVE YOU" And Highlights Mental Health Awareness Transparency
OUT NOW // Sonic Synth-Pop // Glenn Astro & Hulk Hodn unveil TWO new singles!
Glenn Astro and Hulk Hodn are connected through a long-lasting musical friendship. With their Detroit-inspired house releases, they gained wider recognition by critics and listeners alike. Nevertheless, they've never been one-dimensional artists. Berlin-based Glenn Astro's diversified approach to production as showcased on labels such as NinjaTune and Tartelet bridges the gaps between ambient, hip-hop, techno and bass.
LE JUNK — Releases New Electroclash Cut: "Midnight Lover" || Out Today
ella jane shares "How Do I Lose You" via FADER Label
ella jane today follows her recent single "Party Trick" with another pop staple "How Do I Lose You". Both are lifted from her forthcoming project marginalia coming out October 28th, 2022 via FADER Label (Clairo, Slayyyter, Matt and Kim) ahead of her debut headline US fall tour.
MEGADETH Unleash Their Official Single "Soldier On!"
An instant MEGADETH classic, "Soldier On!" is an example – among many – of the band's ability to blend stylistic elements from both the metal AND rock ends of the musical spectrum. While MEGADETH is rightfully regarded as the world's 'State of the Art Speed Metal Band', from their earliest days some of the band's biggest songs have arisen when they've let off the gas pedal, while still maintaining the aggression. Dave Mustaine explains, "Coming to the realization that you need to walk away from a relationship that's very toxic, and how hard it can be to start down that road. But you know you need to, and just taking that first step is the hardest part. Whatever your leaving does to them, you have to block that part out, stay the course and do what's right for you. It will be hard in the beginning, but you have got to live for yourself to be worth a damn to anyone else. You've got to Soldier On!"
VICTORIA CANAL SHARES NEW SINGLE 'SWAN SONG' + NEW EP ELEGY OUT SEPTEMBER 16TH
Wrabel & Sadie Jean Reimagine Fan-Favorite "hurts like hell"    
Wrabel says, "It was such a treat to get to sing this song with Sadie. I'll never forget the first time I heard her song "WYD Now?". I literally pulled over to see who it was and reached out to her like a super fan. We ended up writing together, and I asked her if she'd be into singing "hurts like hell" with me. I think she has such heart in her music and cuts through a lot of the noise out there."
JUNIOR VARSITY SHARE DYNAMIC NEW EP 'SIDE B'
Powered by adrenaline and distortion, Junior Varsity blend anthemic alt-rock, nostalgic pop-punk, and pure electronic noise into a cathartic six-track collection that never lets up. "I wrote a song today, it doesn't end," Varteresian sings with weary intensity on the opening track, "Tamarin." That song's urgency carries through to the closer "I'm Not a Boy," the duo's scrappiest slice of punk energy yet.
FABOLOUS RETURNS WITH NEW SINGLE & VIDEO "SAY LESS" FEATURING FRENCH MONTANA
New Release from Sylvan Esso 'No Rules Sandy' on Loma Vista/Concord
Today, Sylvan Esso let their freak selves shine with the release of a resounding new album, No Rules Sandy. Created primarily over the course of three weeks that Amelia Meath and Nick Sanborn spent in a small Los Angeles rental home at the beginning of 2022, it is both the fastest the band has ever made a record, and the most uninhibited. "Even if we weren't feeling good, we would just sit down and try to make something," Meath says. "Pretty much every day that we did that, we got a song that we liked."
Panda Bear & Sonic Boom Unveil New Video for "Danger"
Little Big Town Debuts New Track "Better Love" From Upcoming Album Mr. Sun
New Robin Lane Album "Dirt Road To Heaven" Out Today
"No one forgets the first time they heard Robin Lane; it's like losing your virginity," writes Peter Felcknor, a long-time superfan, upon hearing Robin's new album, Dirt Road to Heaven, out today-August 12, on Red on Red Records. The album's theme, writes Boston Herald's Brett Milano "is she's still the musical friend who'll join you walking that dirt road." He loves the album's inspirational range of music: "Country on 'Rodeo Clown,' rockabilly on 'Hard Life,' full-throttle Byrds on 'Sunshine Blue Skies.' There's also a couple of shiver-inducing ballads that show her ever-increasing warmth and range….(and) a few helpings of sly humor (see 'Last Cute Minute')."
KWAYE releases new single "Be Easy"
KWAYE has developed a cult like following for his ambitious explorations into 80s synth-pop, indie-pop and R&B, accumulating 30+ million global streams in the process.
JUNO Award-winning MONOWHALES Release Summer Banger "RICH$$$" with Fan-Made Video
Co-written with Stefan Babcock of PUP, "RICH$$$" is a breath of fresh air on a sunny day in the park with your friends. This one goes out to all your ride or die's. What feels richer than a solid connection with a loved one? Nothin'.
SEAN KINGSTON UNLEASHES NEW SINGLE AND VIDEO
"Side" arrives after the successful releases of the multi-million streaming hit with Chris Brown. Spin Magazine declared, "Ocean Drive" is a welcomed reintroduction to Kingston, who doesn't at all sound as if he's lost a step. His voice is crisp and bouncy, his cadence as compelling as ever. The list of artists who have burst out of the gate and charted at No. 1 with their debut single is littered with music legends: Beyoncé, Whitney Houston, Britney Spears. Sean Kingston is on that list."
RACHEL WAMMACK REEMERGES WITH POIGNANT NEW TRACK, "LIKE ME"
Over a year and a half since releasing her last new music, Wammack reemerges with the powerful new tune, telling the story of struggles she has faced in recent years.
TOOSII SHARES NEW SONG, "LONELY"
On his new release, "Lonely," Toosii approaches the isolation of the road from a different point of view, singing directly to the woman who is at the forefront of his mind, despite the miles that lay between them. He recorded the intimate track with producers Bankroll Got It (DaBaby, Lil Baby, Mulatto, Lil Gotit) and Glone (Toosii, Moneyman, NBA Young Boy). Listen to "Lonely," which was released today by South Coast Music Group/Capitol Records, HERE.