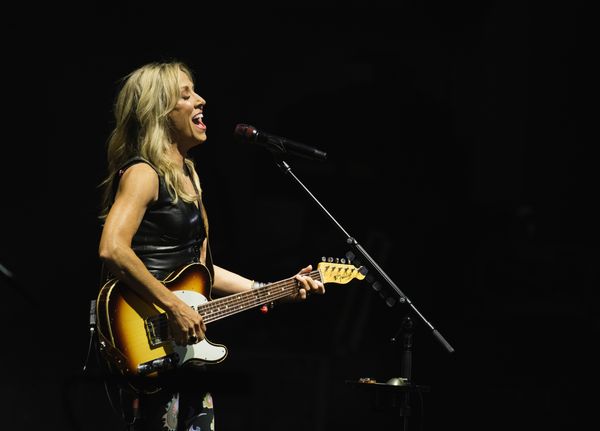 @skopemag news – friday – august 5, 2022 @ 8 am est
@skopemag HQ – http://smarturl.it/skope
THE INFERNO DOLL Unveils "Ghost Waltz" Video At Metal Insider
Gothic horror inspired artist THE INFERNO DOLL is now streaming a video for the song "Ghost Waltz". The song is taken from the 2020 EP Sacrifice.
LEO MAIA Releases Lyric Video For "Sonhos"
LEO MAIA has released a lyric video for his song "Sonhos" at Ghost Cult Magazine. The song is set to release tomorrow, August 5th, on all streaming platforms.
NEW MILLENNIUM ROCK BAND, LEAVING EDEN, RELEASE NEW ALBUM, 'AS ABOVE SO BELOW'
There is no "box" for Leaving Eden's Music. Fronted by the empress of rock, "Eve," Leaving Eden is currently on tour in support of their forthcoming album, 'As Above So Below,' which will be released on August 5th via Dark Star Records/Sony/Universal. Hailing from Boston, MA, the group also includes Eric Gynan (Guitar/Vocals), Alyssa Bailey White (Keys/Vocals), Rich Chouinard (Bass/Vocals), and Jake Gynan (Drums), and have already toured the USA, UK & Canada – sharing the stage with hundreds of the biggest national bands in the world).
More Kicks Announces New 7″ for Dirtnap Records and Stardumb Records with Full Length To Follow!
GUCCI FLORA FACE MILEY CYRUS TAKES OVER GUCCI TOWN
Gucci Beauty expands #FloraFantasy into the metaverse as Miley Cyrus becomes the first persona to appear as an avatar in Gucci Town on Roblox. The multi-platinum selling recording artist, songwriter, trailblazer, and face of Gucci Flora Gorgeous Jasmine campaign guides a new expression of the scent's joy-fueled world with an immersive, virtual takeover.
Art vs Science release first new album in seven years 'Big Overdrive'
Beloved Sydney electronic dance band Art vs Science release their long-awaited new album 'Big Overdrive' today. The vibe-packed record, written and recorded over the past decade includes their recent dancefloor ready single 'I Saw You', ARIA club hit 'SWEAT' produced by Kim Moyes (The Presets) and their new single 'Check The Boombox', which was produced by Dan McNamee and Dan Williams. Rich in melodies, synth stabs and classic Art vs Science experimentation, 'Big Overdrive' is a collection of songs that captures the heights of the trio as a groundbreaking alternative dance band, pushing musical boundaries with crafted multi-layered bangers.
THE KID LAROI SELLS OUT FIRST-EVER GLOBAL HEADLINE TOUR
GRAMMY® Award-nominated multiplatinum recording artist The Kid LAROI has sold-out his first-ever global headline tour. The END OF THE WORLD TOUR kicked off in his hometown of Sydney, Australia on May 26, 2022, and has since sold more than 200,000 tickets and completely sold-out the North American leg in less than four minutes of on-sale. LAROI headlined arenas in Sydney, Perth, Adelaide, Melbourne & Brisbane – with over 86,000 tickets sold in Australia alone. He then took to stages across Europe, which included stops in Copenhagen, Zurich, and Paris, among others as well as two nights at London's Brixton Academy. This week, the global superstar kicked off the North American leg with a sold-out show in Minneapolis, MN. LAROI delivered an electrifying performance of his greatest hits, including his latest smash single "Thousand Miles," which debuted at #15 on the Billboard Hot 100 and amassed an impressive 35M+ worldwide streams to date.
Dance in the rain to this indie electronic anthem
"Without" is our third-ever single and was just editorially placed on Apple Music's New Alternative playlist! We've garnered 100k+ streams across platforms in our first three months as a band since our debut in March. We'd love to further tell our story with coverage in Skope.
SHERYL CROW MAKES RETURN TO HISTORIC HOLLYWOOD BOWL
Sheryl Crow made a triumphant return to the historic Hollywood Bowl Wednesday evening, a venue that holds a special appeal for the nine-time Grammy Award winner. "I've played the Bowl several times, once with my good friend James Taylor, a fantastic pair of shows with the Hollywood Bowl Orchestra, and now as we emerge from the isolation of Covid," the artist says. "Every time I play there it feels like an honor, a privilege. This time, it also felt like a homecoming."
White Rock, BC's Alt.Rockers TOO MUCH OF ANYTHING Release "Just For The Night" Single
THE DEAD DAISIES MESMERIC NEW SINGLE 'HYPNOTIZE YOURSELF'
The Dead Daisies cast a spell with their third single 'Hypnotize Yourself' from their upcoming new album 'Radiance'.
After captivating audiences on their EU Summer Tour playing to tens of thousands of people across the European Union, the band perform their last show tonight at the Time To Rock Festival in Sweden.
BESSIE TURNER releases her 'arrabbiata' mixtape
Suffolk songwriter Bessie Turner shares her new mixtape 'Arrabiatta' on today via her own Good Shout Records.
Falling in line with artists like Phoebe Green and She Drew The Gun (or further afield Soccer Mommy, Snail Mail and Stella Donnelly) in her introspective and engaging indie-rock, the mixtape showcases Bessie's expert approach towards marrying gritty and dreamy sounds, and tackling Big Themes with a mixture of emotional precision and playful levity.
London's Riot Girls LADY RAGE Premiere Powerful New Single + Video 'Bit By Bit' via Backseat Mafia!
An introduction to Roofman: first album single out now
Some songs need the glitz and blitz of big city life, the concrete jungle and the urban drama, drenched in white noise. Others simply a forest, the serene whisper of the wind in the leaves. It's not hard to guess which world Thijs van der Meulen alias Roofman is coming from. The reason his achingly beautiful upcoming debut album "Still The Mess I Was" sounds so big and glorious is that he decided to record it in Hamburg's analogue heaven, Clouds Hill studio (a.o. The Killers, Peter Doherty, Elbow). The trees and the streets, the calm and the storm: Roofman is a man of contrasts.
phonewifey collaborates on new intimate single – 'Lullaby' featuring Mayh3mp & capoxxo
Underground internet staples phonewifey, capoxxo and Mayh3mp team up to deliver a surprisingly beautiful and subdued lullaby ballad. A wistful and melancholic song about romance and loss. Lullaby combines phonewifey's dreamy production and infectious hooks with capoxxo and Mayh3mp's inimitable vocal style and delivery. This one is an unashamed crier.