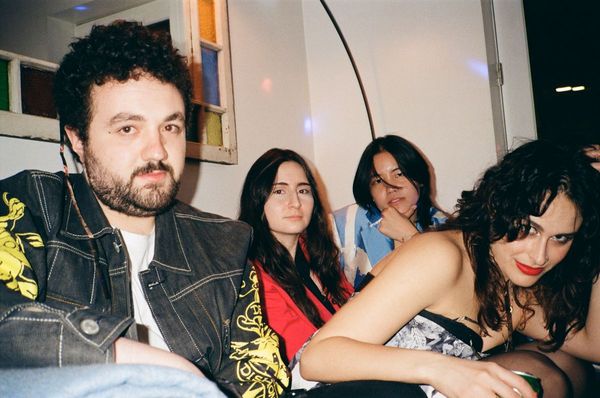 @skopemag news – friday – august 5, 2022 @ 5 pm est
@skopemag HQ – http://smarturl.it/skope
DC The Don Continues to Flex Whether You "HATE IT OR LOVE IT"
Omar Apollo shares new single ahead of 'IVORY (Marfil)' deluxe due 8/12 + announces Fall 2022 'Prototype Tour'
Following the release of his highly-anticipated debut album IVORY earlier this year and his wildly successful Desvelado Tour, Omar Apollo announces his upcoming fall 2022 Prototype Tour dates. Kicking off in October, the 22-date tour will see stops at the illustrious Greek Theatre in Los Angeles, Brooklyn's Kings Theatre and the historic Ryman Auditorium in Nashville, among others.
GIRLS' GENERATION RELEASE NEW ALBUM AND SINGLE 'FOREVER 1' DIGITALLY TODAY
Rükiye – single "Blowing my mind" – from album "Harmony"
Hope…longing…pain…desire…independence…words that swirl around love, life, and relationships, are all brought together in Harmony, another exclusive release from Spider Music recording artist Rukiye. If you've heard Rukiye before, you know she can deliver a lyric with a soft, soothing, almost plaintive lilt, or hit you with the straight punch of defiant emotion.
New Video: Pawz One & Evolve "Vaultures"
For Skope: DØBER presents "Can't Stop" with Vice Vrsa, as 3rd single off forthcoming EP (out now on Protocol Rec.)
Emerging Alternative R&B Artist Chudi Harris Shares "How It's Always Been"
METRO MARRS DROPS NEW EP 'LAST TRAIN 2 MARRS' VIA QUALITY CONTROL MUSIC
Sunflower Dead Releases March of the Leper Album and Video for "Damn My Eyes" Single
"Getting March Of The Leper released has been a back and forth nightmare behind the scenes for us over the past year and a half. Now that all that bullshit is done, we are happy to get it out for our Evil Seeds. This album is us at our most unaffected by anything else going on in the music world which led to us to a very honest look into who we are. The result is 9 tracks of Fuck It, If You Don't Care then We Don't Care and We'll Just Do What We Do. Cheers to all the Outcasts!"
DIANA FUENTES X LEONI TORRES LE CANTAN AL AMOR EN "DESPUES DE MI"
Bajo Puntilla Music, "Después De Mi", es la primera colaboración entre estos dos grandes exponentes del género, ambos artistas, ganadores de disco de Oro y Platino por la RIAA, cuentan con reconocimiento internacional, así como varias nominaciones a los Latin Grammy.
JOEY VALENCE & BRAE RELEASE NEW SINGLE 'WATCH YO STEP'
On their new single, Joey Valence and Brae continue their trend of bridging the gap between various genres as they once again defy convention by traversing the line between 90s hip-hop, rock, and everything in-between. It'd be hard to not find something to enjoy in their music as Joey and Brae steadily build their catalogue of nostalgic yet forward-facing sounds that cement them as a soon-to-be household name.
Inspirational Pop Singer/Songwriter NEDY Releases "FUEL"
Rising Inspirational Pop singer/songwriter NEDY adds her signature flair to her latest single with the release of "FUEL." On a mission to end bullying in every aspect, NEDY's release of "FUEL" is coming at the perfect time with school starting across the United States. Everyone wants to be accepted and embraced, but sadly all too often there's someone who wants to see you fail in every aspect. Using this fire to her advantage, NEDY urges others to take the negativity and turn it into a positive, allowing them to use that energy to help anyone succeed. "FUEL" was premiered by M Music & Musicians Magazine, and is available to download and stream on all digital platforms!
EMILY MYERS RELEASES EMPOWERING NEW SINGLE "AIN'T GONNA BE MINE"
"My latest single Ain't Gonna Be Mine describes the moment after a breakup when you finally remember who you are again," Emily explains. "You are past the point of feeling sad and you start to remember your own worth. To me, that moment is the most important part of the healing process. The lyrics of this song are empowering and help with moving on. The song refuses to let the person who broke your heart be the one that got away. They will not be your biggest regret in life, they will not be a mistake that you made in your past, and the best part is – it is your choice. This song is a little reminder that only you can decide who and what is going to have power over your life."
LA DUO CONES SHARES NEW ALBUM 'ALMANAC' – LISTEN
"'The Tunnel' is about the longing to connect, and the fear of actually doing so," explains Jonathan Rosen. "It's about letting yourself grow towards someone or something, and knowing that in order to get to some light, you gotta first venture out into some darkness. The lyric 'I know that there's a light at the end of this tunnel and there's a tunnel at the end of that light there' illuminates the uncertainty and time-loop madness that we were all feeling at the start of the pandemic in our own unique ways. I was trying to get at the notion that life is an endless state of transition – we may seek that light at the end of the tunnel, and enjoy it when we get there, but must remember that there's always another tunnel waiting. At the end of that dark, another light – it goes on and on… But we can find consistency in those changes by grounding them in our connections with others. Some songs take weeks of adjusting and fussing over, while others flip on like a lamp, fully formed. 'The Tunnel' was an easy one, something I simply needed to write."
Liv Slingerland Shares Debut LP via Under The Radar | 'Hey You' Out Now on Ani DiFranco's Righteous Babe Records
When Liv Slingerland lost her beloved father in March 2020, the in-demand guitarist (Halsey, Olivia Rodrigo, Lauren Ruth Ward, Donna Missal) knew what she needed to do immediately: wrap Hey You, the solo album she'd spent the past few years honing in on. It was the least she could do — a heartfelt homage to her biggest fan.
Flint's Louie Ray Releases "P.Y.C.O." Visual Today
Louie's recent 20-song offering, released June 24th, is the fourth installment of the fan-adored series, underscoring his tenacity and career trajectory. In July, Louie was one of the chosen rising stars to open Trae Day Weekend, Trae The Truth's annual philanthropy-based festival in Houston.
Upcoming Track from Jess Jessica
For Skope: Purple Fly pres. Felix Samuel, LODATO & Quando's "You Can't Make Me Come", a cheeky house-pop (out now)
Mortal Kombat Universe with Rudolph Francis New Video
Katja Glieson Channels Marilyn Monroe in New Single "Starseed"
Today, LA-based pop artist and TikTok creator, Katja Glieson, releases her new single "Starseed," and its accompanying music video "Diamonds." A heartbreaking tale of deadly romance that explores the conspiracies surrounding the death of Hollywood icon Marilyn Monroe, the music video demonstrates Katja's artistry fully realized and leaves the door open as to what she'll do next to further her artistic creativity. "Starseed" and "Diamonds" have already won awards, including Best Song at LAFA.
Rich Amiri Aims for Immortality with Internet Money-Produced "Can't Die"
Look into the "Dystopian Mirror"
In this era of near-constant turmoil, The Bellwether Syndicate's new album – made over the last six years – seems prescient in retrospect and a perfect soundtrack to modern times. Titled Vestige & Vigil, it offers a view of the world from two perspectives: Vestige – a celebration of what remains, and Vigil: an acknowledgement of what's been lost.
London Based Electronic Pop Singer-Songwriter Sofi Vonn Releases Her Latest Single "Famous" Today
London based New York born electronic pop singer-songwriter Sofi Vonn released her latest single "Famous" today, following the success of her recently released single "Songs" both of which will be featured on her upcoming sophomore EP. This also follows the success of Sofi's recently released stand-alone singles "what you started," "Ghost," and "Best I Can" as well as the success of her debut EP That Was A Close Call that was released at the end of 2021 following an exclusive premiere/interview with LADYGUNN.
partygirl Shares New Single "i have" | Read More in The Alternative, CVLT Nation, Ghost Cult, Out Front & The Big Takeover | Debut EP Out this Fall
Introducing: partygirl, an imaginative, maximalist indie rock band based in Brooklyn. The group was formed by long-time musical partners Pagona Kytzidis (vocals/rhythm guitar/keys) and Colby Lamson-Gordon (bass/vocals), who have been writing and performing together since their college days at Columbia University. Pagona and Colby are joined by Francesca Pastore (lead guitar/production), Alec Mauro (sax/vocals), and Jonathan Ashley (drums). Drawing inspiration from artists past and present, such as Queen, Mitski, Fiona Apple, Elliott Smith, Led Zeppelin, Radiohead and St. Vincent, partygirl strives to create a unique and forward-looking sound. Through their music, partygirl seeks to imagine new worlds based on feminist praxis, radical Survivor identity, and a rejection of our present-day dystopia.