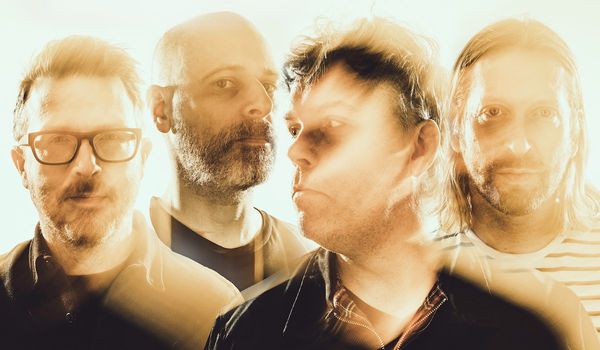 @skopemag news – monday – august 1, 2022 @ 8 pm est
@skopemag HQ – http://smarturl.it/skope
Jim Lindberg Shares Wistful New Music Video Dedicated To His Late Father, "Don't Lay Me Down"
Today, Jim Lindberg shares an animated music video for track "Don't Lay Me Down" from debut acoustic solo record 'Songs From The Elkhorn Trail' (2021.) With many of the songs over 25 years in the making, the album is a heartfelt look at Lindberg's life story. "Don't Lay Me Down" can be seen as the keystone of the record, commemorating the life of Jim's father who passed away from Alzheimer's Disease in 2018. Animated by Rob Fidel, the symbolic visuals tell a wistful tale of the circle of life. In a premiere with Glide Magazine, Jim reflects on the song and video stating;
Tropical F*ck Storm announces 'Moonburn' maxi-single & new music video
NEW MUSIC: Progressive House Producer, CONFLUENCE Drops 'My Everything' [FFO: Tinlicker, RÜFÜS DU SOL, Ben Böhmer]
HIEROPHANT Shares New Single, "Devil Incarnate"
HIEROPHANT comments on the track: "Devil Incarnate. Eternal death descending on us. Gathering forces to the victory. Eternal death forever."
Housewife Share New Single "I'm Spent" via FLOOD
Housewife is Brighid Fry (she/her) and Pascale Padilla (they/she), two queer Toronto-based songwriters who are only just getting started at 19 and 20 years old. These two new singles follow their 2017 self-titled debut EP and a 2020's Better Daughter EP, which the CBC named one of the "22 Albums You Need to Hear". They've already won a Toronto Independent Music Award, the Canadian Songwriting Competition in the under-18 category, a Canadian Folk Music Award and the Slaight Music It's Your Shot Award.
Jonathan Terrell Welcomes You To His Home State On New Single "Texas"
Burden of the Sky Release the Official Music Video for "The Flood"; Announce Tour with Sevendust!
Burden of the Sky released the official music video for their single "The Flood." The band will be touring on Sevendust's "Animosity Tour" in September of 2022.
Golden Globe winner and Grammy nominee Lisa Gerrard shares new single from upcoming Album – 22nd July
FLETCHER SHARES THE OFFICIAL VIDEO FOR NEW SINGLE "BECKY'S SO HOT"
LEGENDARIUM Release New Song "The Ritual of the Thousand Skulls"
LEGENDARIUM have unveiled the new heavy offering, "The Ritual of the Thousand Skulls". The track is on the new Strange and Unusual Sounds Volume 3 compilation which was put out by Euphoriadic. Venturing further into experimental realms, the new single marks the next step in the band's evolution seeing death metal influences and harsh vocals included for the first time. It's a dark and gloomy descent into the haunting depths.
BAD SUNS SHARE REFRESHING NEW SINGLE "MAYBE YOU SAVED ME" FT. PVRIS
New Video: Trizz & MIKE SUMMERS "KEEP IT A BUCK"
Los Angeles rapper Trizz and Kansas City producer MIKE SUMMERS (aka Seven) released the visual for their single "KEEP IT A BUCK". The audio single was released a couple months ago. Video is shot by Castro of NewHighFilmz.
Latin metal band SAINT DIABLO ask what it means to be a real patriot in their new "Odio" music video
TEO LB Releases New Single "2T" With DEUXER
"We're not comparing God with motorcycles, but rather with religions, […] cultures; what we decide to love or defend in this life. Motorcycles are what stuck with us," stated Teo LB.
Naira Marley Recruits MHD for "Excuse Moi" Video
600 Breezy "11Gunz" (4ShootersOnly Performance) Out Now + New Project Out This Month
Pilot To Gunner shares "Animal Control" from forthcoming Hail Hallucinator LP for Arctic Rodeo Recordings
About the song, Scott Padden says, "Had to get a barebones little bass/drums verse in there, those guys have a nice thing going in this one. One of my favorite Hegarty Riffs too. Oh and we got J in there belting it out at the end! Man, that guy. Are we restraining ourselves here? I think this counts as us restraining ourselves.
Parker McCollum Makes Childhood Dream Come True Opening for "The King" of Country Music, George Strait
One of Country music's biggest newcomers, Parker McCollum, just wrapped up his weekend by bringing a childhood dream to life – opening for one of his personal idols and Country music legend, George Strait. Hitting the stage at Arrowhead Stadium in Kansas City, MO on Saturday, July 30th, McCollum, alongside Country superstars Chris Stapleton and Little Big Town, fired up the crowd for one unforgettable show.