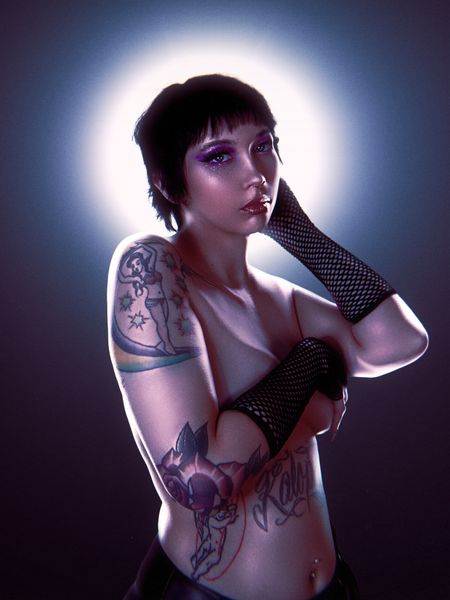 @skopemag news – monday – august 1, 2022 @ 12 pm est
@skopemag HQ – http://smarturl.it/skope
SHADOW SMILE UNLEASH 'DEARLY DEPARTED' SINGLE & VIDEO
Britain's fiercely independent Alternative Metal outfit Shadow Smile announce the release of their epic new single 'Dearly Departed'. A deeply heartfelt and emotionally charged track exploring the grief and loss of losing a close loved one. Encompassing a fusion of classic metal and modern electronica – the Sheffield (UK) outfit continue to strive forward, pushing musical boundaries with their original-yet- timeless sound. A fast rising and exciting new rock act whose sonic concoctions will equally resonate with fans of contemporary metal-core acts like Bring Me The Horizon, While She Sleeps etc and stadium metal heavyweights such as Ghost and Avenged Sevenfold.
U.S. Rock Artist HERE LIES WES Releases New Lyric Video "The Kiss"
EL-Tan is a Zambian-born artist who started rapping at age 3 and started playing instruments at age 4 such as piano, guitar, drums, saxophone, and bass guitar. He started producing at age 9 and has been producing all his music ever since. His main inspiration is his father/teacher Elton Nyirenda who is an amazing Jazz pianist. Jazz, Hip hop, Blues, Seben, and Gospel are some of the genres that have shaped and influenced EL-Tans music. With artists like Chick Corea, Robert Glasper, John Mayer, BB King, John P kee, Marvin Sapp, Meek Mill, Lil Wayne, and J cole. With God/Jesus at the center of it all
Music Submission: Todd Dunford
Todd Dunford is a true-to-self singer and songwriter. His lyrics and vocal delivery are as raw and honest as any you will ever hear particularly on his latest single, "I Don't Have To Hold You To Feel You." While it takes countless people to contribute to an artist's career, there's usually that one special someone who is the cornerstone – for Todd Dunford, that person is Reca Dunford, his mother. Her love, faith and belief in him has given him the foundation and confidence to create and share his music. In fact, he has dedicated "I Don't Have To Hold You To Feel You" to his mom. Thank you Reca for raising, nurturing and supporting such an incredible talent.
[Video+Album Stream] Guilty Simpson ft. Jason Rose & DJ Ragz – Make It Count prod. by Jason Rose
Some of us seventies and eighties babies might remember the golden age of Hasbro G.I. Joe commercials, particularly the amazing sets that they'd build for the action figures. "Make It Count," the third single released off Guilty Simpson's album "GUILT" features Guilty clutching an extra sized joint and a wide-ranging collection of weapons while turning the battlefield into a slaughterhouse, Rambo style. It showcases Jason Rose's skills both behind the boards and on the mic, as the producer drops a verse alongside the Detroit King with precise cuts provided by DJ Ragz. GUILT is OUT NOW (7/29) on Man Bites Dog Records. Video shot and edited by Mostly Decent with help from Stephanie and Kount Fif.
FOR IMMEDIATE RELEASE: FROM DOJA CAT TO DREAM FOODS…
Our latest single "Sauce" has garnered press attention as we have expanded globally in a unique collaboration with a rising Colombian star and an actual sauce food company based in South Africa. In addition, one of our members has also generated buzz after his cameo appearance in the new Doja Cat music video a few weeks ago.
Music Submission: SoulClap
This is SoulClap's sixth release on his own Record Label "The Soul Speaks Records". The Single "Sunrise" is a mix of soulful Hip Hop, Lofi and a Jazzy touch. The instrumental is inspired by Freddie Joachim's – Waves that has been used by Joey Badass's – Waves which was released in 2012. It has the same warm mellow rhodes and a similar drumming.
SULT announce new single ICK
For fans of girl in red and Camp Cope – and maybe even a little sprinkling of No Doubt, too – ICK is a song that must be played at full volume, ideally shouting the lyrics amongst your best friends on a girls' night out.
VISUALS // K Harrison Returns With Visuals For Latin-Infused Single 'Veneno'
Staying true to the Latin infused rap style we have grown to know and love from rising Midlands artist K Harrison, his newest sound of summer 'Veneno', is the perfect continuum from previous singles, 'Love Me Leave Me' and 'Fire Fire'.
Bringing the true chilled sounds of summer, 'Veneno' provides laid-back beach vibes, with a soundscape created through soft guitar, sultry, yet upbeat vocals and the classic sounds of Latin America, the track undoubtably transports you to golden sands and turquoise waves. The dream summer.
AVA AKIRA concludes her remix series with final instalment from producer & artist girl_irl
After unveiling a donk-inspired breakcore rendition from DJ Kuroneko and a nostalgic trance-infused remix from phonewifey, AVA AKIRA finalises the remix series for her new single 'Skin' with a final installment from New York-based producer and artist girl_irl. This remix gives the original a tamed yet industrial and dreamlike twist, flowing seemlessly into phonewifey's melodic version.
Italian Songwriter Devis Release New Single "Miss Me" Feat. Sunset Radio
After the release of release "Say Goodbye", italian songwriter Devis is glad to announce the release of the new single "Miss Me", on which he collaborated with alt-rock act Sunset Radio. The new track is available NOW in all digital platforms.
Sister Wives share first single, inspired by Welsh mythology
Emma Rae unveils raw and ferocious energy on new pop-rock single 'Kids These Days'
INGRID ANDRESS RELEASES FAN-FAVOURITE TRACK "BLUE" AHEAD OF GOOD PERSON ALBUM LAUNCH ON 26TH AUGUST
"'Blue' encompasses everything that I was feeling in finding love that is actually healthy," Andress says. "My mind figured it out before my body did—I must be feeling this way if I'm writing it. I listened to it and thought 'Oh, I must be in love, maybe.' It was wild how writing the songs for this album, and the realizations I was having in real time, were changing my trajectory."
Ingrid Andress Sings About the 'Joys of Falling in Love' on Ballad 'Blue'
London-based artist Pollena (Team Talk Records ffo Girlhood) returns with "Lemons" / Debut EP out later this year
London-based artist, Pollena who found acclaim recently from the likes of The Line of Best Fit, BBC Radio 1, 1Xtra, 6 Music, Under the Radar, Beats Per Minute, Earmilk and more returns today with her summer anthem "Lemons." It's a stunning return that looks to celebrate authentic living while arriving as the first neo-soul-tinged single to be lifted from her forthcoming debut EP which is to be announced shortly.
Ann Marie "Pain Never Looked This Good" Video Out Now
Suigeneris Rocks "Fire In The Booth," Teams with yvngxchris for "DOWN" Vid
Manchester's Freeda Share Shimmering New Indie Bop 'Chasing Yesterday'
Off the back of their recent UK tour, Manchester based 6-piece Freeda are back with the shimmering new single "Chasing Yesterday" (July 29th). Formed in 2017, Freeda have built a dedicated hometown following, sold out shows at venues across Manchester including Deaf Institute and Manchester Academy 3 as well as appearing on line ups at the likes of Y Not? Festival, 110 Above and Tramlines to name just a few and sharing the stage with acts such as Sister Sledge, Spector and Giant Rooks.
New music from Queen Millz 'Red Light'
At the helm of an exciting crop of young women slaying in the UK rap scene, Leicester born and raised upcoming star Queen Millz is going from strength to strength this year. After dropping her debut mixtape 'Causing A Scene' earlier this year, she's set to share new music, in the form of the hard hitting, inspirational single 'Red Light'.
LA's Paper Pools shares "Evil" music video, directed by Philipp Dietz
"There are two sides to this song. It is very uptempo and seems upbeat on the surface, yet the lyrics are dark. Contrast is a key theme for the EP. I wrote "Evil" from the perspective of someone like me (though not necessarily me) who is in a toxic relationship. There's a real push-and-pull in a relationship like that: I need to reject this person, but I also really love this person. But the song also applies to anything in life that can be both positive and negative. There are stretches in our lives when we latch onto things that may bring us happiness and joy, yet they're not good for us long-term. Thinking back to my upbringing with the Jehovah's Witnesses, I was raised in an extremely specific way of thinking that had both positive and negative moments. But I reached a point when the turmoil became too much, and I needed to take life in a new direction." -Allen Orr