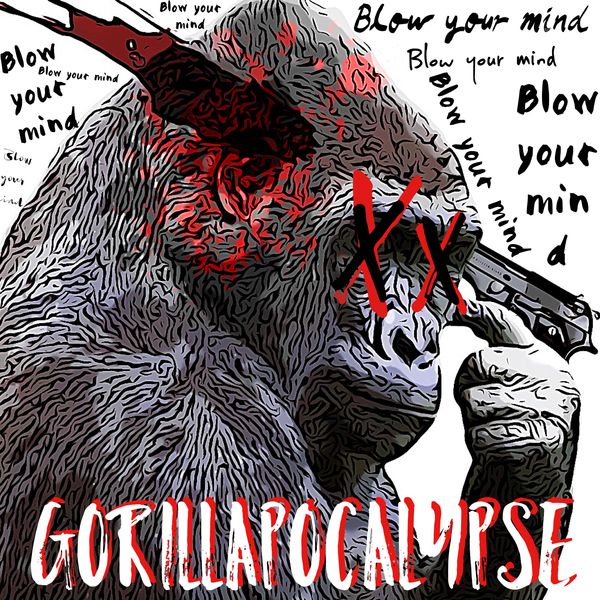 Get ready for killer hooks that will get stuck in your head for days! GORILLAPOCALYPSE is a collaboration of three artists uniting for one reason and one reason only—to 'Blow Your Mind'! GORILLAPOCALYPSE features singer/songwriter IZ.M.B along with producer Grizz La Flare and lyricist Gary "GB" Bernard. Together, this trio has come up with the perfect ingredients for a successful LP and now brace yourselves for 'Blow Your Mind'.
The record starts up with a song that will suck you right on "Tornado" where a wonderful beat & melody is spinning around. Next, enjoy ear-pleasing audio that will pull you in immediately on "Chemistry". GORILLAPOCALYPSE is playing with the correct formula on "Chemistry" as the group proves to have a winning combination. On the following track, "Queen of the Andes", the band sets the stage for one hell of a set that will have you on the edge of your seat taking in each and every note. "Don't Come Back Here No More" will actually entice you to come around for more due to intriguing lyrics about a mysterious person. With lyrics like "Let the door hit you on the way out", you get the sense that this person is not well liked at all and full of it on "Don't Come Back Here No More". Calming, melodic notes come pouring out of the speakers on "Rain" where GORILLAPOCALYPSE gives the audience a captivating downpour of music. On the next song, "Different In An Instant", an incredibly catchy beat along with soothing strings are hitting your ears from all directions. "Different In An Instant" supplies the listener a strong performance that is rock solid from beginning to end. GORILLAPOCALYPSE closes it out with a cheerful ending on "Loves Lives" where this track will warm your soul and satisfy your eardrums. With the ongoing theme of love evident on 'Blow Your Mind', what better way to wrap up the 7-song set than with "Loves Lives" where Love does Live on.
'Blow Your Mind' was recorded at Milkboy The Studio in Philadelphia, PA and additional production & arrangements provided by Grammy winner Justin Miller and Miles Keller. The musical direction on this album is a real treat to hear where GORILLAPOCALYPSE & company bring the noise in BIG fashion. With dynamite dance hooks and imaginative material, GORILLAPOCALYPSE will 'Blow Your Mind' with this original and creative release.
http://bluecollarrecordsllc.net/Gorilla-Apocalypse/
By Jimmy Rae