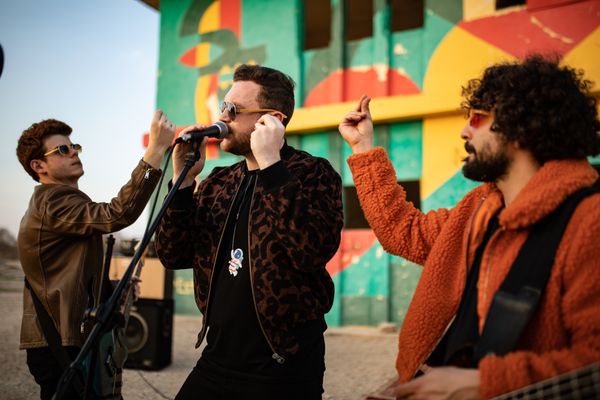 First of all, hi Skope Magazine! And thanks for sending over these questions.
So firstly, how would you describe your sound?

Well, we guess we are aiming for two main things when playing around with our sound.The first thing is groove, we like to keep things groovy and rhythmic. We always run the "test of the moving heads" in the room to see if the song is going in the right direction.

Obviously when writing a ballad or something more melody reliant we focus on the second important thing (actually it's probably the most important, as we try to stick to it in all of our music) – and it's the "visual" experience of the track when you close your eyes.

So, we guess 'cinematic' is the right word? Or at least what we'd ideally want you to feel.

It's really important to us that the lyrics, the melodies, the harmonies, and the effects, all compliment the story – verbal and nonverbal so that the listeners can paint a rich, vivid picture in their minds. 
What's a typical day in the studio like for you?

Is there a thing such as a typical day? 😂

Well, it starts with strong Turkish coffee and then it's total creative chaos until our producer and our "5th Beatle", Stav Pardo, walks into the room and makes sense of the mess.

Kidding aside, it really is never the same. So there's no typical day but if we're recording we'd usually throw on the grid a raw version of what we're working on that day (whether it's drums and percussion, or bass and synth, or guitars, etc.), and then just start experimenting. Eventually, when we're happy with what we got we'll just record a final version and move on to the next part. At some point, there's always a heated discussion on what to get to eat, but that's for a different kind of blog. 
Do you have to be in a certain mood to write a song? We bet for this single you were feeling a little cynical right?

Max (frontman): "So yeah for sure this tune is a sarcastic take on fake news. Basically, from a lyrical standpoint, I wanted to write an album that half of it is very cynical and sarcastic, but then the second half is more idealistic and romantic. I don't know if there's a 'certain mood', it's more like whatever I'm feeling and thinking when exploring a theme and getting back to that feeling whenever you're working on the text (unless it's one of those magical songs that you get once in a blue moon, when you just spill it all out at once). So that's 'Circus Pop' (our upcoming album) in a nutshell – sarcasm vs romanticism.
In general, it's just me as a person – on one hand I can be very cynical, especially when it comes to things that really grind my gears – like ignorance, cruelty, inflated self-importance, hypocrisy, etc… But, on the other hand, I'm an idealist and have some strong values I try to uphold. So it's like even when things are shitty about us humans (me included) and I want to laugh about it, I guess I still believe we can always do better. It's all about learning and improving, otherwise, what's the point?"
Who are your three biggest musical inspirations?
Daniel (lead guitar): "Well obviously inspirations change and evolve all the time, but there are some bands that just stick with me. For example Radiohead (Jonny Greenwood is a living legend), Foster the People, or Queens of the Stone Age. I get inspired when there's an incredible guitarist that serves a good song and knows when to come in and when to leave it. Like any other instrument the guitar has to serve the song and not the other way round… I do get withdrawal symptoms and an annoying itch when I don't hear a guitar for too long though!"
Gal (bass) : "I listened to the Beach Boys for the first time when I was about 8 and it quickly became a lifetime addiction. For someone who grew up in a remote town near the Israeli-Lebanese border, their music was like entering a magical dreamland each time. I also like Frank Zappa a lot, because he was a revolutionary and a fighter against conformity in music and the more cynical, plastic sides of the industry."
Nir (drums): "I grew up as a punk from my teens to my mid 20's, so I was influenced a lot by bands ranging from pop-punk to hardcore. My all-time favorite band is Green Day but I'm very much influenced by bands such as The Mars Volta, Queens of the Stone Age, Pissed Jeans, and many many more. I'm very much into Jazz too, and have been obsessed with Mark Guiliana's music for the past few years."
Max: "Weird Al Yankovic, Susan Boyle and the 'One Pound Fish' guy."
Who is the best band you've ever seen play live?

Nir: "Red Fang. A couple of years ago I went randomly with a friend to this alternative venue in Vienna called 'The Viper Room' and we saw Red Fang there. Not knowing their songs and only vaguely knowing their name, they gave the most tight, intense, magical and authentic Stoner Rock performance. We just had a huge smile on our faces for over an hour, completely hypnotized by their music and performance."
Max: "So for me it's two. Arena/stadium wise it's probably Queens of the Stone Age, they are just like rock and roll gods on stage. Small venue – I remember watching Twenty One Pilots in Manchester in 2013. It was right after they released their 2nd album, before they became massive. I didn't know who they were or what they sounded like, but my mate had tickets and convinced me to go. It was only them two on stage, and maybe 200 people in the audience and they absolutely blew my mind."

Gal: "I mentioned the Beach Boys earlier, so  watching Brian Wilson live was extraordinary. It was a lifetime dream of mine, so when I heard 'Pet Sounds' live on stage for the first time it was almost a spiritual experience and one of the most meaningful moments of my life."

Daniel: "So I haven't seen it live, but I think I watched the video dozens of times – Vulfpeck live at Madison Square Garden. I think that concert is like the perfect performance lesson. The musical production, the connections between the songs, the individual performances within the collective, the interaction with the crowd, it was all absolutely flawless."
What's the most enjoyable part of the industry?

The freedom and possibilities you have as an independent artist in the 21st century and the fact that you don't have to rely on anyone to reach audiences all around the world, as long as you're willing to put in the work. The fact that you have to be proactive, creative and work at it all the time instead of waiting for the phone to ring or hope for a cinderella story.
And of course people who interact with your music and the energy you give and get back at a live performance or even sometimes from a simple message on social media.
What's the toughest part of the industry for you?

Because it's easier to release music nowadays it's also harder to stand out. There is A LOT of music out there! Also, we as a society now have bigger variety, but a shorter attention span. You know the drill.
What do you have in store for 2022 – we hope some more killer tracks and videos!?

We just released another single called 'You Are The One' that you should check out. Our full album 'Circus Pop' will be released in a few weeks, followed by an insane live session we filmed in a football stadium. Later in the year and in early 2023 we're planning on touring Europe and the UK. So follow us and keep your ears open, a lot of fun on the way.