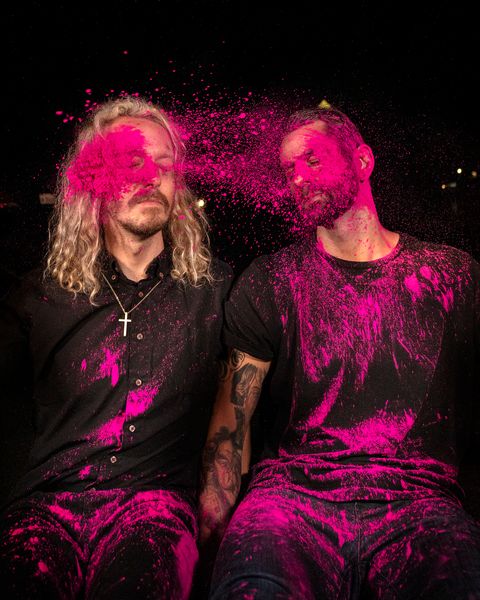 @skopemag news – wednesday – july 27, 2022 @ 12 pm est
@skopemag HQ – http://smarturl.it/skope
JAXN SHARES THE NEW SINGLE 'ONE KISS' – WATCH THE VIDEO HERE
While JAXN's previous tracks have drawn upon guitar-heavy Britpop and the summery American radio hits of the late '90s, 'One Kiss' takes a fresh but equally nostalgic direction. After the jangly acoustic pop of the verses, the song moves into the kind of epic and insistent hook that can be found in some of the most memorable late 90's pop ballads – albeit with a breezy, bouncy energy that throws an unexpected twist into the mix. JAXN's performance and lyrics display his playful personality as he tells a story of doing his best to resist a past love interest… only to realise that he has once again fallen under her spell.
Sensational Synth-pop // The Sometimes Island unveil new visuals for "Acapulco"
The Sometimes Island are a synth-forward pop band based in Los Angeles and Albuquerque. The exciting and highly visual live band is comprised of charismatic frontman Matt Blankenship Jr and anchored by drummer Nick Lopiano.
Lila Drew releases her '2023' remix package with Majid Jordan
Lila Drew enlists Toronto-based duo Majid Jordan for not one, but two remixes of her previously released single '2023'. The first, '2023 Majid Jordan Remix', takes us on a euphoric journey, emphasising bright synthesizers which contrast beautifully next to a deep, thumping beat. The second remix, '2023 Majid Jordan VIP Mix', takes us on a wild journey delivering an emotive and dancefloor energetic track, perfect for the height of the summer season. Both remixes maintain Lila's Drew's introspective intent from the original track, as her elegant vocals glide perfectly on top of dynamic melodies.
Rodrigo y Gabriela share cover of Radiohead's "Weird Fishes/Arpeggi"
margø Shares New Single "one bad day"
Hailing from the sub-zero tundra of Edmonton, Canada, margø developed an early love for rock as she grew enamoured with classic anthems by the likes of Joan Jett and Blondie, inspired by their ability to empower millions of fans across all demographics. margø puts a modern, dark spin on the style of her predecessors, and she's here to serve as the voice for anyone struggling to find their own. Through her dark femme aesthetic meant to empower the collective voice of the outcasts and underdogs of the world, margø sets the stage for the themes of fearlessness and self-worth to shine through each track, offering the perfect supervillain soundtrack that can't help but make listeners feel unstoppable.
MERYL STREEK Reveals Video For AA Single 'Yesterday' Out Now (Venn Records)
Dublin, Ireland based avant garde punks MERYL STREEK are pleased to reveal the video for their AA single 'Yesterday' which is out now alongside A side 'False Apologies'.
POP PUNK SUPERSTAR LEAH KATE RELEASES NEW SINGLE "LIFE SUX"
The track is an anthemic pop-punk ear worm begging for you to sing along. Leah Kate is reminding listeners to live life on the edge and indulge in the "no fucks" lifestyle. She adds, "I started to get trolled on the internet and experienced a lot of bullying online. I wrote 'Life Sux' to remind myself that when people try to bring you down, that you should ignore the haters, focus on the good things around you and just enjoy life!"
George Fitzgerald enlists SOAK on new single "Rainbows and Dreams"
On his third album Stellar Drifting, out September 2, George FitzGerald unveils a record of wide-eyed wonder and emotion, filled with glistening melodies and iridescent electronics. A genuine progression in both scope and composition, the album stands up as one of our time's great works of atmospheric electronic music with its feet on the dancefloor, but its heart 1000 miles above the earth itself. Today, George FitzGerald opens a new chapter in the album's intergalactic journey with "Rainbows and Dreams" featuring Mercury Prize nominee SOAK.
Alt-rocker Moon Walker shares angsty single + video today: "Pins & Needles"
"Pins & Needles" embodies the disillusionment that comes with feeling stuck and surrounded by others who seem to be moving faster and achieving more. Moon Walker explains the track is, "all about feeling discontent about where you are in life and feeling isolated and like everyone is passing you by." There's a deep sense of imposter syndrome that lingers throughout, and is heard in the lines over ripping electric guitar riffs, "There's a stranger inside of the mirror and he doesn't look like me / There's a monster inside of my head and it's growing less frightening / And I'm tossing and turning, not learning my lesson / As time keeps on moving / The clock keeps unwinding / I'm running in circles / I'm falling and falling all over again."
CLAMM returns with "Something New" | The pummeling, new single comes off their upcoming album, Care, that's out August 19th on Chapter Music.
Melbourne punk power trio CLAMM release the third single Something New from their new album Care. Something New comes out today with a video by frequent CLAMM collaborator Oscar O'Shea. Care is out on clear vinyl LP and digital via Chapter Music on August 19.
GRIDFAILURE & MEGALOPHOBE: The Sleeping Shaman Premieres "Burn Pits" Video; Guest-Filled Third Collaborative Album, Harbinger Winds, Nears September Release Through Nefarious Industries
Engineered, recorded, and mixed by GRIDFAILURE's David Brenner at The Compound in Rockland County and MEGALOPHOBE's Benjamin Levitt at Forked Audio in Brooklyn, the two contribute a wide array of vocals, guitars and basses, keys and synth, drums and percussion, accordion, theremin, cello, harmonica, and more, electronics/effects, tape manipulation, nature recordings, and more. The cover art, photography, and videos for Harbinger Winds were created by Brenner, with additional photos and video by Levitt, the album then mastered by Dan Emery at Black Matter Mastering (Kool Keith, Lost Dog Street Band, Thetan).
Premiere: Gridfailure & Megalophobe 'Burn Pits' – Taken From New Album 'Harbinger Winds'
Watch the video for Living Hour's "Miss Miss Miss" off their upcoming album, Someday Is Today, that's out September 2nd on Kanine Records
SAMPA SHARES "BONA"; NEW ALBUM OUT SEPT 9 + LOLLAPALOOZA TOMORROW
Zambian-born Botswana-raised poet and rapper Sampa The Great today shares her newest single, "Bona", taken from her impending sophomore full-length album As Above, So Below, arriving on September 9 via Loma Vista Recordings.
Joyce Manor Teams Up With Best Friends Animal Society In New Music Video For "Did You Ever Know?"
GUCCIHIGHWATERS SHARES "ROSES" OFFICIAL VIDEO
NEW | Willie Bee ft Quin NFN – "Mopstick"
Totally Enormous Extinct Dinosaurs Shares New Single and Music Video for 'Never Seen You Dance'
OBSIDIOUS Reveals New Song "Devotion," Launches Album Pre-Sales
Wild Pink announce new LP feat. Julien Baker, Yasmin Williams & J Mascis/share title track
WHAT SO NOT DROPS NEW SINGLE 'AS ONE FEAT. HORIZON
New Down With Space Single Out Today
Blackbird Blackbird Share "Hey Lover" Single via Under the Radar | New Track Out Now via Better Company Records
"Hey Lover," out today, is Blackbird Blackbird's new sunny disco-pop single. The latest single from Montreal-based one-man band Blackbird Blackbird aka Mikey Maramag blooms with flowery rhodes chords, groovy electric bass, and vocal-driven indie-pop bliss.
Wild Pink announce new album (ft. Julien Baker, Yasmin Williams, J Mascis, Ryley Walker) + share title track "ILYSM" | New album out 14th October via Royal Mountain
Today, Wild Pink are announcing their fourth full-length, ILYSM. Out October 14th on Royal Mountain Records, the album was co-produced by Ross with Justin Pizzoferrato (Pixies, Body/Head, Speedy Ortiz) and Peter Silberman of The Antlers, and finds Wild Pink joining forces with a thrilling lineup of guest musicians, including J Mascis, Julien Baker, Ryley Walker, Yasmin Williams and Samantha Crain.
Future Teens announce third LP 'Self Help' + Fall U.S. tour with new single + video, "BYOB"