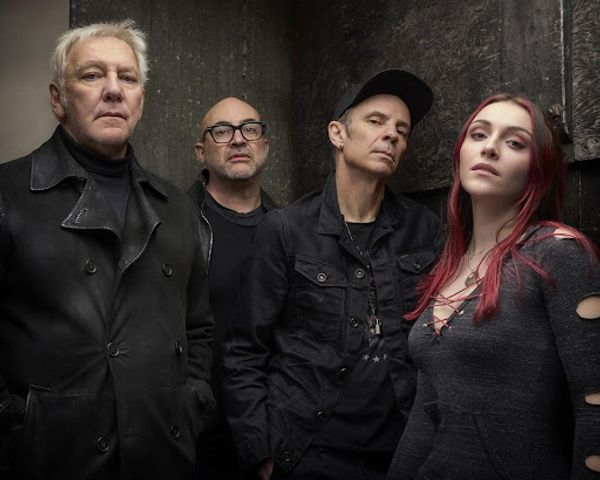 @skopemag news – thursday – july 21, 2022 @ 1 pm est
@skopemag HQ – http://smarturl.it/skope
Dezz Davon Shares New Single "On Ya"
Born in Detroit, Michigan, Dezz Davon is a rising singer, songwriter and dancer now based in Vero Beach, Florida. His debut single, "So-So", arrived in 2019, which was followed by debut EP Choice is Yours, and he's continued to go from strength to strength ever since, with a series of impressive releases that have spanned various genres, such as R&B, neo-soul, pop and bluegrass. His brand-new single, "On Ya", is out now and looks set to propel his rise further and see him break new ground.
CHANNEL TRES ANNOUNCES DEBUT ALBUM 'REAL CULTURAL SHIT' OUT THIS FALL ON GODMODE
In just a few short years, Compton's Channel Tres has achieved something few artists even set out to do: He created a lane for himself. House music may be experiencing a mainstream resurgence, with Drake and Beyonce performing their takes on the genre, but Channel Tres is a proven leader in the space—he's ahead of the curve. Today, the multi-hyphenate producer and singer announces his debut full-length Real Cultural Shit, a proper introduction to the sound of Compton house – out this fall on Godmode.
Chicago's DCG Brothers See Dollar Signs in "Get Money" Video
Berlin based alt-pop duo Bad Hammer shares new single 'Everyday'
Today, Berlin-based shadow-pop duo Bad Hammer have shared new single 'Everyday', an entrancing lament centred around the death of a loved one. Bad Hammer blend melancholic melodies with poignant guitar riffs, meandering along warm synth pads and subtly driving drum beats that create an atmospheric and cinematic experience for the listener.
Robyn Hitchcock to release first new album in over five years; shares first song/video
Scout Gillett Announces Debut LP 'no roof no floor' Out 10/28 (Captured Tracks), Watch Video for First Single "signal," Summer U.S. Tour Dates
David Poe – New Music Video Out Today
Wale The Sage Grinds on the Graveyard Shift in "4AM in ATL"
Jude Flannery, Matt Barrick (Walkmen), Robbie Bennett (War on Drugs) + More Share "Don't mind you asking" via FLOOD | 'Quiet by your side' LP Out 9/20
Quiet by your side is Philadelphia-based artist Jude Flannery's solo debut. The album explores the themes of connection and expectation. Joined by primary collaborators Matt Barrick (The Walkmen, Muzz) on drums / percussion and Quentin Stoltzfus (Mazarin, Light Heat) on bass and guitar, the record has a psychedelic folk rock vibe. Additional collaborators include Robbie Bennett (The War on Drugs) on keyboards, Keir Neuringer (The Irreversible Entanglements) on saxophone, Zena Kay on pedal steel, and Annie Nero on backing vocals. The overall mix is warm and dynamic, a credit to the craft and production contributions of Barrick, who recorded and mixed the record, and Stoltzfus, who mastered the record at Philadelphia's Silent Partner recording studio.
KINIT HER sign with Auerbach Tonträger
KINIT HER have signed a comprehensive deal including their full catalogue as well as their offspring-projects Wreathes, Compass Hour, Devotion, and Symbol & The Sound with Auerbach Tonträger. Originally established by singer and guitarist Troy Schafer and main lyricist as well as electronic sound designer Nathaniel Ritter in the heart of Wisconsin in 2005 as a symbolist post-folk outlet, basically a subgenre of neofolk, the band has since expanded into a core trio with the addition of vocalist Jessica Way. The Americans will release their forthcoming 15th full-length and their entire catalogue via the label.
A DAY TO REMEMBER RETURN WITH BRAND NEW SINGLE "MIRACLE"
JULY 21, 2022 – A Day To Remember have unveiled a brand new single entitled "Miracle," which is available on all streaming platforms and accompanied by a cinematic and emotionally charged music video streaming on the band's official YouTube channel. The song marks the band's first new music since their critically acclaimed 2021 album, You're Welcome.
Muse's New Song "Kill Or Be Killed" + Accompanying Video
(VIDEO LINK) Multi-Award Winning Singer-Songwriter KENNY LATTIMORE Releases Visuals To His New Single, "TAKE A DOSE" Lifted From The Recently Released 10th Studio Album, "HERE TO STAY"
Legendary Heavy Metal Band Stryper Releases New Single "See No Evil, Hear No Evil " Today Off New Album Set For Release In Fall 2022
Legendary, heavy metal band Stryper released their latest single "See No Evil, Hear No Evil" today July 21st off their upcoming album set for release later this year. This single release follows the successful release of first single "Rise To The Call," on June 24th which has been receiving praise from press and fans alike in the buildup to the groups forthcoming album. This new album release, produced by front man Michael Sweet, firmly continues the trend established over the band's last few albums, the new music sees the band growing heavier while also maintaining their trademark melodies, virtuoso guitar playing, and air tight rhythms.
FOR IMMEDIATE RELEASE: Suzi Moon Announces New Album "Dumb & In Luv"; Releases First Single
After nearly two years supporting her first two EPs "Call The Shots" and "Animal," – which has seen her music appear on Sirius XM, Iggy Pop's BBC Radio program, over 30 terrestrial radio stations, in magazines around the world, and much more – "Dumb & In Luv" is Moon's debut LP that firmly cements her, as Vive Le Rock aptly coined her, "The new queen of punk rock."
Mobley Releases "stay volk" Single/Video and Announces 'Cry Havoc!' EP Out 9/23
Monica Premieres Official Music Video for "Friends (ft. Ty Dolla $ign)" out Today!
ENVY OF NONE RELEASE NEW SINGLE "DUMB (Der Dummkopf remix)"
Jay Gudda Illustrates The Thoughts Of An Egomaniac With New Video Gudda Tarantino
Jay Gudda illustrates the thoughts of an egomaniac with new video Gudda Tarantino. Co-Produced by himself and Mertz, the Ventige Co. visuals shine a spotlight on his narcissistic behavior. "While our ego seeks to divide and separate, our introspection can become endless" says Gudda. Check it out now on YouTube and your preferred digital streaming provider.
Rapper Pick Patek shares new single "penelope" [FFO: Smino, Goldlink]
"Can't box me in…," that's the vibe behind The Philadelphia native rapper, songwriter, and producer Pick Patek's music. Writing about anything from relationships to religion, Pick Patek's music aims to be as thoughtful as it is effortlessly catchy.
Cooper Kenward Announces New LP, Shares "Make Me Blue" Single+Video via MXDWN+Indie88, Vents, Psych. Baby Features | 'Cooper Kenward' LP due August 22
Today, indie-folk singer-songwriter Cooper Kenward announces his forthcoming self-titled debut LP, due August 22 via Dogwood Dog Records. To celebrate and kick off the album cycle, he also shares a brand new single entitled "Make Me Blue," which comes with an accompanying music video. On this track, Kenward (guitar/vox) collaborated with Andrew Maguire (drums), Jason Abraham Roberts (additional guitar), and Robert Shelton (Moog bass).
PREMIERE: Songwriter Cooper Kenward Announces Debut Self-Titled LP and Drops Quirky New Video "Make Me Blue"
Jace Allen Shares Debut Album Taking Sides Out Now: Plus, Single & Video "Hail Federate"