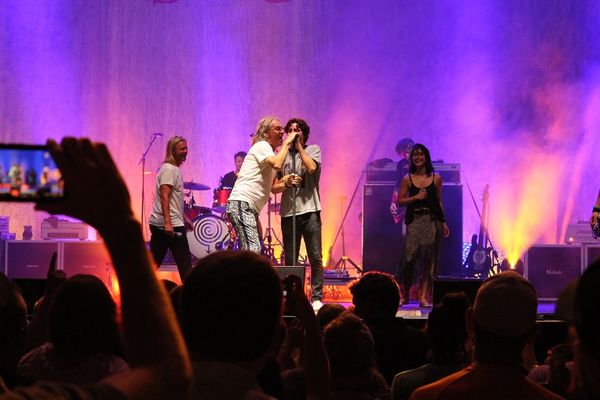 By R.M. Engelman
Well, Collective Soul frontman Ed Roland summed it up saying that Cleveland was getting the southern heat and humidity. The riverfront venue temp was in the 90 range with humidity to match. The consistent lineup of frontman Ed Roland, brother Dean on guitar, Will Turpin on bass, Johnny Rabb on drums, and Jesse Triplett on lead guitar, are touring during the release of their 11th studio album Vibrating. Definitely a long time crowd favorite, CS literally pounded out the hits along with eager audience help, and delivered an inspired set with Ed tirelessly prowling and commanding the stage. The set list included Heavy, Shine, World I Know, Gel, December, Bob Dylan with Ed on acoustic guitar and harmonica (a tribute to this generation's protest song spokesman), The One I Love, their standard closer Run, and two songs off the new CD All Undone and All Our Pieces.
On December, bassist Will's son Tristan came up and played piano. On the song For The One I Love, CS was joined onstage by Tristan, Jade Jackson and Switchfoot's Jon Foreman, who was incidentally introduced by Ed as "Here comes trouble!"
Jade Jackson opened doing a solo set playing a Tele. She had nice range and good vocals, the highlight being a ballad version of Springsteen's Dancing in the Dark.
Self proclaimed surfers Switchfoot put on an energetic show, despite the heat.
The band produced a nice mix of both their rockers and ballads. Celebrating the newly released deluxe edition of their 2021 album "interrobang", frontman Jon Foreman took no prisoners storming back and forth across the stage, leading the band through the hits from their 12 album catalog. I witnessed John consistently "Inciting" the audience to sing along, and they complied. Lol.
https://open.spotify.com/concert/5jIj1T2IYM4qXGqAC32bGe
The concert was a fun evening with a great pairing of two seasoned, professional high energy bands that were obviously having as much fun onstage as the audience!