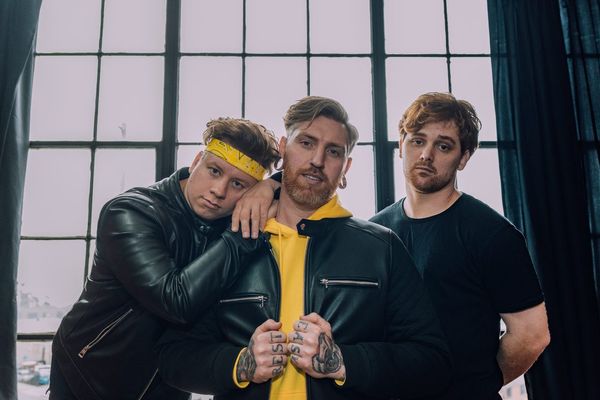 @skopemag news – monday – july 18, 2022 @ 4 pm est
@skopemag HQ – http://smarturl.it/skope
Spacebomb Records' New Signing Pearla Announces Debut Album 'Oh Glistening Onion, The Nighttime Is Coming' Out 10/21/22, Shares Stunning Lead Single/Video "Effort"
Pearla–aka Brooklyn, NY-based Nicole Rodriguez–has joined the Spacebomb Records roster and today announced her debut album Oh Glistening Onion, The Nighttime Is Coming will be released on October 21st, 2022. She has also shared the album's heart-stopping centerpiece, "Effort," as the lead single, alongside a moody, cinematic video directed by V. Haddad.
A Cure For Love Release Single "Cafeteria Harrison"
There are references littered throughout the entire album and I hope that people find them. I find it important to let anything you like influence and be part of the things you make.
Divino Niño "Light Up the Dance Floor" (FLOOD) in New Single/Vid "Nos Soltamos," New LP Out 9/23 (Winspear), Fall U.S. Tour Dates
Chicago-via-Bogotá band Divino Niño today share their irresistible and exuberant new single "Nos Soltamos" alongside an 80's inspired video directed by Alec Basse and Max Moore, premiering at FLOOD Magazine. Featuring trumpet stabs courtesy of Whitney's Will Miller and woozy lap steel from Twin Peaks' Colin Croom, the song translates to "We Let Go" and is about embracing catharsis.
ICYMI: OMB PEEZY JOINS KEVIN GATES 'BIG LYFE' NATIONWIDE TOUR — NEW MUSIC VIDEO "100" OUT NOW
Al J x Kane Major Highlight The City Of Angels With New Video "Going Black To Cali"
High Tone Son of a Bitch share "John the Baptist" video!
When considering the idea of having guests join the band for a special live in the studio video performance in late 2020, Andrea Vidal of Holy Grove's name was one of the first to come up. "Billy had told me that Andrea wasn't actively rehearsing or playing at that point. I remember telling him I thought that was tragic. I regard Andrea as one of the most authentic and soulful vocalists in rock music today." says guitarist Paul Kott.
BLANCMANGE — Ready New Album: 'Private View' Out 30 Sept || + Listen To Featured Track "Take Me"
"As usual I'm playing with double meanings and domestic references. Can you take me, in terms of the unpredictable aspects of a personality, or can you literally take me to our favourite place by the sea? And also how much does someone have to "take" before a relationship breaks down? How many times can your partner be expected to accept repeated mistakes? Where is the tipping point?"
Polyphia Share "Neurotica," Collaborate with Futuristic Artist Nusi Quero
Genre-bending instrumental band Polyphia have released the second track from their fourth studio album Remember That You Will Die. "Neurotica," produced by guitarists Tim Henson & Scott LePage, is Polyphia's take on a rage beat (originally made popular by artists like Playboi Carti and Trippie Redd). Featuring collaboration from Sims Cashion, Luke Holland, & Brady Watt, "Neurotica" follows the previously released lead single "Playing God," which Rock Sound called "intricate, expansive, and utterly captivating." To date, "Playing God" has amassed over 15M+ streams and views.
OHP Twists HARRY STYLES Synth-Pop Megahit, "As it Was," with Trademark Metal Carnage!
Israel born and LA based heavy rock artist OHP (OREN HALMUT) returns to modern pop with his newest #MetalCover of HARRY STYLES 2022 monster, guitar-driven synth-pop hit single, "As it Was." Originally premiered with TOXIC METAL ZINE, OHP's brutal reimagining swaps out bubbly synths and haunting vocals for crunchy guitars and roaring declarations, giving the megahit single a new approach to withering love and loss.
RHETT MCLAUGHLIN (GOOD MYTHICAL MORNING) Announces Solo Country Project, JAMES AND THE SHAME; Reveals First Single "Believe Me"
Raging Fyah Emerges With New Single "Raging Fire"
Regarded as one of Jamaica's most promising roots reggae acts, Raging Fyah emerges post-pandemic with a new single entitled "Raging Fire (Dub Style)." The song and music video for the track are available July 15th, 2022.
HUNJIYA Shares New Album via PAPER
"My new album is brimming with themes: Code switching- how you change yourself slightly depending on who you're with and what is happening. The concept of a chameleon- how the animal changes colors based on what environment they're in. In this case, I am the chameleon, and my behaviors, feelings, actions, etc. are all changing based on the situation. People give the advice of "being yourself" but they don't talk about how there's not just one version of yourself. There's multiple that add up to who you are. As for the title itself, chameleon comes from the Greek word "khamai" meaning "on the ground, earth" and "leon" meaning "lion" (Hunjiya herself is a leo).
BOBAFLEX Release Official Music Video for "I'll Blow Your Dreams Into the Sky"; Announce New Show Date July 23rd at Newport Music Hall
BOBAFLEX released a new single "I'll Blow Your Dreams Into the Sky" to all major platforms last Friday. Today they released the official music video for it. The band announced a new show date of July 23rd at Newport Music Hall with South of Eden, The Lonely Ones and Lost Past Everest.
Pop Rockers Sink In Release Massive New Single "Killing Time"
ASSIMILATOR (FKA DEATH ON FIRE) Release Video For "Burial Hymn"
ASSIMILATOR, formerly DEATH ON FIRE, have unleashed a horror inspired video for their new single "Burial Hymn". The quartet's brutal sound manifesting through the new incarnation of the band brings a grimier, American thrash edge.
Miles Hewitt announces debut LP & shares mystical new single "Moongreening" via Glide Magazine
Today Miles Hewitt is announcing his debut LP and sharing the mystical lead single, "Moongreening." Miles' ambitious debut LP, Heartfall, is out on August 26th and features contributions from members of Devendra Banhart, Kevin Morby, and Aldous Harding's bands.
SONG PREMIERE: Miles Hewitt Strums Up Fantastical Imagery On Folk Diamond "Moongreening"
Xenia Rubinos shares reimagined track titled "Dia Libre en el Yanky" | EU / UK tour to start August 2022 | "Una Rosa" out now via ANTI- Records
A play on the track "Working All the Time", which reflects and critiques the toxic cycle of overwork for little payoff under capitalism, "Dia Libre en el Yanky" is what Xenia calls 'a triumphant summer jam'- it maintains much of the original track's spirit, including the repeated motif 'and it was my day off,' while layering in a cutting cypher and vocal improvisation. 'Marco and I had a blast producing this track that felt like a celebration of the original song and a summer victory lap for Una Rosa,' remarks Xenia. The track features a gut-punching cypher from Cuban rapper El Individuo, who was also featured on the recently released track "Madrugada".
Athens, GA Indie-Rocker, Elijah Johnston, Announces Debut LP
Emo indie-pop singer-songwriter and recovering lo-fi addict from Athens, Georgia, Elijah's songs bridge the sensitive and emotively evocative conversational songwriter fare of the now and the hook-laden guitar pop music of the past.