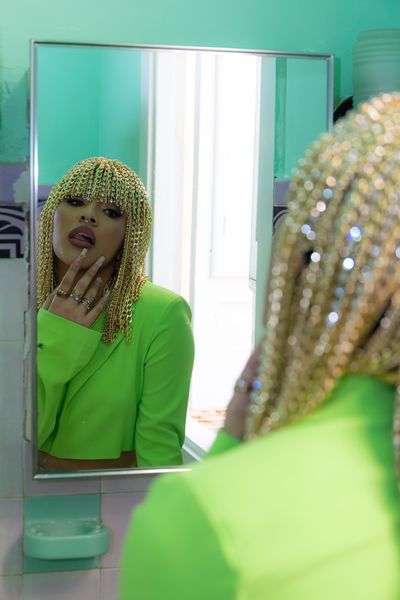 @skopemag news – friday – july 17, 2022 @ 11 am est
@skopemag HQ – http://smarturl.it/skope
Martha Release New Single and Video
Pity-Me, UK's finest, Martha (come on, you know who they are by now) return with a brand new 7"! The A side is called "Beat, Perpetual". Warning: it's catchy. The B side is called "Dreaming Out Loud", is a cover of Wisconsin rock band Tenement, and is exclusive to this EP. Warning: it's also catchy. This 7" is a one-time only pressing of 500 copies (300 on black, 200 on blue), and will never, ever be repressed. Order it through Dirtnap Records here, or give the single a listen tomorrow when its up digitally everywhere.
Bailey James Casts A Wicked Spell In Her New Haunting Music Video
TODAY: Eliza Niemi shares artful vibrational single/video "Walking Feels Slow" off new LP
"I wanted to evoke the feeling of desperately trying to stay present – the little games we play with ourselves and mantras we repeat to prevent us from projecting or worrying about the past or future," says Eliza. "There's a manic energy in trying to slow down and enjoy each bite as if it's the whole fruit – a sort of buzzing at a high frequency – that I wanted to embody and convey in this track."
Sammy Rae & The Friends Share Soulful Summer Single + Video "For The Time Being" 
Los Rivera Destino Reflect on Life and Death in New Music Video "Wichi"
Upcoming Artist Kate Dineen
Kate is an indie singer-songwriter who grew up in Kerry, a small rural village on the south-western coast, and now resides in Dublin. Kate was surrounded by music from a young age and would often sit in the back seat of her family's car and read her father's CD insert sleeves front to back so that she could memorize the lyrics. At age 14 Kate started learning guitar, learning her favorite songs, which she cites as a freeing experience. Then, at 16, as a shy teenager, she decided to challenge herself and sign up for vocal lessons. Kate immediately felt connected to the voice as an instrument that she could control.
AJ McLean (BSB) & Variety Premiere The NSFW Video for Single "Smoke"
AJ McLean and Variety have partnered to premiere the sexy and 100% NSFW video for single "Smoke", out TODAY. "Smoke", the song, is absolute fire. Channeling the best of the 80's & 90's superstars that have shaped his musical taste throughout the years, this icon in his own right has taken that influence and created his own sound, one that is innately AJ. Unafraid to take risks and put it all out there – "Smoke," the video, is wild, dark, sexy and an absolute must see.
David Guetta returns to FFRR / Warner Music with brand-new dancefloor smash 'Family Affair (Dance For Me)'
Musical visionary David Guetta returns with new single 'Family Affair (Dance For Me)', out today on FFRR / Warner Music.
The certified tech house stomper features a throwback vocal, tying the track to Guetta's early music roots and capturing the essence of Mary J Blige's classic of the same name. 'Family Affair (Dance For Me)' is destined to make an impact on nightclubs, dancefloors and festivals all over the world.
UK's real-rap sensation JORDAN unveils captivating new track and visuals to "Little Hulton"
"Little Hulton" comes as the first teaser from Jordan's hotly-anticipated new project dropping later this year. Acting as a candid introduction for those who have not yet heard, with the hard-hitting lyrical content remaining as the cornerstone of Jordan's music as he tracks across his journey from convict to musician. Steeped in deeply personal experiences, Jordan's masterful delivery on "Little Hulton" punches forward the pain and passion behind every word in his signature rap style — and is backed by Mosquito-produced visuals portraying the rappers journey from where it all started — Little Hulton.
MAYA LANE SHARES THE NEW SINGLE 'WHEN YOU NEED ME' – WATCH THE VIDEO HERE
2KBABY RETURNS WITH PASSIONATE SINGLE "RAIN"
BATTERING RAM: new album from Swedish hard rockers out today
With their first full length release, BATTERING RAM unabashed smashed in the doors to the rock scene. Their self- titled debut album unleashed in 2020 was welcomed with numerous positive reviews in music industry magazines such as Sweden Rock Magazine, Metal Temple and Roppongi Rocks. And now the Filipstad quartet is back with a new batch of killer songs. The eagerly awaited "Second To None" lives up to Battering Ram's high-profile raised by their debut album and delivers a collection of songs that are playbooks of what hard rock and heavy metal should sound like when they clash: raw, heavy and with gigantic hooks!
Jason Derulo features on new remix of Duke & Jones, Louis Theroux & Amelia Dimz hit 'Jiggle Jiggle'
This infectious new remix of 'Jiggle Jiggle' is propelled by Derulo's soaring, pitch-perfect and instantly recognisable vocals. Currently one of the biggest songs on TikTok (7.1 million creations), the original emerged when Duke & Jones carved an infectious remix around a snippet of Theroux's rap which was born on an episode of his celebrated Weird Weekends series and reprised more recently on Amelia's Chicken Shop Date.
LA NUEVA ESTRELLA EN ASCENSO DE LA MÚSICA LATINA, NAIEE, ESTRENA SU VIBRANTE SENCILLO "BLAH"
La prometedora sensación latina del género urbano, NAIEE, quien a pasos acelerados se abre camino en la música, estrena por todo lo alto, su nuevo sencillo titulado, "Blah". Dispuesta a conquistar el mundo por su propio mérito desde este 15 de julio estará disponible en todas las plataformas digitales este nuevo corte musical junto al video oficial con una producción ganadora de galardones.
Blu DeTiger & Biig Piig Share New Single "Crash Course"
Bass prodigy and burgeoning pop icon Blu DeTiger and acclaimed singer-songwriter Biig Piig team up on the sizzling new single "Crash Course," released today by Capitol Records. Trading off on vocals, they exude cool confidence as they defy pursuit, taunting, "catch me if you can." "Crash Course" is fueled by a driving beat, exhilarating electronic effects and a mesmerizing bass line from Blu, who produced along with Oscar Scheller (Ashnikko, Brooke Candy). Blu and Biig Piig wrote the song with Scheller and Rex Detiger. Listen HERE.
ORBITAL — To Release New Album: "30 Something" on 29 July || Listen to "Where Is It Going?" (feat. Stephen Hawking)
Available on double CD, quadruple LP boxset and digital formats, 30 Something is a musical celebration of the pioneering career of the hugely influential electronic music duo comprised of brothers Paul and Phil Hartnoll. The pandemic meant that Orbital missed their actual thirtieth anniversary, but it gave Paul and Phil pause to think and find a way to celebrate their past that was actually about the future. Unlike other Best Of's, the 30 Something contains reworks, remakes, remixes and re-imaginings of landmark Orbital tracks based on the duo's unrivaled live show. "Chime", "Satan", "The Box", "Impact", "Halcyon," and more appear in new 30 Something guises, familiar yet new, time reversing, yesterday becoming tomorrow. The album involves Orbital-inspired artists and DJs, including Joris Voorn, Dusky, Jon Tejada, Yotto, and long-time supporter David Holmes, who reworks "Belfast", the iconic track that got its name in his hometown.
Rockshots Records – ANTHEA Shares New Video "Empyrean" Off Upcoming Album "Tales Untold" Out August 2022
"One of the heavier songs on the album, Empyrean is an inspirational piece about overcoming the obstacles in your path and making your dreams come true. Something that we ourselves relate to from playing in the backyards of East LA and Compton as teenagers, to what Anthea has become and where we're going."
St. Lucia Announces New LP 'Utopia' And Shares "Touch" Single/Video || North American Tour Begins Oct. 7th 
St. Lucia have also shared additional dates and details for their 'Utopia Tour 2022' this fall. The Dutch musician and YouTube star Blanks and synth-rocker Caroline Kingsbury will support on select dates. Additionally, having sold out their first show at Brooklyn Steel on November 15th, the band has announced a second show on November 16th, on-sale to the public this Wednesday 7/20 at 10am EST. Renowned for their energetic live shows, this six-week tour is St. Lucia's first full headline run in four years. See below for the full set of dates, more info and tickets at stlucianewyork.com/live.
Monica "Friends (ft. Ty Dolla $ign)" out Today!
Today Grammy Award-winning multi-platinum, 25-million-plus selling singer, actress, philanthropist, and entrepreneur Monica releases her new single "Friends (ft. Ty Dolla $ign)." Available via all DSPs, the single is the latest from her forthcoming new studio album Trenches – due out Fall 2022. Monica is excited to be collaborating with Ty Dolla $ign, who brings his uniquely curated vocal performance to the acoustic-tinged recording which was produced by Grammy Award-winning songwriter and producer Tasha Catour (Tinashe, Lecrae).
London producer Ka Boukie unleashes double single & video release 'Strip Away / Spooky C'
British-Jamaican artist and producer Ka Boukie drops an epic double track release of 'Strip Away/Spooky C', both tracks also include bespoke video releases, out on the 15th of July via Boukie World.
CHICAGO ARTIST LYNYN DROPS DEBUT ALBUM LEXICON
Chicago composer Conor Mackey who makes music under the moniker Lynyn has released his debut LP lexicon via Sooper Records, the increasingly influential Chicago label owned by NNAMDÏ & Sen Morimoto. Influenced heavily by the early 90s IDM movement, lexicon displays both a mastery of musical composition and a deep appreciation of the vocabulary and history of the electronic genre as it pulls together the sounds of jungle, drum and bass, footwork, hip-hop, ambient, glitch, IDM, dub, House, breakbeats, synth-pop, sampling, and so much more. These influences work in tandem to produce a linear experience that can be spellbinding, euphoric, and sometimes dizzying, but without ever feeling aimless or suffering from structural discontinuities.
Nell Mescal Shares Her Debut Single and Video, "Graduating"
"The song is about feeling like you're supposed to be sad about something but you're not. Then feeling a little bit angry, I suppose and trying to turn that anger into something a little less all-consuming. Just wishing that some experiences were nicer" says Nell.
Marcus King releases new single 'Blood On The Tracks'
Marcus King today announced the release of 'Blood On The Tracks', the latest preview, and lead single from his forthcoming solo album, Young Blood. The track was co-written with Dan Auerbach and songwriting legend Desmond Child, renowned for his work with rock acts including Alice Cooper, Joan Jett and Aerosmith.
Ambient composer Rich Ruth shares new track & video from Third Man album
Nashville-based ambient composer Rich Ruth has shared "Older But Not Less Confused," the latest track from his ambitious new album I Survived, It's Over (Third Man Records, August 12). The track is accompanied by a mesmerizing video by acclaimed director Brook Linder (Billie Eilish, Grimes, Spoon, Beck and more). "Older But Not Less Confused" seizes the listener from the first chiming guitar. The track reveals itself to be a floating, mesmerizing post-rock dreamscape, where the production from John McEntire twinkles especially brightly. "Older But Not Less Confused" is available now at all DSPs and streaming services — hear the track and watch the video HERE.
OMAR APOLLO SHARES NEW SINGLE ARCHETYPE
Following the release of his highly-anticipated debut album IVORY earlier this year and his wildly successful Desvelado tour, Omar Apollo returns to share a brand new single in "Archetype." The new track is a ballad that finds Omar sailing through a downtempo beat punctuated by loud-soft-loud dynamics in the production and his signature falsetto while he expresses the feelings of excitement and love in finding newfound commitment.
beabadoobee Releases Sophomore Album 'Beatopia'
beabadoobee has also unveiled the video for new track "Sunny Day," a carefree, breezy hit of dopamine inspired by her love of early-2000s pop artists like Nelly Furtado and Corrine Bailey Rae.
CELEBRATE THE SUMMER OF MARLEY WITH A BRAND NEW ANIMATED MUSIC VIDEO FOR BOB MARLEY & THE WAILERS "COULD YOU BE LOVED"
Today, in honor of The Summer of Marley, a brand new, official music video for Bob Marley & The Wailer's "Could You Be Loved" debuts on Bob Marley's Official YouTube Channel. The animated video was inspired by Cedella Marley, who has been tapped as the global ambassador of the Jamaican women's Football program.