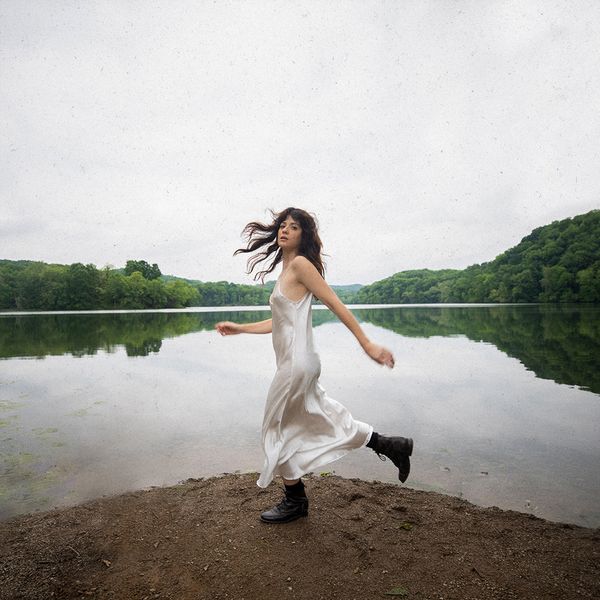 @skopemag news – friday – july 15, 2022 @ 12 pm est
@skopemag HQ – http://smarturl.it/skope
FINNEAS Shares New Song & Video, 'Mona Lisa, Mona Lisa.'
Following two SOLD OUT shows at Los Angeles' iconic Troubadour earlier this week, Academy and GRAMMY® Award-winning FINNEAS returns with a brand-new track and music video – 'Mona Lisa, Mona Lisa,' released today via Interscope Records.
OVO SOUND'S ROY WOODS DROPS EMOTIONAL NEW SINGLE "BAD BAD"
Blu DeTiger And Biig Piig Share New Single, "Crash Course"
ALICIA BLUE Releases Captivating 'Inner Child Work' EP, "DTMTS (Don't Tell Me To Smile)" Premieres via Under The Radar
"This EP and my existence as an artist come from a need to connect and develop relationships—yet simultaneously, I've always felt like this lone candle in a dark room," says Nashville-based magnetic indie-folk singer-songwriter Alicia Blue about her cathartic and powerful Inner Child Work EP (out today via Magnetic Moon). The EP finds her grappling with some long-overdue emotional reckonings uncovering who she was and setting her sights on where she wants to be.
NICK BONIN CONFRONTS HIS DEMONS ON GENRE-BLURRING NEW SINGLE "IN MY HEAD"
Young the Giant Releases ACT I: ORIGINS, First Act of Forthcoming New Album AMERICAN BOLLYWOOD
TOOSII'S NEW SINGLE – "LOVE IS…" – IS OUT TODAY
The 22-year-old Syracuse-born, Raleigh-based artist will perform at Rolling Loud Miami (July 23) and New York (September 25). After beginning 2021 as a member of XXL's esteemed Freshman Class, Toosii went on release the mixtape Thank You For Believing, which earned acclaim from The Fader, Complex, The Source and others and was followed by a deluxe edition, Thank You For Believing: The Manifestation, which included 10 additional original songs. By year's end, he had crossed the threshold of one billion global catalog streams and completed his first U.S. headline tour, which included sold-out shows in New York City, Chicago, Washington, DC, Boston, Houston, and Orlando.
Nordic indie-folk duo Tuomo & Markus share new track "The Highest Mountain"
Produced by Tuomo & Markus – a.k.a. Finnish soul/jazz singer/pianist Tuomo Prättälä and singer-songwriter/guitarist Markus Nordenstreng (formerly in the Helsinki-based roots rock band The Latebirds) – in their native Finland and studios across the US, with featured backing from such iconic musicians as guitarist Marc Ribot (Tom Waits, Elvis Costello, The Black Keys), Jonathan Wilson and Finnish jazz trumpet sensation Verneri Pohjola, The first glimpse the public got of Game Changing came in the form of the deceptively comforting "Wishful Information," which received early praise from Blackbook for its "​​piercing observations on this worrying new age of algorithmic mind control." Stream "Wishful Information" HERE, and pre-order Game Changing HERE.
PROJEXX AND JULS IGNITE THE SUMMER NEW TRACKS "CAUTION" & "TURN AROUND"
Kenny Roby Shares "New Day" / With Special Guests Amy Helm & John Sebastian
Founding member and principle songwriter/frontman of legendary alt-country band 6 String Drag, Roby celebrates second chances on this folk rock, gospel-tinged rave-up. He's come through the other side, playing the cards he was dealt—content with being more content and at peace with finding peace. He sings of a concept that may have eluded him in his younger years, and he is refreshingly unapologetic about it. "Ain't gonna feel bad about my healin' Let it roll if it rolls," he rejoices.
Secret Machines Share New Double EP via FLOOD
Today, iconic NYC rock band Secret Machines return with a new double EP featuring a reissue of their Dreaming of Dreaming EP (originally released in 2009) and an EP of new content entitled Day 21. The new release includes their recently released singles: "Day 21" (off the latter) and "Dreaming of Dreaming (Mavrogeorgis and Sclavunos version)" (off the former), which was recorded/engineered by Jim Sclavunos, drummer/percussionist for Nick Cave and the Bad Seeds.
Ray Laurél Reveals Razor Sharp Debut EP 'Manic Pixie Dream Boy' EP// LISTEN HERE
I had spent 3 years on a project and was about to drop it in early 2021, but post-lockdown everything was different. The person I had become was worlds apart, so I scrapped it completely and started from scratch. There was only one thing on my mind when making this EP and it was identity.
Steve Moakler Releases Reflective New Single "Numbered" Today
"The idea for this song came to me one night when I found myself rushing through reading my boys a bedtime story… I was kinda hit with this conviction that these days are gonna be gone before I know it and that I want to soak 'em up while I can," Steve shared exclusively with Taste of Country. "The word "Numbered" came to my mind as I realized that was true for so much of life. It's gonna be the last track on the album because it feels to me like the kind of song that credits could roll over at the end of a movie."
SINNER Shares Lyric Video For "The Last Generation" Featuring Tom Englund And Oliver Palotai; Brotherhood Full-Length Out Now!
Says guitarist/co-producer Tom Naumann, "Rockers and metalheads, the release day of our new album Brotherhood is finally here. Go and give it a listen! To mark the occasion, we also bring you our latest lyric video for new track 'The Last Generation,' a highly dynamic epic and, despite its length of seven-plus minutes, an upcoming classic!"
Grammy Award winning artist LeAnn Rimes releases powerful new anthem 'The Wild'…
Written and produced by LeAnn and longtime collaborator Darrell Brown, "the wild" kicks off with unmistakable vocals from Rimes and Guyton singing a mournful chant that is ignited with Sheila E.'s dynamic percussion and drums. The commanding sounds lay the groundwork for the powerful lyrics, which speak to the pushback and ridicule women face when voicing their opinion and speaking out. The track opens with "the persecution of the woman, the burning has gone on for too fucking long , the virgin is shattered, her blood on the door, she can't claim the lover without claiming the whore," setting the intention and sentiment of the song.
TOM GRENNAN RELEASES 'ALL THESE NIGHTS'
Speaking about 'All These Nights', Tom says,"All These Nights is a song about feeling grateful for the good energy and good people in your life. The people that bring you joy and bring you love. This is the start of the new chapter. My sound is evolving. I'm opening the door, and I'm announcing that: this is where it's at now!"
Renowned Producers Martin Garrix And DallasK Team Up with Singer-Songwriter Sasha Alex Sloan On Hypnotic New Single, "Loop," Released Via Astralwerks
El exponente del género urbano Pusho presenta su nueva producción discográfica "1st Pick" / Pusho unveils his new album, "1st Pick."
El álbum, lanzado por Casablanca Records y GLAD Empire, cuenta con el trabajo distintos productores de la industria incluidos Montana The Producer, Xound, Oreoo Beatzz, J Castle, Masis, Yecko, Jonniel Rhythmz, entre otros. El álbum también tiene colaboraciones con un roster de artistas élite tales como Jay Wheeler, Miky Woodz, Darell, Juhn, Arcangel & De La Ghetto, Jon Z, Nio Garcia y Secreto.
Maggie Lindemann Delivers New Song/Video "you're not special," Announces Shows and Album Release
Directed by Vixxion ("she knows it"), "you're not special" is heavily influenced by Quentin Tarantino's 2007 action-thriller film Death Proof. Coinciding with the message of the track, "you're not special" depicts Maggie and her friends taking matters into their own hands when confronting a creepy stalker.
MITCH unveils new mixtape with explosive single "It's Me Again" featuring D DOUBLE E
[OUT NOW] My Favorite Color is back with a somber symphony from out of this world
SABRINA CARPENTER RELEASES NEW ALBUM "EMAILS I CAN'T SEND"
Kicking off an unforgettable summer, Sabrina Carpenter releases her highly-anticipated new full-length album emails i can't send today via Island Records.
Moonshade Unleashes "Valley Of Dying Stars" Single With Video
Deeply inspired by the Russel-Einstein Manifesto against the weaponization of nuclear technology, it stands as both a protest anthem against the russian ocupation of Ukraine and Vladimir Putin's threats of nuclear assault, but is also a grim warning of the dire consequences of all-out war during the nuclear age. One word sums it up to perfection: 'denuclearize'.
CROSS GENRE RECORDING ARTIST MELII RELEASES MEDUSA EP
Today, multi-talented singer/songwriter Melii independently releases her new EP Medusa via Stem. The 6-track project finds Melii harnessing her powerful, feminine energy.
"The Medusa EP was inspired by the desire for women to reclaim their ability to rage without the fear of losing touch with their femininity," says Melii.
Mad Kelly Shares New Rock Anthem & Video "Stuck" – OUT TODAY
Trending Female Pop Artist, Hazy Shea, Takes On A Unique Sound With Release of New Music "Basements"
With its unparalleled upbeat melody, "Basements" blends elements of indie rock, dance-pop, and alternative r&b and transports the listener into Hazy's world of poetic heartbreak and hypnotic layers. Not one to disappoint her listeners, Hazy's latest drop is built on a foundation of her signature ambedo and rhythmic cadences, creating a unique alignment with the cheerful, optimistic instrumentals.
McCall shares debut LP '…to be a dream…' today; release show in LA tonight
A gritty yet ethereal coming of age project, …to be a dream… finds McCall coming to terms with growing up and discovering who she is and who she'd like to be. Over eight tracks, the musician takes an honest look at the relationships in her life and encourages herself to let go of any negativity and resentment she might be harboring. McCall says, "The album follows themes of strained relationships between friends, family, and partners. I realized that my self-hatred (as detailed on previous EP, 'On Self Loathing') did not exist in a vacuum. Because I'm exceptionally hard on myself, it felt natural to set rigorous standards for the people in my life as well. I was quick to hurt someone's feelings under the guise of "tough love." By the end, McCall gives herself the necessary room to grow, learn and break free from the harsh scrutiny of her own mind.
Today ASCENDIA share polished video for raw cathartic rock single "This War"
It started off as being a motivational song about waging war against life, about accomplishing your goals and not quitting. But then the band had a conversation with their producer, Gavin Brown, who commented that the song sounds way more like it's about internal struggle.
ELIZZA: Music video for 'Down For The Ride' just dropped!
Anberlin share music video for new single "Circles"
Kramer Announces New LP, Shares "Like the Planets Love the Sun" Single + Video via The Quietus
Today, iconic musician and producer Kramer announces a brand new LP, Music for Films Edited by Moths, out August 26 via Shimmy-Disc/Joyful Noise Recordings. Alongside the announcement, he has shared the record's first single, "Like the Planets Love the Sun," alongside an accompanying video, the first in a series of videos that spans the full album tracklisting.
SONY MUSIC NASHVILLE SIGNS COREY KENT TO RCA NASHVILLE IMPRINT
Country singer/songwriter, and Triple 8 Management client Corey Kent signs with Sony Music Nashville on the label's RCA Nashville imprint, following Corey's development work with Combustion Music. Corey will continue his partnership with Combustion Music for publishing and more, as he officially hits radio airwaves Aug. 15 with his debut single "Wild As Her."
Alternative-Rock Duo, Sleep Nation Brings The Heat with New Single and Music Video "Get Out"
ADAM DOLEAC ANNOUNCES DEBUT ALBUM, BARSTOOL WHISKEY WONDERLAND, ARRIVING SEPT. 30
"I couldn't be more excited to start the roll out of my debut album, Barstool Whiskey Wonderland," Doleac said. "So much hard work and time and LIFE has gone into making it. More than anything, I wanted it to sound like me. I tried to create my own little world, or 'wonderland' I should say, and I think I did that. Barstool Whiskey Wonderland is 18 songs, full of my favorite lyrics, titles, and most importantly, my favorite emotions. I hope you listen to it top to bottom, and then I hope you do it again."
THOMAS DAY RELEASES NEW BREAKUP ANTHEM AND ACCOMPANYING MUSIC VIDEO "not my job anymore"
Thomas adds, "I had already been in LA for a week when I wrote 'not my job anymore'. It was really interesting because I was writing a song every day of the week expressing all of my emotions as specifically as possible. My friend called me on the morning of my last day in LA telling me about some trauma that was thrown upon my ex-girlfriend. As he was telling me all about the situation, I couldn't help but think to myself how the only thing I truly wanted to do was to help her like I used to. After a short rant about how I was 'over her', I got breakfast and headed over to Nick Ruth's house where I was also meeting my friend Madi Yanofsky. The writing came naturally for all of us. I just poured my heart out talking about how I felt about the conversation that morning, and the song came together.
Marlo The Barbarian steps into her power with new single "So Pathetic Honestly"
On the track, Marlo shares "I wrote So Pathetic Honestly after a bad break up. I honestly wasn't expecting to write channeling so much anger, but it helped me realize no can can control your narrative except for you and no one has the right to call you less than. This is the first of a few songs where I explore my anger and step into my power."