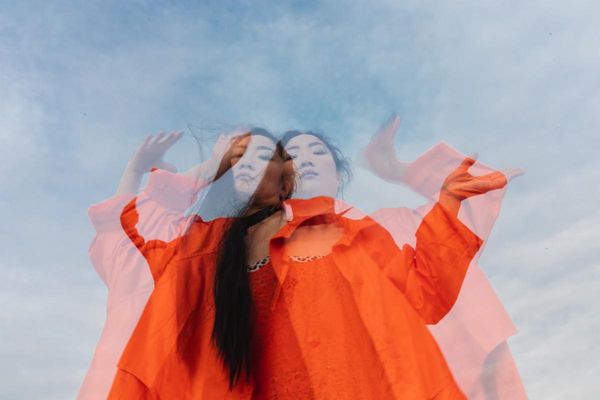 @skopemag news – friday – july 8, 2022 @ 10 am est
@skopemag HQ – http://smarturl.it/skope
Black Am I Sends A Message To "Mr Hurry Come Up" With New Single
Nine Mile, Jamaica's very own velvet voiced reggae crooner Black Am I releases a new single highlighting the person who is so eager to succeed at any cost, titled Mr. Hurry Come Up. This new track which is released through the Ghetto Youth's International label is produced by the legendary Damian 'Jr Gong' Marley and Young Pow, features a strong reggae feel accompanied by a stern message to those who want to get to their goal at any cost. Black Am I's message sheds light on the fast pace, social media, superficial world we are all surrounded by and the impact it has on mankind
BLACK MAGNET: Revolver Magazine Premieres "Hermetix" Video From Industrial Metal Outfit As Second LP, Body Prophecy, Nears Release Through 20 Buck Spin
With the 2020 release of BLACK MAGNET's debut album, Hallucination Scene, a new industrial metal power emerged from the unlikely landscape of Oklahoma City. After anxiously waiting out the pandemic, BLACK MAGNET returned to the road in late 2021 and now prepares to drop the second full-length burst of machine-driven mayhem and electronic deviance, Body Prophecy. Here, mastermind James Hammontree welds the frenetic vitality of post-punk and metal energy with driving synthetic club beats, factory force physicality, and alluringly stark melodic pulses. Tracks like "Floating In Nothing" and "Violent Mechanix" feature both intensely catchy hooks and hammering brutal noise. "Sold Me Sad" is a quietly deranged lullaby that takes an atmospheric turn. The throbbing drug-addled lurch of the Manson/Reznor-esque "Incubate" is, at the end of the album, treated to a completely re-imagined and extended club style remix by scene legend Justin K. Broadrick (Godflesh, Zonal, Jesu).
A-Z Release Music Video for New Single "Trial By Fire"
SOUL GLO Share Music Video For "Gold Chain Punk (whogonbeatmyass?)" From Album DIASPORA PROBLEMS
Soul Glo has had a whirlwind year so far with no plans of coming up for air. Hot on the heels of their freshly released album 'Diaspora Problems', today they share the music video for opening track "Gold Chain Punk (whogonbeatmyass?)." The scathing circle-pit ready song "finds freedom in nihilism," via Consequence 50 Best Songs Of The Year roundup. "Something like joy in the idea that if people will try to punish you, you may as well do whatever the fuck you want."
Ella Tiritiello shares stunning video for 'Say Something'
At just 15 years-old Ella Tiritiello put herself firmly on the map, with her standout debut offering 'Say Something back in May'. Since then she has performed at the prestigious 'Brilliant Minds' event in Sweden which is known for showcasing the most exceptional and unique talents. Today she's back to impress further with a gorgeous stripped back video.
Lupe Fiasco Shares "AUTOBOTO," the First Video from 'DRILL MUSIC IN ZION'
Known for his layered metaphors and perceptive point-of-view, Lupe Fiasco often sounds happiest when he lets loose and spits. Giving the visual treatment to one of the verbose tracks from his new album DRILL MUSIC IN ZION, Lupe shares the music video for "AUTOBOTO." Released as a single last month, "AUTOBOTO" is a mischievous, playful, and deceptively dense single that finds Lupe weaving his precise barbs around Soundtrakk's arpeggiating guitars. In the hook, Lupe compares himself to a Porsche Carrera, a finely-tuned, performance-focused sports car that tears up the road like Lupe tears up the mic. In the "AUTOBOTO" video, Lupe drives around his hometown of Chicago in that vehicle, before parking the vehicle in view of the city's iconic skyline. For the song's final minute, Lupe beams out of frame and cedes the spotlight to Nayirah, who closes the clip with her melodic mastery.
DEVON COLE SHARES EMPOWERING NEW SINGLE "W.I.T.C.H."
Locking into a head-nodding groove, the track's dancefloor-ready bass line thumps in tandem with the beat. Devon infuses every verse with empowered confidence and clever witchy puns while she assures, "Such a wonder to be under her spell, what a woman in total control of herself."
Melodic death metallers CARRION VAEL release new video "The Devil In Me"
Melodic death metallers CARRION VAEL have released a new single and music video 'The Devil In Me'. The track is the third to be taken from the band's forthcoming album Abhorrent Obsessions, set for release on August 12th via Unique Leader.
Fantastic Fest Presents "This is GWAR" Documentary Screenings Coming to Alamo Drafthouse
The long awaited and highly anticipated documentary "This is GWAR," will be receiving a limited theatrical run at select Alamo Drafthouse locations in North America, prior to its on-demand release via Shudder. "This is GWAR," had its world premiere in September 2021 at Fantastic Fest in Austin, TX and these special screenings are being presented by Fantastic Fest as well. Showings begin July 16th and a complete list of locations can be found below.
Sol Messiah Reigns "Sol Supreme" On New Single & Announces New Album GOD CMPLX
For the track, Sol Messiah cooks up a guitar-laced beat with a throwback bounce as New York spitter Cambatta bobs and weaves through confident and catchy verses. It culminates with a chantable chorus meant to be sung aloud, "I reign Sol Supreme, I reign Sol Supreme, I reign." The accompanying visual seamlessly brings the track to life with an energetic flow of its own reflective of Sol Messiah's signature spirit and style.
Reminder: HOT! ++++ GEARS NEW SINGLE/VIDEO – "Don't Want to Say Goodbye (Nunca Me Digas Adiós)" – WATCH!! 👀
RACHEL CHINOURIRI DEBUTS NEW SINGLE "THANK YOU FOR NOTHING" VIA COLORSXSTUDIO PERFORMANCE
Speaking with COLORS about the single, Rachel shared, "'Thank You For Nothing' is about living with someone or having someone in your family who suffers with alcohol abuse particularly. As much as you can love someone who suffers from addiction problems, you can also acknowledge how much pain and distress it can cause you or the people that you love".
Armor For Sleep release "How Far Apart", first new music in 15 years!
It's been almost 20 years since the release of Armor For Sleep's seminal full-length, What To Do When You Are Dead, but the album still resonates with much of the band's fanbase. Today, for the first time in 15 years, the band released new music and it is sure to ignite the same passion from fans that made the band's Equal Vision Records debut so important to them.
Xavi sigue sorprendiendo a su audiencia con nueva música, esta vez con "Mejor Pa Mi"
El cantante puertorriqueño, quien cuenta con un reconocimiento a nivel internacional a través de su música, ya que hizo su debut cuando tenía tan solo siete años de edad, logrando colaboraciones con grandes artistas de la industria como Don Omar, Zion y Lenox, Farruko, De La Guetto, entre otros. Actualmente viene atravesando por una nueva etapa en su carrera artística con la intención de seguir creciendo y creando éxitos para los seguidores del género urbano.
Trunky Juno spells the tricky words for you in Oxford English Dictionary
Zoon Shares "Oil Pastel/Dope Sick" (ft. Cadence Weapon)
Today, Zoon (Zoongide'ewin), the musical project fronted by Daniel Monkman, shares a music video for "Oil Pastel/Dope Sick (ft. Cadence Weapon)", the final single off his brand new EP, Big Pharma, out now, via Paper Bag Records + Cadence Weapon's first single since her recent Polaris win. Zoon's new 5-track EP is notable for its collaborations and features, expressly highlighting the musician's adept ability to experiment and constantly defy musical categorization.
RITUAL DICTATES Announces Sophomore Album, Metal Injection Premieres New Single "Burn The Widow"
RITUAL DICTATES is back! Their sophomore album, No Great Loss, will be released on October 7th via Artoffact Records and with it, a dramatic shift in their sound.
RITUAL DICTATES (Ex-3 INCHES OF BLOOD) Streams Gloomy New Single "Burn The Widow"
Escuela Grind to Release New LP, 'Memory Theater', September 30
SG Lewis Returns With Two Brand New Singles – Out Today
-based singer-songwriter, producer and DJ, SG Lewis, returns today with not one, but two brand new singles: the nocturnal floorfiller 'Missing You' and the italo-influenced anthem 'Something About Your Love.' Right out of the gate, 'Missing You' reaches for dancefloor glory with its shimmering synths and neon bass line, nodding to eighties new wave with a chantable chorus, "I'm not missing you like I'm supposed to." On the flip side, 'Something About Your Love' fuses a funk-inflected bass line and tambourine with a luminous refrain. Both tracks are available to buy/stream as a double A-side single today via Astralwerks.
Nile Rodgers Approved UK Artist WILLOW KAYNE Shares "WHITE CITY" Music Video
Track Out Today from Tonoso
SPINALL x Asake – "PALAZZO"
of Montreal' new single + mind-bending video: "Blab Sabbath Lathe of Maiden"
New Music: LonelyTwin's Debut LP + Vixen77's "Record Store" Video
Accompanying the album's release is a dreamlike video for the indie pop jam "More Than On My Mind." Fantasizing about getting back with their partner after breaking up, LonelyTwin explains, "It's about being stuck in a loop of thinking that things might be better next time, even though you might know deep down that it's never gonna happen."
Breakout Indie-sensation bazio arrives with latest banger – 'Crazy Love'
bazio is a 19 year-old artist & producer from Melbourne, making uniquely textured alternative pop blending addictive vocals with forward-thinking production. With only two singles out, he's been quickly gaining widespread industry support and growing both a national and international audience. His upcoming single 'crazy love' is an alternative indie-pop anthem, incorporating a high-energy performance with catchy songwriting and lyricism. The chorus of the song calls the listener to 'grab someone they love' and 'just go crazy love' – in other words to hold someone who is dear to you and dance or have fun. The song takes inspiration from acts such as Gorillaz, Genesis Owusu, Binki, and Dominic Fike.
Rising producer agajon links up with fellow German artist Layla on new single 'all of that'
German dance music visionary Henrik Schwarz has remixed the Ladysmith Black Mambazo track 'Ayikh' Indaw' Enjengekhaya', out 1st July on Gallo Record Company.
This brand-new rework sees Schwarz reimagine the Ladysmith Black Mambazo sonic story, placing the sound in an electronic music context while remaining true and respectful to its original writer – legendary Mambazo founder Joseph Shabalala.
SANANDA MAITREYA RELEASES THE REMASTERED AND SPATIAL AUDIO EDITION OF THE CLASSIC ALBUM' INTRODUCING THE HARDLINE ACCORDING TO…' – OUT NOW
Originally released in 1987, album 'Introducing…' made a phenomenal global impact that has rarely been matched. The singer, songwriter and multi-instrumentalist inspired feverish comparisons with a multitude of iconic artists, from the era's biggest talents – Michael Jackson and Prince – back to some of music's most influential forefathers: Sam Cooke, James Brown and Jimi Hendrix.
FRESH MUSIC FRIDAYS: Pop Songstress Sabrina Monique Unveils Heartfelt Single, 'My Drink' [FFO: Dua Lipa, Ariana Grande, Bebe Rexa]
Giant Rooks release brand new track 'Morning Blue'
"Morning Blue" is Giant Rooks' first new song since their successful debut album "Rookery," which caused a sensation in Germany (#3 on the official album charts) as well as internationally with over 200 million streams and strong chart performances in many countries.
WARGASM RELEASE NEW SINGLE AND VIDEO 'FUKSTAR' OUT NOW
ELLAURO RELEASES VIDEO FOR LATEST SINGLE 'NO MIND'
Making her hotly anticipated return after debut single 'Indigo', she releases the accompanying visual for the sumptuously smooth and exquisitely produced (Joy Anonymous) track 'No Mind'. Directed by up-and-comer Joel Barney alongside the Sonder production team, the video depicts the intricacies of a relationship where the love and adoration shown by one partner is kept private and shrouded by insecurities and shame. Something Ellauro muses on in the lyrics to the track;
Emerging R&B singer/songwriter Allyn shared her After Hours EP in the Spring and today returns with a brand new music video for "Signal" featuring Phabo. Directed by Seveneight and capturing the late night ambiance, the video follows Allyn on a date night and demonstrates the mistrust and acrimony incited by a deceitful partner.
FRANCE'S NOVEMBER ULTRA RELEASES "COME INTO MY ARMS" (REPUBLIC RECORDS) + ANNOUNCES DEBUT AMERICAN LIVE DATES
ALL SOULS: new track "Who Holds The Answer" streaming
Ripple Music have recently announced the release of the "Live From Total Annihilation" split album featuring legendary Palm Desert rockers FATSO JETSON and L.A. alternative rock unit ALL SOULS, to be issued on August 19th. Get into All Souls' new single "Who Holds The Answer" right now!
DIMITRI VEGAS TEAMS WITH DAVID GUETTA, NICOLE SCHERZINGER, & AZTECK FOR HIS SECOND SOLO SINGLE "THE DROP"
The animated music video transforms Dimitri Vegas, David Guetta, Nicole Scherzinger, and Azteck into comic book superhero versions of themselves in an adventurous fantasy world as they race to catch "the drop" while careening past volcanoes, dinosaurs, sea creatures, and more. The visual begins with Scherzinger summoning an energy orb, which floats and turns green before racing away. At that moment, two portals open and our heroes – cartoon versions of Dimitri Vegas and David Guetta – drop down, each in their own futuristic vehicles. Dimitri, in his "Vegas"-plated jet-propelled hover vehicle, races alongside Guetta, who jets in his motorcycle-styled speeder. As they chase the green orb off a ramp, over a dinosaur-embedded volcano, the drop explodes perfectly, just in time to see Guetta leaving his vehicle to catch the orb while flying through the air. Just as he seems to be getting away, Scherzinger transforms into a mythical creature as she trails Guetta's vehicle. The orb falls off the cliff and into the ocean, where a giant sea monster is lurking. Guetta emerges from the flames of his burning vehicle, scarred and weapon in hand, ready to take on the transformed dragon in a field of flames when Dimitri swoops in with his flying car and rescues him with the two flying away. To be continued…
OUT NOW // GANZ releases synth-focused "Damage" ft Beach Season!
GANZ, A.K.A Jordy Saämena is an Amsterdam-based producer/DJ extraordinaire who developed his masterful blend of hip-hop and electronica from a young age. Over time, GANZ's sound has evolved, seeing him explore new territories and experiment with indie, pop and avant-garde music. His latest releases showcase his time spent playing with a multitude of genres and ambient soundscapes, creating something that is truly unique to GANZ.
KaiL Baxley Releases New Single "Coyotes"
KAYE takes her future into her own hands on "Lifeline" – out today
"In the second single for Neon God, I'm not an archangel or a cult leader," says KAYE about today's new single. "I'm just me, a lumpy human trying to make her way through the world. I am so far from perfect, and I know so intimately what it's like to suffer, what it's like to be lost. I also know what it's like to summon my own rescue, over and over again, through music."