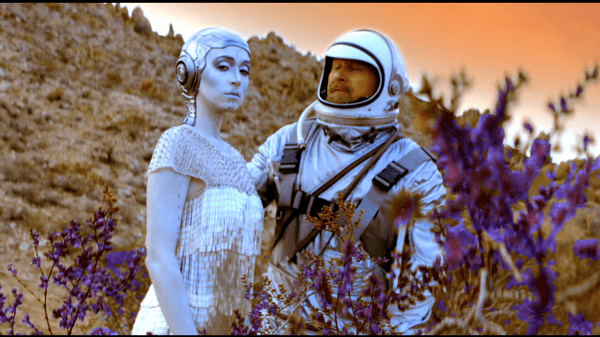 With his 2021 album King of One, and his latest 'Wide World' from April 2022, Nick Phoenix set the stage for what listeners could anticipate out of his future work, and with the arrival of his new single and music video "Andromeda," he proves that conceptualizing typical pop themes is something is quite adept at to say the least. While there have been other instances in his career thus far that have allowed his talent to really shine like the diamond it is, "Andromeda" is a little more relaxed than previous output, and potentially more accessible to the mainstream listener who might have overlooked this songwriter previously.
This arrangement is quite epic, and at no moment does it feel like the construction of the hook has been drafted from a source other than Phoenix's own creative wit. "Andromeda" isn't carrying around any instrumental excess that doesn't belong in a pop song, but you can also tell it wasn't written to fit in with a specific look that other artists have been trying to work into the mainstream for a while now. Although rebellious with his tenacity, this player isn't someone intrigued by the idea of being an establishment outsider forever.
The guitars rain down on us with a harsh intensity when the melodies get cranked up midway through the song, but thanks to the stability created in the piano harmony, the beat never loses its footing. Every working instrumental component of "Andromeda" has a matching part that gives us some solid ground to stand on as listeners, and even though it gets a little hectic in spots, there's never a moment where the full force of the backing band ever becomes overwhelming for the audience. I'd love to hear Phoenix live to see if he can maintain this composure on stage, as it would be a treat for me as both a critic and a fan of smart pop music.
I've never been much for overindulgence, the melodic excesses that we find buried within "Andromeda" work well for the sonic profile Nick Phoenix has as a singer for sure. Had he been born with a voice that isn't as formidable as the one we hear in this single, I don't know that he could have dealt with the ensemble feel of this instrumental setup without sounding like a small singer in the middle of a harmony hurricane. His depth as a singer is one of the key focuses here, if not reason enough to listen to this track in the first place.
Rock music's lack of adventurousness has left a lot of listeners – myself included – feeling really underwhelmed with the content coming out of the underground and mainstream alike recently, but this is just the kind of pop-rocker to get me interested in the potential of the genre once again. 
SMART URL: https://lnk.dmsmusic.co/nickphoenix_wideworld-1
Nick Phoenix isn't speaking on behalf of his peers or a scene in this track, but he's making his mark on a music culture that needs more inventiveness and more intrigue than what we've been left with lately.
Gwen Waggoner