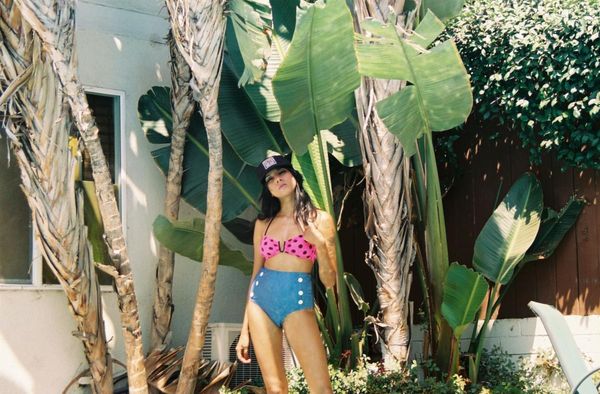 @skopemag news – monday – june 5, 2022 @ 2 pm est
@skopemag HQ – http://smarturl.it/skope
Canadian Country-Pop Singer-Songwriter Sykamore to Release Full-Length Debut Album Pinto on August 12th
Recorded in Nashville with producer Michael Knox (Jason Aldean, Kelly Clarkson), the new album marks more than just a chapter for Sykamore. It represents both a beginning and an end, the culmination of a remarkable journey and the start of an even more promising one.
"Writing these songs put me through an emotional wringer. I was living in a new town and working with new people and going through all this change and self-discovery at the time. Looking back now, I can hear an entire chapter of my life in the music," said Sykamore.
FW: VIDEO: Isobel Campbell's honey-like vocals feature on aching SON PARAPLUIE French pop masterpiece!
The amazing Scottish singer-songwriter Isobel Campbell's (Belle & Sebastian, Mark Lanegan) honey-like vocals feature on French artist Son Parapluie's gorgeous track 'Paris n'existe pas'…
And now a really nice animation video for the single has been launched!
Vigilantes release F1 inspired single
Following their debut EP, 'Ambedo Auras' in 2021, new single 'Drawing Auras' takes Vigilantes into a new era, emerging from the pandemic with a stronger and bolder sound. This comes with a UK tour on Music Venue Trust's Revive Live campaign, alongside acts like Charli XCX, Everything Everything and Paolo Nutini.
Mandidextrous Returns to RAM Records Sister Label ProgRAM
Mandidextrous has not just inserted their own coined subgenres within the back catalogue of ProgRAM. But they've also smashed rigid paradigms as well as risen to prominence as part of the mentorship scheme of the 30 year strong sister-label RAM Records and EQ50, the collective redressing the gender balance within drum & bass. After showcasing a mammoth number of tour dates, which included last year's XOYO RAM Records show in London, they make a return this year with another packed out festival season and a brand new single 'Express Yourself / Radiator' alongside fellow Bristolian Matt Scratch. With the latest string of successes coming as no surprise after being labelled as part of the 'Ones to Watch' segment this year by BBC Radio 1.
[Video] Revalation & GoD iLLa ft. Eli Greene – Dreamchaser prod. by Putty Productions
[OUT NOW] CEO Trayle is pulling up with his own fireworks on "July the Fourth"
The first glimpse at his upcoming Vier EP, "July the Fourth" is a sentimental single, and it reveals why the 4th is much more than just a holiday for Trayle. It's the day he got shot 7 times when 2 men staged a botched home invasion attempt in 2013. That day, he experienced traumas that still make him pause, but the desire to escape his past life continues to push him forward in his music.
Video: DJ KCL – SHUT UP AND TALK (Feat. SKYGGESIDEN)
"SHUT UP AND TALK" is the latest video and single from Danish DMC scratch champion and producer DJ KCL.
The song was originally created as a podcast jingle and then turned into a whole track.
U.S. ARMY VETERAN, MALACHIAS, RELEASES DEBUT SOLO ALBUM
The life story of the American military veteran, For Those That Remain is dedicated to all the veterans who are still standing tall and living their lives, regardless of their injuries – either physical or mental – and to the family members who have lost loved ones either in combat or through suicide. This album seeks to put a spotlight on the sacrifice our military service members and nations warfighters give daily on a basis.
Charlottetown's Alt.Rockers Before The Dinosaurs Have the "Cure For A Heartache"
Toronto-based Folk-Pop Artist Francesca Panetta Walks the Fine, Blurred Line Between Excitement and Fear of New Love in "So Few Words (love letter)" — Available Now!
New single from Danish artist Silla Dream (indie/alt rock)
My vision is to create songs brimming with a Cure-like eeriness and atmosphere, like they came straight off the set of Batman or something. I think this particular single has all of that – a crisp dark & heartfelt indie/alt story composed of moving, melodic guitars, lofi synths and romantic incompatibility issues. I'm really proud of it, tbh (and I'm quite picky..).
Nika Taleghani Shares New Single "Back and Forth"
Rising US artist Nika Taleghani has unveiled her new single, "Back and Forth". The track is just the Boston artist's second single following last year's debut release "The Cave". Although a new artist, it's already very clear what a special talent Nika is, and the new release is a further testament to this.
IDLE HOURS announce debut EP 'The Fourth Wall' & share new track 'Televangelist' | out today (July 5th)
Following on from motorik-infused, jangle-pop lead single 'Souvenirs', Idle Hours' quizzical and assuring social commentary comes to the fore once again in second EP reveal 'Televangelist'. Heavily influenced by the likes of Blur and Ulrika Spacek, the band's garage rock sensibilities have already culminated in slots alongside acts including The Lounge Society, Keg, The Rills and Silverbacks, with several of their own sold-out hometown shows ticked off, and further live dates lined up to coincide with their summer EP release.
TONS: stream fiery new single "A Hash Day's Night"
Turin-based sludge punk monsters TONS announce the release of their third album 'Hashension' this September 30th on Heavy Psych Sounds. Get insane in the membrane with new single "A Hash Day's Night" right now!
Premiere: TONS 'A Hash Day's Night' – Taken From New Album 'Hashension' That Drops 7th October
Louie Ray "Take Me There" Visual Out Now
VIDEO: 'It's The Season' for ambient summer pop with Hannah Schneider's new visual!
With a heartfelt tone, Danish artist Hannah Schneider addresses this season, and how the summer's light, intensity and high expectations can sometimes make you feel down and existentially heartbroken. "It's the season" is a melancholic pop song, that oozes of sedated summer vibes. With sincere vocals, acoustic piano and minimalistic electronics, the song creeps into your heart, and stays with you long after it's over.
Santa Sallet – "Chinese Funk" (Music Video)
ICYMI: Priya Panda Vibes Dream Pop With "Temporary"
Priya Panda comments on crafting of "Temporary" and the tracks that she has yet to release: "We're so used to thinking about the past or anticipating the future. It's almost like a habit. I wanted to write about a topic we can all relate to and that's wanting to be more present and living in the now. I'm guilty of it myself. I've had great moments or friendships or made memories that at the time, I took for granted and wasn't even really there because I was too busy thinking of the next thing. The reality is one minute you're here and the next minute you're somewhere else, so I just wanted to write 'Temporary' as a reminder to 'be here now' because you can't really ever get those moments back."
Listen to Svvarms debut EP early via Big Takeover
In case you missed them, stream Svvarms' previous singles, "Adaleena," "Oceans," "We Were Wild," and "Back Then." Big Takeover described the EP as a "soothing and catchy indie EP that fuses incredible vocal approaches with interesting percussion, stops and starts and unique complementary sounds and effects that don't distract, but add to the overall feel and vibe of each song, helping to perfect the music by keeping it dynamic and intriguing, all while highlighting the wonderful melodies that are the backbone of each song."
Attia Taylor Shares New Song "Basic Economics", Debut Album 'Space Ghost' Out Friday on Lame-O Records
Brooklyn-based psych-pop musician Attia Taylor will release her Jeff Ziegler (Kurt Vile, War on Drugs) produced debut album Space Ghost this Friday, July 8th on Lame-O Records (Trace Mountains, Slaughter Beach, Dog). In anticipation of the album release, Attia Taylor is sharing one final single, the disco-influenced "Basic Economics". Fun and danceable, the track encapsulates all the unique sonic elements that define Taylor's music. Taylor says that the song "expresses my confusion around trying to prove myself to my ex-partner's family around race religion and class expectations."
BABY QUEEN RELEASES BRAND NEW TRACK "NOBODY REALLY CARES"
Baby Queen has released her new single "Nobody Really Cares" out now via Island Records. It follows the soaring success of "Colours Of You," a track written specifically for Netflix's smash hit LGBTQ+ drama Heartstopper, based on Alice Oseman's young adults book series of the same title. Since launching, "Colours Of You" has clocked up approximately 5.5 million streams and been embraced by the Heartstopper community globally. Baby Queen surprised fans at her recent triumphant headline show at London's Electric Ballroom when she invited the Heartstopper cast to join her onstage to sing the final chorus of "Colours Of You," much to the audience's delight.
ANOVA SKYWAY PREMIERE "TRANSLUCENT" SINGLE/VIDEO FROM UPCOMING EP "RESET" OUT JULY 15TH
Co-written with Louis Abramson of JOLLY, "Translucent" is the second single from the forthcoming Reset EP from ANOVA SKYWAY and premieres today courtesy of heavy music blog, Nine Circles.
Video Premiere: Anova Skyway — "Translucent"
MAMMOTH VOLUME: watch weird and proggy "Diablo IV" video!
Swedish stoner-prog veterans MAMMOTH VOLUME get weirder than ever with their new "Diablo IV" video, premiering now on Metal Injection! The band will release their first studio album in two decades, 'The Cursed Who Perform The Larvagod Rites', this August 19th through Blues Funeral Recordings.
MAMMOTH VOLUME Streams First, Extremely Strange New Single In Over 20 Years