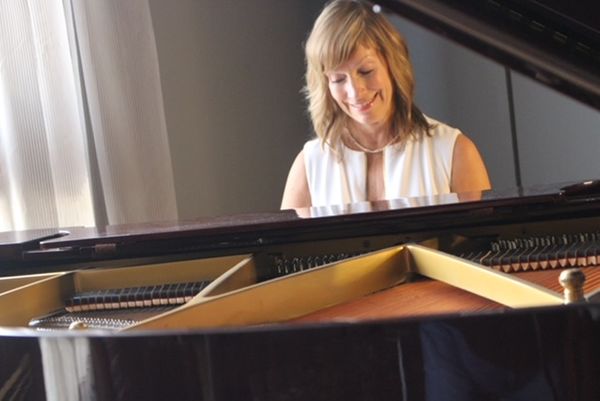 Born and raised in a small central northern town in Ontario, Bonnie Milne studied classical piano, creating compositions she performed for family and friends. After studying music at University, she gained her Teaching Degree, adding vocal music as a focus too. In addition to managing her own private music instruction business, she began teaching music in elementary schools. She is now working as the Arts Facilitator for her Board, and implementing a "music education program" in all elementary schools. Bonnie's goal, along with the Music Teachers in her Board, is to "Inspire Music for Life" for their students.
Her debut single, "New Beginnings" recently hit the UK iTunes Pop Songs chart.  With a new single, "Green River Sway" on the way, Bonnie took time out from her busy schedule to answer some questions in this exclusive interview.
Hello Bonnie!  It's an honor to be interviewing you. Thank you so kindly for taking the time to answer some questions for our readers.  
My pleasure and thank you for interviewing me!
First off, tell us about your musical background.  How and when did you first play piano, and what was your inspiration for becoming a performer?
I began taking piano lessons when I was very young. I studied classical music through the Royal Conservatory of Music throughout my childhood. I continued studying music in Universities, completing my Teaching Degree as well. I played in bands and sang in Choirs throughout school and enjoyed the feeling of performing for others.  I am inspired by the relationship that happens when performing music or watching a performance which includes a feeling of community and unity. There is also amazement in knowing that others are enjoying my music as much as I enjoy composing it.
Do you remember the first song you ever played on piano?
I think it was probably Mozart's Minuet in G+! I do also recall composing, "Home's Enchantment" when I was very young and playing that over and over again!
What is your absolute favorite composition to play?
I love to play "Stream's Gathering" as it reminds me of our family gatherings, when both of my parents were still living. We have a beautiful family property with a stream running through it, where we gather to celebrate special occasions.  Musically, the melody flows through the piano keys and the harmonies created by the cello provides depth and a sense of enjoyment, inspiration and peace. It does transition to the minor key and back since all families experience challenges at one time or another. I also began composing this one when I was quite young and my Mom would say, keep adding to it dear, its beautiful!
Is there a song that is especially difficult that you haven't been able to master yet?
Oh ya!  Beethoven's Moonlight Sonata Movement 3 Presto Agitato!  I enjoy playing the soulful first two movements but the third is extremely challenging, hopefully someday I will get there.
What drives you?  What inspires you to be the very best you can?
My belief that if we pour our passion into what we are doing, we will be successful. I also want to be an important role model for my sons and provide the example that dedication and perseverance bring great rewards. Joy and faith are we really what drive me. When I am feeling joy whether it is when I'm composing or working with other teachers and students, I know that the endeavour will be successful because I'm doing what I was meant to do. 
Do you ever get stage fright, and if so, how do you overcome it?
Yes!  Deep breathing has always been a good tool for me and visualizing the best possible outcome.
Tell us about your home in Ontario, Canada.  How has it inspired your music?
I am very blessed to be surrounded by natural beauty.  Just in my immediate area there is the stunning Green River with its many shades of green depending on the location and season, the Black River with its fierce flow, Lake Couchiching, shallow and sparkling and Lake Simcoe, large and mighty. Water has special powers for me!  Just being near it, provides a sense of peace and  enjoyment and being in it either by swimming or paddling is even better! Being near the water also gives me focus and I am able to hear melodies in my mind with more clarity and then I'm inspired to create.
You have a new single coming out, "Green River Sway"  Can you tell us all about it?
Green River Sway was inspired by this river, that is near by. First of all my Mom told me after I moved here that when I was little and we would drive by the River, I would say, "one day I will live  in the town that has the Green River", ha, ha!   Now and for many years, it is the story of my sons and I, walking, hiking, swimming and paddling together, enjoying our area and our time together.  My oldest son just graduated from High School and I hope that his memories of his childhood will include the beauty of the Green River and the love of our family.
Musically, it has one of my favourite parts to play of all of my compositions. It is tricky in that it alternates fingers on each hand quickly and the timing and accenting of the notes has to be exact or it sounds off. This part descends and ascends as the river does too. The cello and flute provide melodies and harmonies, creating a sense of richness and  upliftment.
Are you planning a video for the song?
Yes, my Recording Engineer from Villa Sound Studios is going to record me at the Green River in the next few weeks as well as MTS Management through a series of pictures of my family and I enjoying our time at the Green River.
Thank you again for your time.  We appreciate it!  Good luck with the new single!
Twitter: @BMilneMusic (BonnieMilneMusic)
Instagram: @bonniemilnemusic https://www.instagram.com/bonniemilnemusic/
Facebook: https://www.facebook.com/Bonnie-Milne-Music-112360984677608
TikTok: BonnieMilneMusic
Website: https://bonniemilne.com
Youtube: https://www.youtube.com/channel/UCLsJYj7apBfMbZ8NHON5t8Q/featured